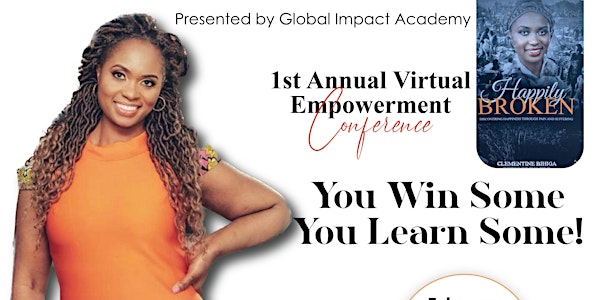 1st Annual Virtual Empowerment Conference
Sometimes you WIN, Sometimes you LEARN! Let's shift our thinking and celebrate more wins this year!
About this event
1 hour 30 minutes

Mobile eTicket
Clementine Bihiga, is a Certified John Maxwell Motivational Speaker, Trainer, Coach, Entrepreneur and Published Author of her award-winning book "Happily Broken: Discovering Happiness Through Pain and Suffering". She was only 8 years old when her family escaped from war-torn Rwanda. As her mother and youngest siblings piled into a car, she and her brothers had to walk beside the packed vehicle while bombs exploded beside them and bullets shot past their heads. She spent the next 5 years in refugee camps and settlements. She had to grow up quickly and become an adult-like 8-year-old. It is no surprise that at the age of 36, she has accomplished more than many.
Clementine has won many awards including 2020 Joe Belle Memorial Youth Alumni Award, Voice of the Year Award in 2016, Women in Action Award, Special Mayoral Recognition in Worcester, MA and has been recognized by the Massachusetts State Senate for her work with Refugees. She was recently featured among the Top Women Leaders of Ohio for 2022 by Women We Admire.
Clementine has appeared in numerous local and national publications and has shared the stage with influential people like Kim Kardashian, Cheryl Crow, Aisha Tyler and more. She has also appeared in business magazines with leaders like Mark Cuban and Jeff Bezos.
Clementine is a light in the darkness. Her powerful positive energy on stage along with her sparkling laughter in the face of tragedy and challenges is unparalleled. She has presented to audiences of all ages across the nation with rave reviews.
Her story of perseverance and grit motivates those going through challenging times. Her grace and poise on stage lights up the room and inspires audiences. She has transformed her life into a story to use as motivation for audiences across the world. When in Clementine's presence, you have NO choice but to GROW!
Book Details:
Trailer: Happily Broken: Discovering Happiness Through Pain and Suffering
People can purchase books in 2 ways:
Signed Copy: $20.00
Payment Methods:
Website: Purchase Link
Venmo: @clembihiga
Cashapp: $clembihiga
Zelle: clembihiga@hotmail.com
Please include name and shipping address!
Unsigned Copy: $19.99 on Amazon