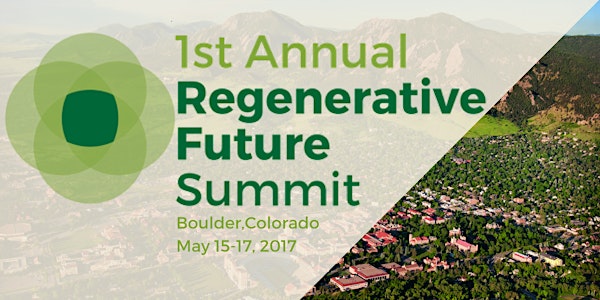 1st Annual Regenerative Future Summit
Location
CU's Sustainability, Energy, and Environment Complex (SEEC)
4001 Discovery Drive
Boulder, CO 80303
Sales Have Ended
Ticket sales have ended
Ticket sales are over, sorry we missed you this time around. Please be sure to look out for future events.
Description
The world is in crisis. Solutions abound.
Join us to create a bridge to a regenerative future.
"Make the world work for 100% of humanity."
– Buckminster Fuller
Engage with the thought leaders who are defining the regenerative future. Participate in interactive plenary sessions. Shape the forward dialogue in facilitated breakout sessions. Craft the strategies, the narratives, and movements for an Economy in Service to Life.
We're bringing forth ideas worth sharing. Summit participants will collaborate across sectors to develop action-oriented solutions that deliver results and build a movement.
This will be a conference like no other, a 3-day gathering where the talent on both sides of the microphone will create a new economic narrative, a regenerative approach to capitalism that delivers personal well-being and shared prosperity on a healthy planet.
The Regenerative Future Summit will be an engaging, strategy-setting event. An anticipated 300 business executives, entrepreneurs, community leaders and change agents will reframe "the economy" and develop action plans to implement a regenerative future. These plans will engage leading companies and early adopting communities to chart a new course for capitalism.
Summit participants will develop action-oriented solutions to catalyze the movements necessary to transform the economy on which all other human systems are created. A robust social media campaign and an interactive Internet platform will engage thousands more during the summit and serve as a hub for implementation in the years to come. Promotion for the event will reach more than hundreds of thousands of people who care about more authentic ways of doing business.Plenary sessions will be live-streamed. Small working groups will set the strategy for realizing a new economic narrative. On-demand content will be available before, during and after the Summit. Bloggers are invited and encouraged to join in the conversation.
For more information, please visit the Summit website: regenerativefuturesummit
Become a sponsor. Contact Jeff Hohensee. jhohensee@natcapsolutions.org
If you have any questions, please do not hesitate to contact us at events@natcapsolutions.org
---
FAQ's
Refund/Transfer Policy:
Note: Please contact the organizer with any specific questions you have.
Please note that your tickets are transferable. If you cannot use your ticket but wish to transfer it to another person, you can simply change the ticket information and transfer your purchase.
It is the policy of the Regenerative Future Summit and its presenting partners to offer refunds only in extenuating circumstances. If you feel your situation warrants a refund, please choose the "Request a Refund" option from your order detail confirmation page.
We will make every effort to honor all requests in a timely manner.
For approved requests, the ticket refund schedule, minus fees, is as follows:
Before March 1st: 90% refund
Before April 1st: 60% refund
Before April 15th: 40% refund
April 16th - April 30th: 25% refund
May 1st and after: 0%
*Fees will not be refunded
If you cannot use your ticket and do not wish to transfer it to another person, you can choose to use the funds as a 100% tax-deductible donation that will be shared equally amongst the presenting partners. If you wish to choose this, please contact the organizer.