Description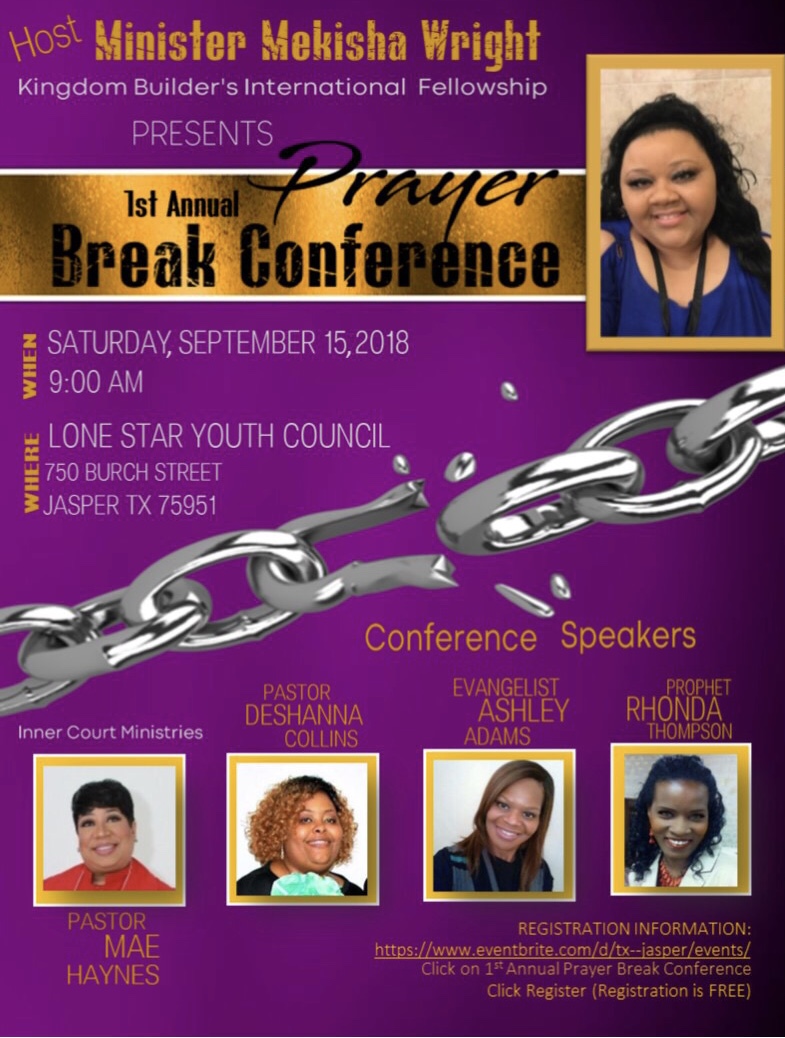 How many times do we take a lunch break, a 15 min break from work, Spring break from school, but do we ever take a break to pray unto the Lord? Are you ready for Demonic Strongholds to be broken off your life, purpose, family, this city, and nation? So let's get ready for God to BREAK the chains off our life!!!
At the Prayer Break Conference you will learn about different types of Intercessors, prayer watches, positions of prayer, and so much more!
Prayer Break Conference Agenda
9:00 a.m. - 10:00 a.m. — Intercession/Prayer
10:15 a.m. — Conference Kick-Off/Welcome
Conference classes:
Evangelist Ashley Adams
Positions of Prayer
Class starts: 10:30 a.m.-11:15 a.m.
Pastor DeShanna Collins
The different prayer watches/hours
Class starts: 11:30 a.m.-12:15 p.m.
-What goes on during these different watches.
-How to know what prayer watch you are assigned to, etc.
Prophet Rhonda Thompson
The different types of Intercessors
Class starts: 12:30 p.m.-1:15 p.m.
-What is an intercessor?
-How to know if you are an intercessor?
-What is the role of an intercessor?
Praise and Worship/Key Note Speaker: Pastor Mae Haynes 1:30 p.m. - until
Lunch, door prizes, vendor tables
**For vendor information contact Mekisha Wright at wrightmekisha@gmail.com
**Note: Agenda is subject to change at the discretion of the Conference Host.