Support Panhandle Cancer Cure Foundation with our Clay Shoot at Amarillo Gun Club on July 17, 2021 from 8-12. $125/Shooter. Lunch included.
About this event
 Registration and Check-In will be at 8 AM
Mandatory safety meeting at 8: 30 AM 
The shoot will run 9 AM-NOON
Registation includes lunch will be served at noon
Course will include doubles and wobblers.
Prizes will be presented and based on Lewis Class and Team Scoring.
Shooters will need to bring their own guns and shells, no rentals are available.
Some 12, 20, and 28 gauge shells will be available for purchase onsite.
For question or more infomation contact Gary Fields at (806) 886-7361 or gfields5702@yahoo.com.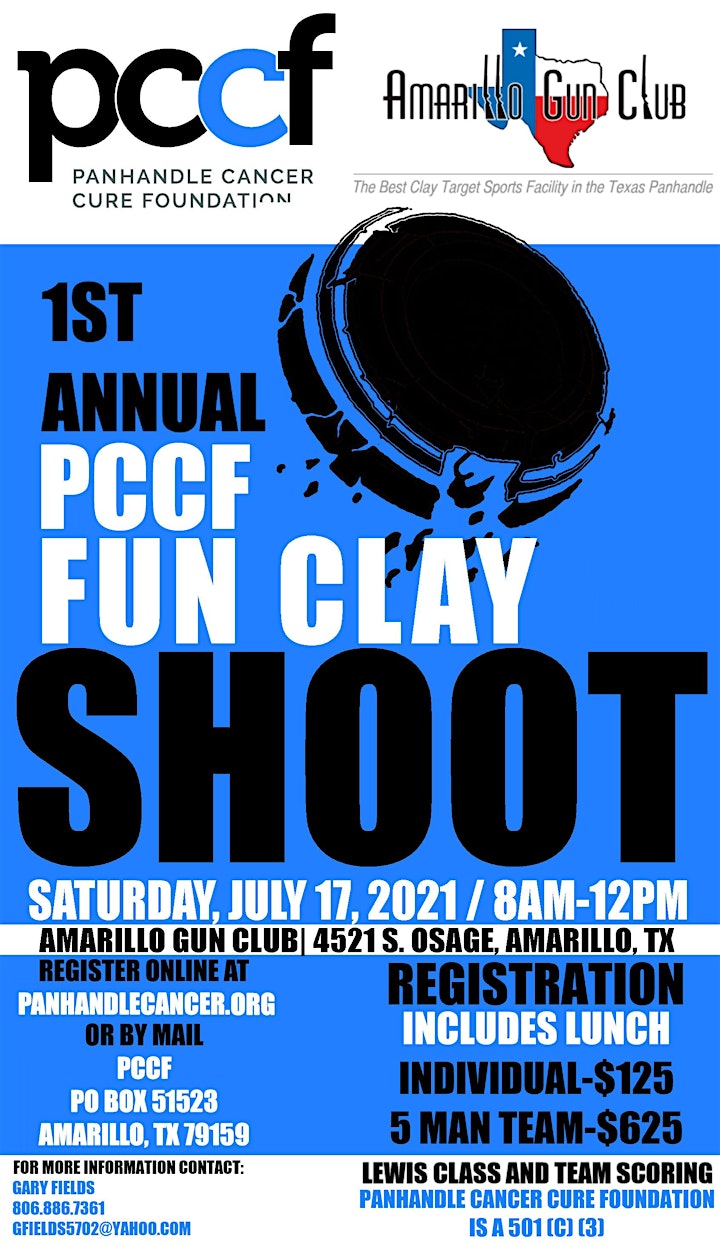 Organizer of 1st Annual PCCF Fun Clay Shoot
In 2009, we came together and began to brainstorm how to meet cancer patient's needs in our community. We did not want to reinvent the wheel. Cancer patient's financial needs are needed today (when they apply). We knew national foundations were available, but so many times these patients needed help immediately. National foundations turn around time can take up to months. PCCF's goal was to help during the wait time, while they await approval for national funds.
In October of 2009 we held our first SOS (supporting our survivors) 5K/1mile race and had great support. The race was a community event and many patients and their families participated. We have continued to have this race yearly and it has become a celebration of life. PCCF receives donations, memorials, and we fundraise in a number of ways. We continue to grow and provide for cancer patients.
PCCF prides itself as the only foundation that provides assistance to not only patients with cancer but also those with blood disorders. Despite being based at Texas Oncology Cancer Center, PCCF provides help to patients in Texas Panhandle, irrespective of where they get their treatment. PCCF has now helped hundreds of cancer patients through emotional, physical, and financial needs.
Another mission of PCCF is to support research in cancer and blood diseases, in particular, blood and marrow transplants. PCCF, therefore, welcomes donations for endowment funds dedicated to this mission.