1st Annual NCCU Law Alumni Weekend 2019
Sales Have Ended
Ticket sales have ended
Thank you for your interest in the 1st Annual NCCU Law Alumni Weekend. Unfortunately, ticket sales have closed. We look forward to seeing you next year!
Sales Have Ended
Ticket sales have ended
Thank you for your interest in the 1st Annual NCCU Law Alumni Weekend. Unfortunately, ticket sales have closed. We look forward to seeing you next year!
Description
Welcome back to your alma mater for our 1st Annual Alumni Weekend!
This year's theme is "Soaring to New Heights."
The Alumni Association of North Carolina Central University School of Law welcomes you back to your alma mater for a weekend of fun and celebration. This will be a family-reunion-style weekend consisting of earning CLE credits with your former professors, a banquet with current students and your fellow Alumni to celebrate milestone graduation years end in '9 and '4, a NCCU School of Law Alumni meeting with a buffet brunch hosted by your Alumni Association Board, and our "Lawyers and Libations" Day Party. The legacy of our school continues with us and our contributions in society, so we hope (and our current students hope) to see you there!
Note: All proceeds from this event go directly to NCCU School of Law Development for the betterment of our students.

Please see below for additional weekend details:
Friday, April 5, 2019
12:30 pm-4:30 pm "Back to School" CLE
Pending 2.5 hours of General Credit, 1 hour ethics/professionalism
Topics: Ethics Refresher with Professor Victor Boone, 1983 Litigation with Sonny Haynes and Harry Daniels, Greeting and Law School Update with Dean Elaine O'Neal, 1st Amendment Discussion with Professors Irv Joyner, April Dawson, and Scott Holmes
Location: Room 202, NCCU School of Law
6:00 pm to 10:00 pm-Law Week Banquet-"The Notorious RBG"
We will be recognizing those who are in their milestone graduation years, specifically those ending in '09 and '04. This is also an amazing oppurtunity to network and engage with our students while celebrating their accomplishments throughout the year. There will be a live jazz band during the cocktail hour from 6 pm-7 pm and afterwards there will be a DJ so we can dance the night away.
Dress: Cocktail
Location: Hilton Durham, 3800 Hillsborough Road, Durham NC 27705

Saturday, April 6, 2019
10:00 am-12:00 pm Alumni Association Meeting and Brunch
Join us for our quarterly Alumni Association Meeting. We will be updating you on the progress that has been made thus far, you will have an opportunity to hear from our Dean, we will be electing 3 new officers to the Executive Board, and voting on some important steps towards becoming an independent entity. Additionally, a buffet brunch will be served and there will be an opportunity to take a tour of the law school, if you haven't been back in awhile. This is a meeting that you do not want to miss and a fantastic opportunity to build your network and be of service.
Dress: Casual
Location: Janice Mills Conference Room, NCCU School of Law

4:00 pm to 9:00 pm-"Lawyers and Libations" Day Party
This party will take you back to the good ol' days of law school parties. Tickets must be purchased separately here: https://SolasLawDayParty.eventbrite.com.
For sponsorship information contact: Stephanie Robinson at srobi582@gmail.com.
Dress: Party Attire
Location: Solas, Downtown Raleigh, 419 Glenwood Ave, Raleigh

Hotel Reservations:
A hotel block has been reserved at the Hilton Durham for only $129/night. Please follow the instructions below to book your room.

Online: Visit https://www.hilton.com/en/hi/groups/personalized/R/RDUDHHF-NCCU-20190405/index.jhtml?WT.mc_id=POG
By Phone: Call 1-800-HILTONS
Note: Do not call the hotel directly as they do not have a reservation agent on property.
Reference the dates of stay and "NCCU Law Week."

The discounted rate is available until March 20. Any reservations made after that date are subject to availability.
Exclusive Alumni Weekend T-Shirts
T-Shirts Sizes: S, M, L, XL, 2XL, and 3XL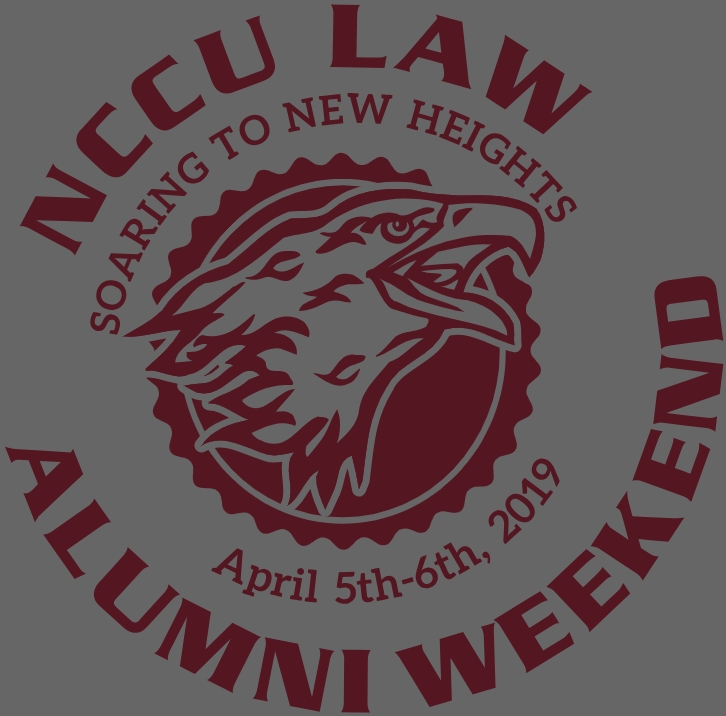 If you have any questions or concerns, please contact us at alumni.ncculaw@gmail.com.