Join NAACP Las Vegas Branch #1111 for a celebration of African American History at our 1st Annual Juneteenth Jubilee Breakfast
About this event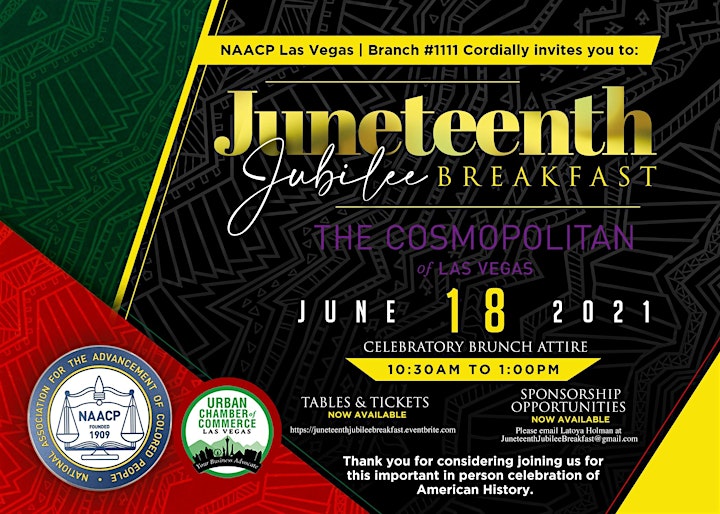 ABOUT THE EVENT
NAACP Las Vegas Branch #1111 in collaboration with the Urban Chamber of Las Vegas and the Host Committee is proud to present the 1st Annual Juneteenth Jubilee Breakfast. This event is a true celebration of Juneteenth and an elevated recognition of the rich legacy of African American history following a turbulent year of racial unrest and the awakening of the LV Community of the Black Experience in our country and our pursuit of racial equity and equality. In honor of our past, awareness of our present, and a looking forward to our future, this event will also foster a strengthened bond between the African American and African Diaspora Communities of Las Vegas.
In collaboration with Community Partners who are dedicated to supporting the initiatives of The NAACP and Branch #1111, this event will provide a starting point for attendees to engage with their community and begin to affect the change they want to see in the world.
We look forward to seeing you at this important in person celebration of American History through food, song, and fellowship!
All are welcome to this inclusive cultural event!
Dress Code: Celebratory Brunch Attire
SPONSORSHIP OPPORTUNITIES NOW AVAILABLE
For additional information, please email inquiries to: JuneteenthJubileeBreakfast@gmail.com
HISTORY OF JUNETEENTH
Juneteenth is 'the oldest nationally celebrated commemoration of the ending of slavery in the United States.' Other than marking a pivotal date of significance in American history, Juneteenth also serves as an opportunity for African Americans to cherish their culture and heritage.
More than 155 years old, Juneteenth celebrates the liberation of African Americans from slavery in the U.S. The reason for it being celebrated on June 19 is because, on this day in 1865, when Major General Gordon Granger of the Union Army landed in Texas, he brought the news that the Civil War had ended and all slaves were free.
The proclamation declaring the abolishment of slavery was issued by President Abraham Lincoln on January 1, 1863, in the nation's third year of an ongoing civil war. Known as the Emancipation Proclamation, it declared that all persons held as slaves within any State or designated part of a State […] shall be then, thenceforward, and forever free.Granger's arrival at Texas was to enforce this decree, which had originally gone into effect two years earlier.
The news had come as a shock to more than 250,000 slaves in Texas who were unaware of it.
On June 19, in the city of Galveston, Granger publicly read General Order No. 3, which stated: 'The people of Texas are informed that, in accordance with a proclamation from the Executive of the United States, all slaves are free.'