Description
Hello Friends,
We are excited to have our 1st Annual Golf Tournament on October 7th, 2019 at Ledgemont Country Club and we need your help. On behalf of the Board of Directors and the Golf Committee, we would like to invite you to support this amazing charity. A Wish Come True started 37 years ago and is the oldest wish granting organization in Rhode Island and Southeastern Massachusetts. Each year, a Wish Come True provides over 40 Wishes for children and youth, ages 3-18 that have life threatening illnesses. The average cost of a wish is $5,000-$7,000 per wish. A Wish Come True stands out from other Wish organizations as they only have two full time and two part time staff. This means the money raised goes directly to making these wishes happen for these special children and their families. This year, they are surpassing 40 Wish Kids and they need our help!
---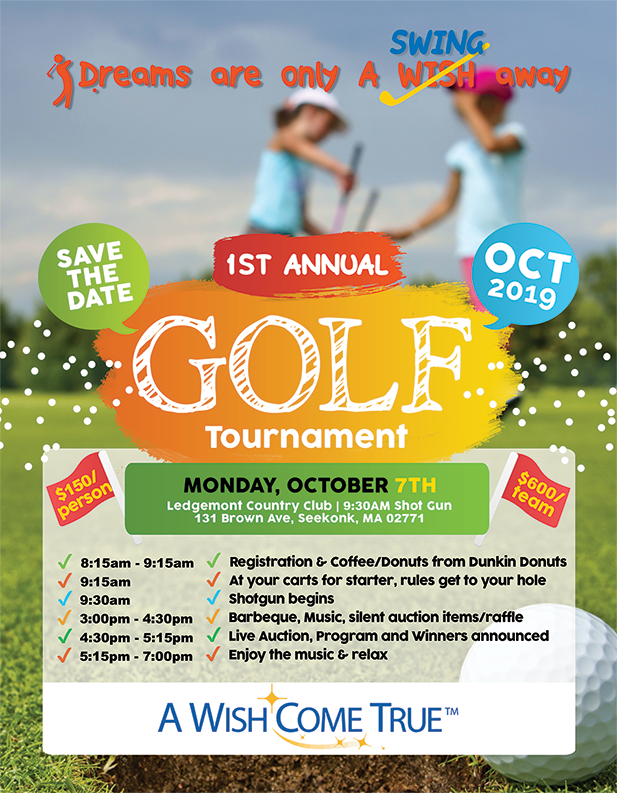 Will you please consider the following:
1. Sponsorship - We encourage you to help us through these amazing sponsorship opportunities*.
2. Tee Sign Sponsors - Get your advertising out there and support these kids.
3. Live or Silent Auction - Help us raise money on this great day! Every gift counts!
4. Participants - Be part of a team that sends these amazing kids on their Wish.
---
For more information, please visit our website.
To avoid paying processing fees, please contact Mary-Kate at A Wish Come True foundation, 401-781-9199.
---
* PLEASE CONTACT MARY-KATE O'LEARY, THE EXECUTIVE DIRECTOR OF A WISH COME TRUE, AT 401-781-9199 FOR SPONSORSHIP OPPORTUNITIES.