Description
What do you call a pancake breakfast for LSU football fans that also raises awareness for Friedreich's Ataxia?
A FAncake breakfast!
Join Falling Angels Foundation for their inaugural fundraiser on Saturday, November 4, 2017 from 8-11 am at The Pelican House in Baton Rouge, LA.
Gather with other Tiger fans as we celebrate the culmination of "Bama hate week" with a pancake breakfast bar, prize lotteries and an "everyones a winner" gift card pull! (other breakfast foods will be available)
Bring the whole family, kids under 2 are free with purchase of an adult ticket,
*This is a peanut free event*
INTERESTED IN SPONSORING THE FAncake BREAKFAST?
Email fallingangelsfoundation@gmail.com
What is Friedreich's Ataxia?
Friedreich's Ataxia (FA) is a debilitating, life-shortening, degenerative neuro-muscular disorder. FA is a rare genetic disorder affecting only 5,000-6,000 people in the United States (15-20,000 people worldwide). Symptoms of FA include: loss of coordination in the arms and legs; fatigue - energy deprivation and muscle loss; vision impairment, hearing loss, and slurred speech; aggressive scoliosis; and serious heart conditions, including hypertrophic cardiomyopathy and arrthymias. The mental capabilities of people with Friedreich's Ataxia remain completely intact. All symptoms are not present in all individuals with FA; however, for most, the progressive loss of coordination and muscle strength leads to motor incapacitation and the full-time use of a wheelchair. Almost all people diagnosed with FA require mobility aids such as a cane, walker, or wheelchair.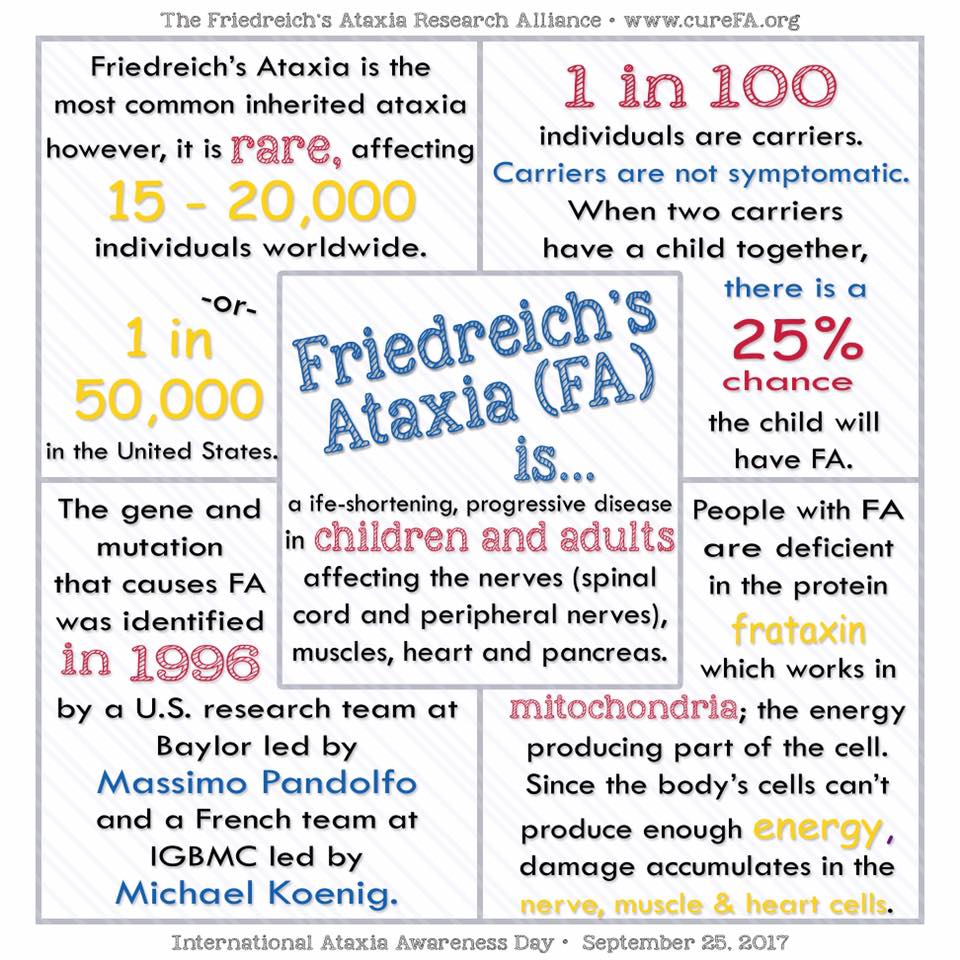 To learn more about Friedreich's Ataxia visit www.curefa.org/whatis
What is Falling Angels Foundation?
Falling Angels Foundation was started by Christie Battaglia as a way to raise awareness of Friedreich's Ataxia because as she said, "people can't donate to something they don't know exists". Like most people, Battaglia had never heard of Friedreich's Ataxia until she was diagnosed in June of 2015. She was 29 at the time of her diagnosis but her symptoms began in her mid twenties. Since the onset of symptoms was not until her twenties, Battaglia has what is known as Late Onset Friedreich's Ataxia (LOFA). LOFA makes up about 10% of FA diagnosis's and in addition to a later onset, LOFA is usually marked by milder symptoms and slower progression. When she was diagnosed, Battaglia was working as a corporate event planner for a local media corporation; she knew that with her event experience, milder symptoms and slower progression, she wanted to be an advocate for the FA community, becoming an ambassador for the Friedreich's Ataxia Research Alliance (FARA) and eventfully forming the Falling Angels Foundation,
The mission of the Falling Angels Foundation is to (1) raise awareness of Friedreich's Ataxia, (2) form scholarships & grants to aid in purchasing assisted living devices or finance travel to participate in drug trials and (3) to raise money for the Friedreich's Ataxia Research Alliance (FARA) to assist with drug research and development.
#cureFA
#FAncakes
#FAncakebreakfast