1st Annual Ernie Weiner Memorial Golf Tournament
Description
Get into the swing of things at the 1st Annual Ernie Weiner Memorial Golf Tournament.
Just remember, according to famous comedian Bob Hope, "If you watch a game, it's fun. If you play at it, it's recreation. If you work at it, it's golf!"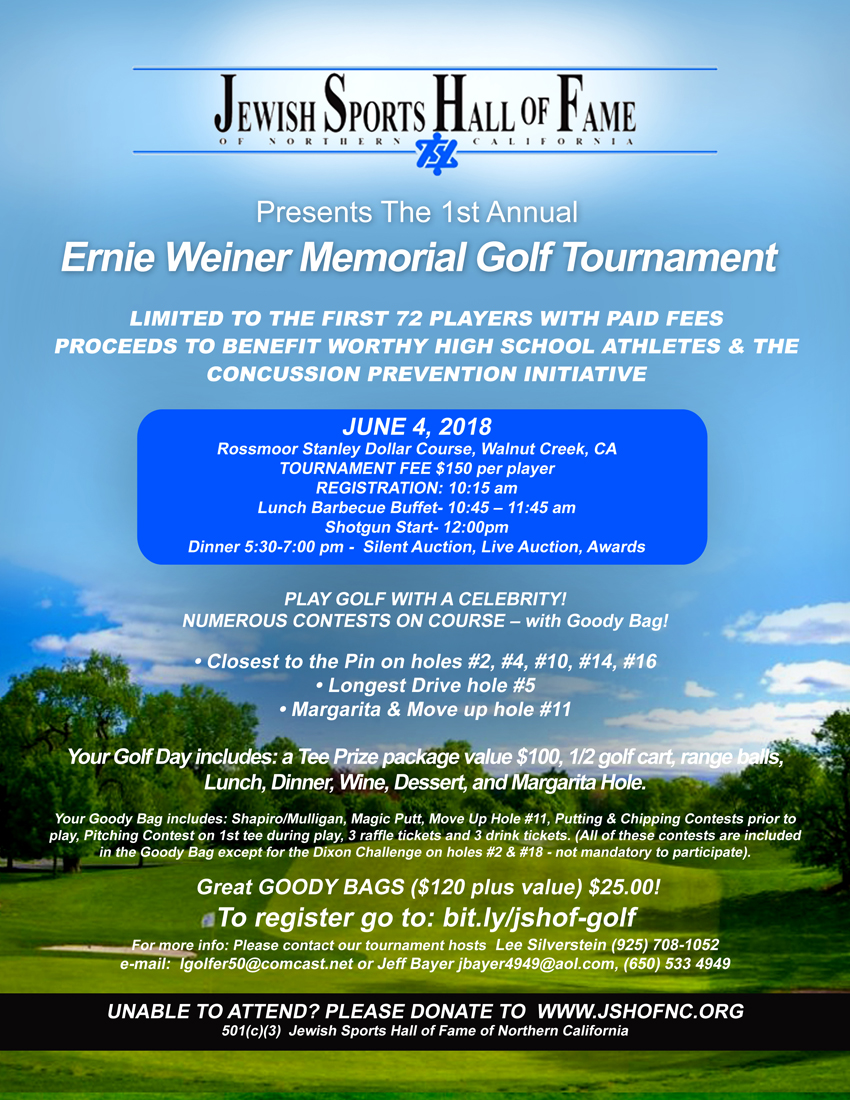 1st Annual Ernie Weiner Memorial Golf Tournament includes:
• Tee Prize package (value $100)
• 1/2 golf cart
• Range balls
• Silent Auction, Live Auction & Awards
• BBQ Lunch, Prime Rib Dinner*, Wine, Dessert & Margarita Hole
Also: Play golf with a celebrity and enjoy fun contests:
• Closest to the pin on holes #2, #4, #10, #14 & #16
• Longest drive on hole #5
• Margarita & Move up hole #11
Your Goody Bag ($120 value) includes: Shapiro/Mulligan, Magic Putt, Move Up Hole #11, Putting & Chipping contests, Pitching Contest (on 1st tee during play), 3 raffle tickets and 3 drink tickets.
REGISTER TODAY!
72 player limit. All contests above are included except for the Dixon Challenge on holes #2 & #18 – it is not mandatory to participate. *Vegetarian dinner option available.
Visit the Jewish Sports Hall of Fame Northern California's "Wall of Fame" on the Taube Koret Campus for Jewish Life in Palo Alto.

The Jewish Sports Hall of Fame of Northern California is a 501(c)(3) nonprofit, all-volunteer organization. There is no paid staff or administrative costs. We derive all of our revenue from sponsors, vendors, donations, event revenue, and charitable grants. We rely completely on members and volunteers for the time they devote to the events we present. For more information, go to www.jshofnc.org
Our tax ID number is: 26-0493232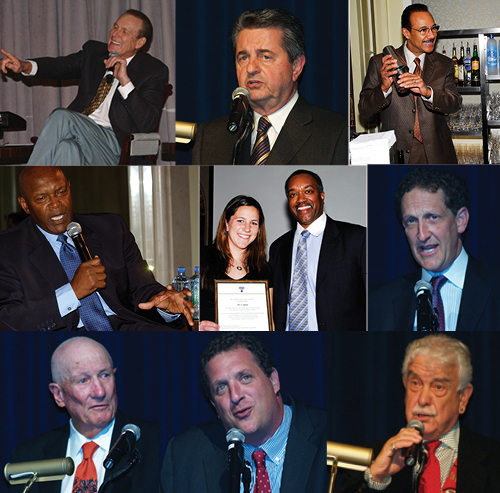 Row 1: Rick Barry, Carmen Policy, and Spencer Christian
Row 2: Vida Blue, Don Collins and award-winning student, and Larry Baer
Row 3: Al Rosen, Harris Barton, and Jack Anderson

Visit our website for JSHoF-NC inductee videos, upcoming events and lots more! www.jshofnc.org
Date and Time
Location
Refund Policy