1st Annual Ernie Weiner Memorial Golf Tournament
Sales Have Ended
Registrations are closed
Reservations have ended for this event. However, there may be a spot available at the venue. Please review the event information for locations, directions, etc. Or contact: Lee Silverstein (925) 708-1052 or lgolfer@comcast.net Jeff Bayer (650) 533-4949 or jbayer4949@aol.com
Sales Have Ended
Registrations are closed
Reservations have ended for this event. However, there may be a spot available at the venue. Please review the event information for locations, directions, etc. Or contact: Lee Silverstein (925) 708-1052 or lgolfer@comcast.net Jeff Bayer (650) 533-4949 or jbayer4949@aol.com
Description
Get into the swing of things at the 1st Annual Ernie Weiner Memorial Golf Tournament.
Just remember, according to famous comedian Bob Hope, "If you watch a game, it's fun. If you play at it, it's recreation. If you work at it, it's golf.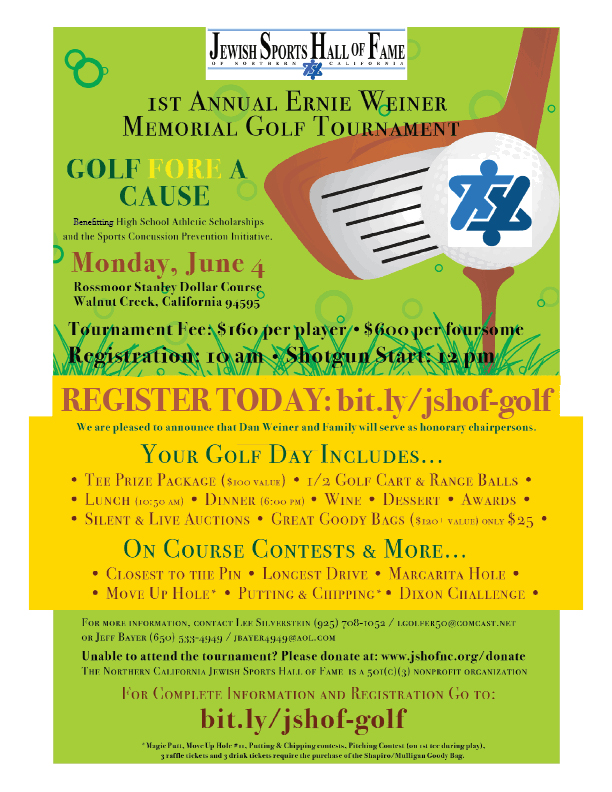 Help raise funds benefitting the Northern California Jewish Sports Hall of Fame's Student Programs, which provide financial support for scholarships and student athletic activities for Bay Area Youth, as well as contribute to our Sports Concussion Prevention Initiative. Your entry fee is TAX DEDUCTIBLE to the fullest extent allowed by law.
1st Annual Ernie Weiner Memorial Golf Tournament includes:
• Tee Prize package (a $100 value)
• 1/2 golf cart
• Range balls
• Silent Auction, Live Auction & Awards
• BBQ Lunch (10:50 am)
• Prime Rib Dinner* + Wine & Dessert (6:00 pm)

Enjoy these fun contests:
• Closest to the pin on holes #2, #4, #10, #14 & #16
• Longest drive on hole #5
• Margarita & Move up holes #11**
Your Shapiro/Mulligan Goody Bag ($120+ value) includes: Magic Putt, Move Up Hole #11, Putting & Chipping contests, Pitching Contest (on 1st tee during play), 3 raffle tickets and 3 drink tickets. It's a bargain at only $25 (order at Eventbrite registration).**

REGISTER TODAY!
Registration: 10 am • Shoutgun Start: 12 pm • 72 player limit

*Vegetarian dinner option is also available.
**All contests above are included (except for those listed in the Shapiro/Mulligan Goody Bag and the Dixon Challenge on holes #2 & #18 – it is not mandatory to participate).
The Northern California Jewish Sports Hall of Fame is pleased to announce that Dan Weiner and Family will serve as honorary chairpersons.
Can't make it to the event? Why not donate to help our student athletes with scholarships and concussion prevention. Donate HERE!
Visit the Jewish Sports Hall of Fame Northern California's "Wall of Fame" on the Taube Koret Campus for Jewish Life in Palo Alto.

The Jewish Sports Hall of Fame of Northern California is a 501(c)(3) nonprofit, all-volunteer organization. There is no paid staff or administrative costs. We derive all of our revenue from sponsors, vendors, donations, event revenue, and charitable grants. We rely completely on members and volunteers for the time they devote to the events we present. For more information, go to www.jshofnc.org
Our tax ID number is: 26-0493232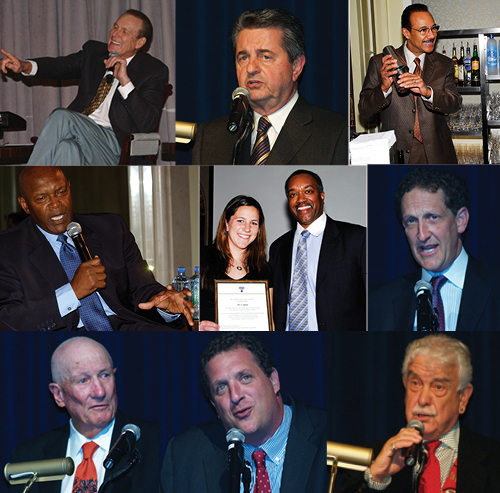 Row 1: Rick Barry, Carmen Policy, and Spencer Christian
Row 2: Vida Blue, Don Collins and award-winning student, and Larry Baer
Row 3: Al Rosen, Harris Barton, and Jack Anderson

Visit our website for JSHoF-NC inductee videos, upcoming events and lots more! www.jshofnc.org