1st Annual CATS Cigar Festival &Op:Cigars For Warriors, Drew Estate sponsored After Hours Bash Short distance from San Antonio!

Saturday, May 25, 2013 at 2:00 PM

-

Sunday, May 26, 2013 at 2:00 AM (CDT)
Who's Going

Loading your connections...
3 of your friends are going.
Share it to get more people on board!
Share

Sara Haughty
San Francisco, California

Luke Picard
London, United Kingdom

Rick Vespucio
Florence, Italy
Event Details
1st Annual CATS Cigar Festival Sponsored by Drew Estates Cigars, Padron Cigars, Joya De Nicaragua and Famous Smokes, Special Guests; Cigar Rights of America and Op: Cigars For Warriors, Hosted by JoSabis
&
the Op:Cigars For Warriors, Drew Estate sponsored After Hours Bash in, San Antonio, Texas

Early Bird Tickets Go Off Sale May 14th.  Otherwise you can purchase tickets at the Gate.  You loose out on better price, lunch, and 1.5 hours of getting in earlier for Lunch.

Tickets can be Purchased at the front Gate the day of the Event at JoSabi's, but Cost is 75$, unless you have Active Duty Military Id or Retired Military ID, and Retired Medical ID  it is 65$.   IF it has NOT sold out.

VERY IMPORTANT:  Early Bird Ticket Holders Get a FREE Lunch, $15 off Gate Price, and get in at 12:30 Pm instead of 2pm.  Choiciest spots to make your Territory.  CATS Fest, rewards, we DONT charge more for privaleges to buying early!!!!!!  As always we go against the Mainstream way of doing things.  If you have to cancell ticket(s) must be done on or prior to May 14th.  On a case by case situation will cancellations be considered for refunds May 15th thrue May 24th.

On Mays 14: Last day to get Early Bird tickets, or refunds of tickets.  I apologize for inconvience as contracts are all finalized on this date, per number of attendees

On May 24: at the Staybridge Suites starting at 5pm, for all Festival Attendees STAYING at there Hotel, there will be a welcoming Party, with FREE Cigars, Wine, Beer and Food.

On May 25: at 2pm the C.A.T.S. Festival begans.  Come see our Cigar Celeberties:
Jonathan Drew of Drew Estates, First time in 13 years he has been to Texas!!  Will bringing 5 of their prize winning cigars, a DE Cutter, and DE Hat for EVERY attendee!

Jorge Padron of Padron Cigars, extremely rare sighting of Padron's Principle Owner!!  Will be bringing two of their prized Padron Cigars for each attendee!

Juan Ignacio Martinez Cuenca of  JDN Cigars, Insanely Rare Sighting of JDNs Principle, and He will be bringing two of their prized cigars for each person attending!  
Khuong the CIGAR MONSTER of Famous Smokes Cigars and cigarmonster.com  Khuong Pham, is the Legendary "Cigar Monster" of Famous Smokes Will be bringing 5 of Famous' own blended cigars for each attendees!
Willie Herrera of Drew Estates joined Drew Estates in 2011.  Came on board to add a Cuban influence to the company.  He will be their to sign autographs and roll his Famous new cigar Herrera Esteli, for every person that comes by and see him!!!  THIS IS A BONUS, his lines will be long, and hopefully everyone will be able to grab one.  Main thing is to be able to get to meet him in person!!
For $60 you will be provided with a TON of FREE Cigars (from DE, Padron, Joya De Nicaragua, Famous Smokes, Outlaw Cigars,a DE Cutter, a DE Hat, Sick AKA Swag and FREE LUNCH. 5 Free Tickets to the CATS Fest Raffle, and another special small gift from me.  Alchohol will be there for purchase ONLY. 

IF you buy Gate Tickets, you pay $75, get in at 2pm, and NO Free Lunch.   
Along with all the Insane amount of FREE goodies above, you will receive 5 FREE C.A.T.S. Fest Raffle Tickets!!!!

There will be TWO major Raffles happening during the evening, with TONS and TONS of prizes given away in both. The CATS Festival Drawing will start early so make sure to get there on time.
The Second Raffle is to Raise funds for the charity program Op: Cigars for Warriors, that the C.A.T.S. community fully supports.  As you know by now Op:CFW ship thousands of cigars a month to our troops.  The Op:CFW Raffle, you will purchase those tickets, 100% of the monies go to Op:CFW.
There will be three major events all in one weekend.  The C.A.T.S. Welcoming Party hosted by Storm Boen, the Drew Estate Ambassadors and Staybridge Suites, the C.A.T.S. Festival, and the Op:CFW After Hours Bash.  
The Festival starts at 2pm thru 7pm, a short break for resting up for the Op:CFW After Hours Bash starts at 9pm thrue 2am.  All through out the Festival there will be raffle drawings of some INCREDIBLE Prizes given away.  At the Bash their will be a very SPECIAL Raffle that tickets can be purchased to raise monies for Op:CFW.  There will be NO Cigars sold this year.  This year is 100% about giving back to our Cigar Family!!!!!  If you have the desire to spend money, there will be alchohol and a bunch of other very exciting specility booths that fellow CATS Members will be hosting.  There will be live music at both the Festival and the Bash.  

What is C.A.T.S.?  CATS is a FB Group standing for Cigar Aficionados Trades and Sales.  First of its kind, at the beginning went against ALL the cigars social media unsponken rules and continues to evolve and break all the rules!!!  It is a unique place where the cigar smoker is ALWAYS First.  Pure Comraderie, learning, understanding, trades, sales, contests, raffles, and insane amount of Bombs!  Want to check it out click here and click request:
https://www.facebook.com/groups/279242672129307/

What is Op:CFW?  Op: Cigars For Warriors is a program that was started May 1st that sends cigars and cigar related items to our Warriors in the US Military.  This is our way to say in a small way THANK YOU for all you do for us.  A way to let our men and women of the armed forces know that we still remember that they are out there in harms way and living usually in poverty level situations, all to defend our RIGHTS!!  Since May 1st 2012 thru the end of Jan 2013 we will have almost sent 35k Premium cigars.  We have over 40 Donation centers throughout the U.S.  From Cigar Shops to other companies who are not even cigar related but fill passionate about our mission.  Op:CFW is the only known legally Non Profit organization, with 501c3 filed.  We have a full 10seat Board of Directors, Full By-laws, additonal 22 Members of Board, and 24 Event Cordinators.  If you would like to learn more goto.  
http://www.cigarsforwarriors.net/
or you can goto the VERY active FB Forums and see current info:https://www.facebook.com/groups/cigarsforwarriors/

Retailors who would like to know how they can participate, please Contact Storm @ Stormboen@aol.com.  The sponsorhip slots are filling up VERY fast.  

Things are changing daily for improvement.  So check back regulary for updates.  This will always be the minimum of what to expect!!!!
Must be 18+ to attend, NO EXCEPTIONS.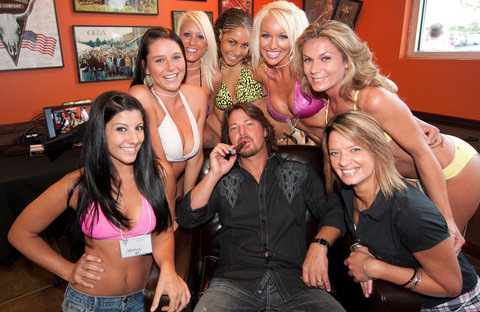 LETS GET READY TO PARTY AND SUPPORT OUR WARRIORS!!!!!!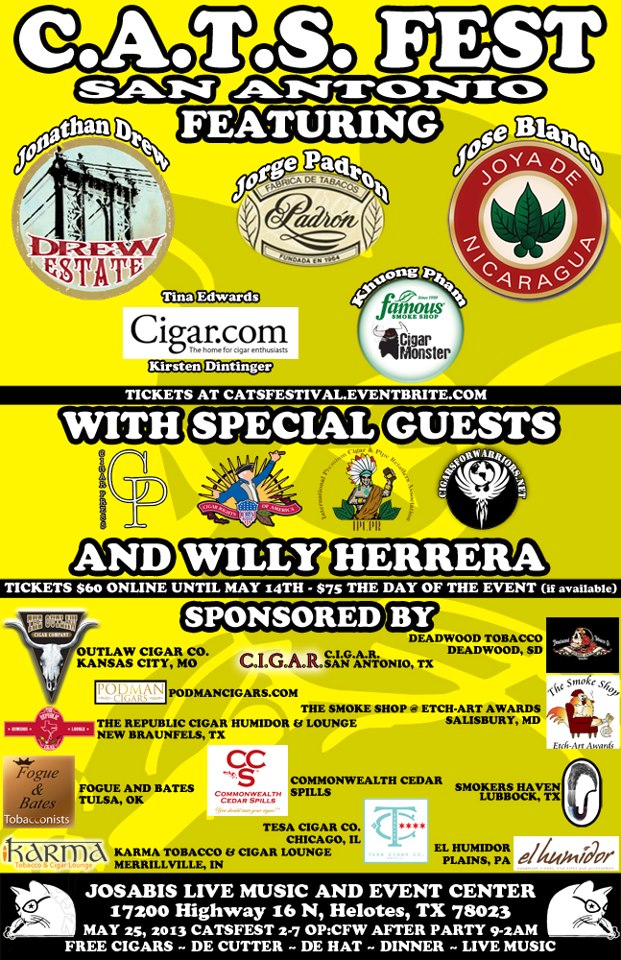 Jonathon Drew one of the most beloved and followed in the tobacco world, will be one of the BIG Headliners of the C.A.T.S. Festival 2013!  He will not only be bringing his crew, The Dirty Fabien Zeigler, the Legendary Blender Willie Herrera, the man with the plan Selim Hanono, he will also be bringing the WHOLE Drew Estate Ambassadors, and just to top that off, he will be bring for each person Attending TONS of cigars, a DE cutter and a DE Hat.  Jonathon Drew is one of the most Dynamic and Charismatic people in all of the Tobacco Industry.  He genuine concern for his consumers is unheard of and his love for the troops our Warriors in unmatched.  For these reasons and many more, he has easily if not the largest, one of the largest followings in the whole world.  He has not been in Texas in over a Decade, so this will be for many people a once in a lifetime opportunity.  He is so excited about getting back to Texas and San Antonio that he and his family will be vacationing during his stay, despite his insane schedule.  That is Love!

One of my favorite interview comments he makes about Drew Estate, while interviewing with Cigar.com which describes Drew Estate the best for me, is as Follows:

 Drew Estate is an "artisanal workshop." I don't "contract manufacture" my cigars in "other people's factories," or claim to have "sub factories in factories." We like to get our hands dirty, experiment, simplify, complicate, and then do it all over again. I think that it was Socrates who explained the Thesis, Antithesis, and Synthesis philosophy. Again, you've got to destroy to rebuild. It's hard for me to predict the future of Drew Estate in terms of the blends because we are not led around by some clueless board of directors who just want to hit sales numbers. We create what inspires us. Having the correct strategic partners on the growing side is always the wild card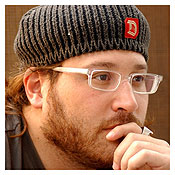 This is from Jorge Padron, it is an extremely inspirational story of origins, do yourself a favor and take time to read it:
L I T T L E HAMMER
IN 1962, I ARRIVED IN MIAMI, AN UNKNOWN CITY IN A FOREIGN LAND. I had to start from zero. At first, I received $60 monthly, as government aid given to Cuban refugees. I was thirty-six years old, strong, and in good health. Every time I cashed that check, I felt like a parasite of the country that had taken me in. For many days, I looked for a job and did not find one. Every night, I went home and thought of the future. I was determined to do something so that I could support my family. One day, Raul Fernandez, a friend who worked in the Cuban Refugee Office asked if I had any carpentry skills. I said I did. He gave me a gift – a small hammer – which he asked me to put to good use. The hammer made me feel I had the necessary tool to become self-sufficient and not depend on a government hand-out. During the days, I worked as a gardener. At nights, I did carpentry with the hammer. My dream was to save enough money to open a factory to make great cigars, like the ones we used to smoke in Cuba. Through a lot of sacrifice and hard work, I managed to save $600 - money I made working with the hammer. With that, I made my dream come true and opened Padrón Cigars in 1964. I still have the hammer as a reminder of how it all started. More than forty years later…The hammer is still here and so is Padrón Cigars, the brand the hammer helped build.
– Jose Orlando Padrón 1964-2006
As a boy, my father would show me a small, old hammer and tell me how it had changed his life. We, his children, grew up hearing the story of el martillito, the little hammer. It became a tradition which we now tell our children. The hammer represents the dedication and hard work that went into building Padrón Cigars. It reminds us of our roots and humble beginnings. It stands for tenacity, integrity, perseverance, commitment to quality…and much more. The hammer helped lay the foundation for what we are today. The hammer has a deep and special meaning for the Padrón Family. This is why we are sharing the story with you.
– Jorge Padrón
When PadrónTM is on the label, quality is a matter of family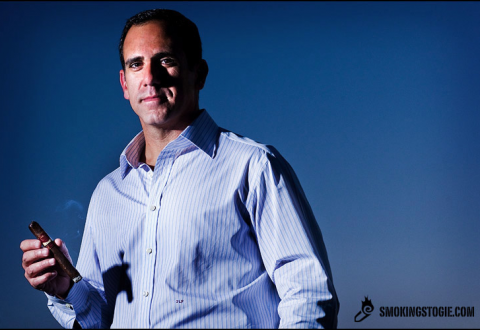 When & Where

JoSabi's
17200 HWY. 16 N
Helotes, TX 78023


Saturday, May 25, 2013 at 2:00 PM

-

Sunday, May 26, 2013 at 2:00 AM (CDT)
Add to my calendar
Organizer
C.A.T.S. Cigars Aficionado Trades and Sales & Op: Cigars For Warriors



C.A.T.S. Cigars Aficionados Trades and Sales
C.A.T.S. Is a Community of cigars smokers who support each other and our Warriors.  It started out as a simple FB group that has morphed into a true Family.  C.A.T.S. members enjoy daily fun, comraderie, amazing specials, special discounts, outstanding opportunities, contests, raffles, and overall enjoyment.  It is a CONSUMER Based group, not dedicated to any one Cigar Shop, or Manufacturer, but dedicated to the Cigar Smoker.
Visit us 
https://www.facebook.com/groups/279242672129307/638889686164602/?notif_t=like
Op: Cigars FOr Warriors
Our top priority is collecting then dispersing premium cigars and accessories to troops serving in combat zones. Our sec
ond priority is filling request from military personnel on Forces Afloat in Combat Zones, long term deployments OCONUS in 3rd world environments and other appropriate Areas of operations to be dealt with on a case by case basis. It is our way to honor, show respect and thank those putting it all on the line for us back home. We have received requests from many soldiers who have no one here in the U.S. to send care packages to them, and would otherwise receive nothing.

Cigars are the #1 requested items from our Troops.  Since May 1st, 2012 thru June 1st 2013 Op:CFW has sent out over 80k cigars to our men and women serving in the US armed forces.

This mission that we have taken up is one of great importance as we know that some of these fine men and women would not be able to enjoy well-deserved moments of reassurance and relaxation without the generosity of sponsors and individual donors. Op: Cigars for Warriors is the link between donation and recipient. We hope that you may be able to assist us in continuing this mission now and in the future. We are in great need of corporate sponsors that can send us donations on a regular basis along with individuals that want to send what they can, when they can. Just as every warrior matters, so does every cigar. Please join us in supporting our endeavor to send love, honor, and respect—one cigar at a time to those whose sacrifices never end. 

We hope that you may be able to assist us in continuing this mission now and in the future. We are in great need of corporate sponsors that can send us donations on a regular basis along with individuals that want to send what they can when they can.

Visit us online @
http://www.cigarsforwarriors.net/
1st Annual CATS Cigar Festival &Op:Cigars For Warriors, Drew Estate sponsored After Hours Bash Short distance from San Antonio!