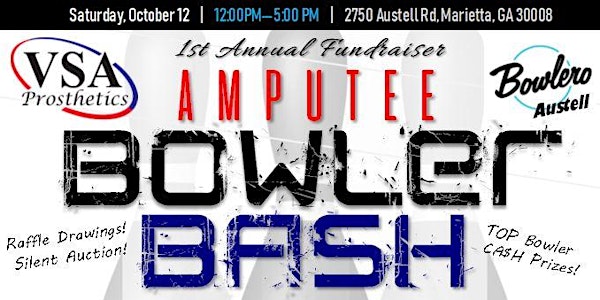 1st Annual Amputee Bowler Bash
First Annual Fundraiser to Create Possibilities for the Disabled and Amputee Community through Adaptive Sports & Community Involvement
When and where
Location
Bowlero Austell 2750 Austell Road Southwest Marietta, GA 30008
About this event
Bring your Family, Friends, and Kids!
HAVE FUN and support your community by joining us at Bowlero Austell! Enjoy bowling while meeting new friends! If you don't care to bowl, come for the fun, camaraderie, and grab a bite of food to eat and participate in the Raffles and Silent Auction, knowing you're helping a very worthy cause!
Bowling -- Cash & Gift Prizes
Have fun, but play your best! Not "great?" No worries! To help "even the field," we'll be scoring by"9 pin no-tap" rules -- This means knocking down 9 pins on your first bowl COUNTS AS A STRIKE!
Cash/Gift Prizes will be awarded to top bowlers in each of the following categories:
(1) Adult Men's
(2) Adult Women's
(3) Limb-loss / Disabled
(4) Youth (10-15 yrs old)
(5) Youth (9 yrs & younger)
Event Schedule
(12:00PM - 1:00PM) Registration & Check-in; Pick-up pre-ordered T-shirts and Shoe Rentals; Silent Auction AND On-site Raffles begin!
(1:00PM - 4:00PM ) Bowling!
(4:15 PM) - Silent Auction Ends; Raffle Drawings
(4:30 - 5:00PM) - Silent Auction Winners; Top Bowlers Awards
There are TWO RAFFLE EVENTS in which you can participate:
(1) PRE-EVENT (ONLINE & At-Event)
**You DO NOT have to be present at the event to win!!**
We will only be selling a total of 400 Raffle Tickets for 4 GREAT PRIZES, so your chances of winning are high! Tickets are first-come, first-serve, and once all tickets have been sold, the raffle will closed.
(it is the purchaser's responsibility to provide accurate contact information when you purchase your tickets, and to make proper arrangements to pick up the prize if you are not present at the event).
Winner(s) will be drawn at the Event.
This year's prizes are as follow:
1. 55" Class 4K Ultra HD (2160P) HDR Roku Smart LED TV
2. Nintendo Switch Console
3. Apple iPad - 6th Gen
4. Echo Show (2nd Gen)
**Be sure to purchase your Raffle Tickets Early! Tickets will sell out fast! **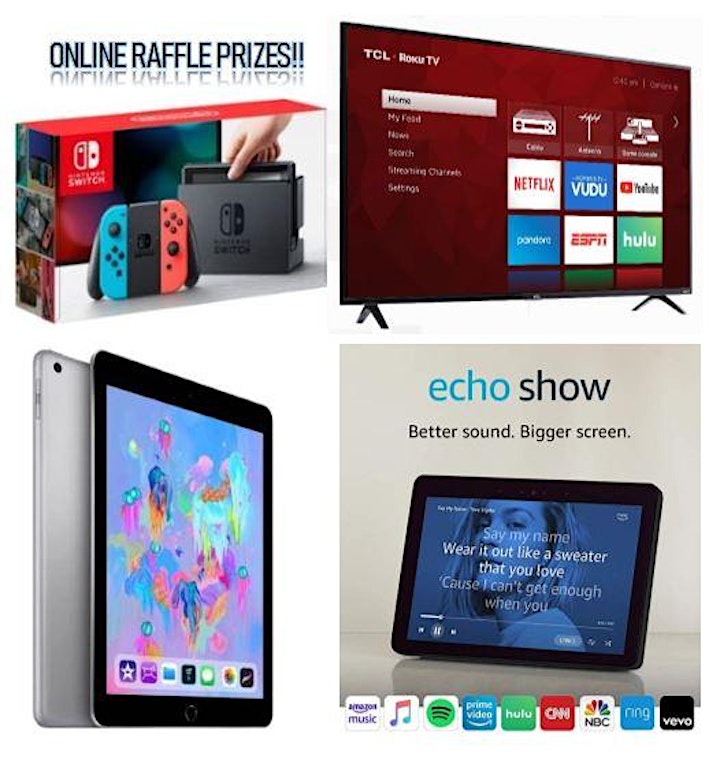 (2) EVENT RAFFLES & SILENT AUCTION
Tickets will only be sold at the event for these prizes, further increasing your chances to win!
**You MUST be present to win these prizes**
"50/50" drawing -- The more people that enter, the bigger the cash prize!
Multiple prizes will be available on-site! Come and check them out!
WHAT IT'S ALL ABOUT..
Amputee Bowler Bash is an annual fundraiser, hosted by VSA Prosthetics, with the purposes of promoting the sport of bowling, while providing the disabled community and their families opportunities to experience the joys of adaptive sports, to unite our community for a common cause, and to create possibilities for physical activities for all who otherwise would not be able to on their own.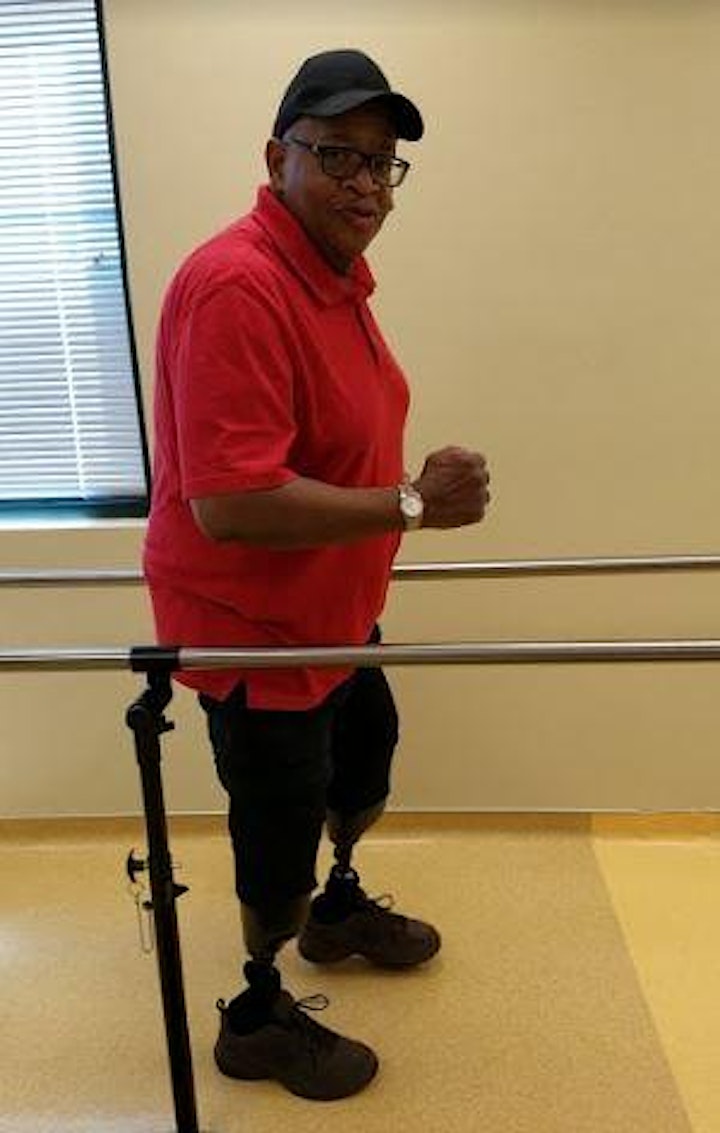 The Amputee Bowler Bash was inspired by Jonathan Griggs, bilateral below-knee amputee, bowler and coach, and his Prosthetist, Eric Chen, CPO, to give back to the community and to inspire the physically and mobility-challenged to enjoy life through physical activity. Through the many trials that he has faced along his journey, Jonathan exemplifies a character of thankfulness, joyfulness, positivity, encouragement, & humbleness. His amazing attitude, despite his devastating losses, has touched the lives of many, and he remains an inspiration to all who have been fortunate enough to meet him. He has been coaching kids for years and continues to do so purely on a volunteer basis and hopes to instill in them the drive in life to always do their best, to keep an open mind when facing challenges, and to overcome hardships through hard work and persistence.
PROCEEDS
Proceeds from this event will be donated to the Orthotic and Prosthetic Activities Foundation (OPAF), a 501(c)(3) non-profit organization, who has partnered with VSA Prosthetics to host annual First Clinics (beginner-level adaptive sporting clinics) in our community to teach the disabled and those living with physical challenges or limb-loss how they can still participate in athletic activities. OPAF travels around the world to provide these clinics.
ABOUT OUR HOST ORGANIZATIONS..
VSA Prosthetics is a branch of Vascular Surgical Associates, who has been providing vascular care to this community for over 30 years. VSA Prosthetics was created with the intention of providing the highest quality and most functional prosthetic designs and services, and most importantly to care for the patient and their family as a whole. VSA Prosthetics' common saying "It only seems impossible until it is done" and mission of "Creating Possibilities" for this population is extended through the Amputee Bowler Bash and hosting future OPAF Adaptive Sports Clinics.
Bowlero Austell is operated by General Manager Dennis Lockhart, who has known Jonathan Griggs for many years and has generously offered to support our cause by offering his beautiful facility to host this year's event. They host numerous leagues, parties, events, and have welcomed us into their family with open arms.
See below to learn more about the host organizations:
Orthotic and Prosthetic Activities Foundation (OPAF) (www.OPAFfirstclinics.org)
Vascular Surgical Associates (www.VascularSurgicalAtlanta.com)
VSA Prosthetics (www.VSAprosthetics.com)
Bowlero Austell (www.bowlero.com/location/bowlero-austell)
SPONSORSHIPS
If you're interested in partnering or sponsoring this or future events through tax-deductible donations, there are several opportunities, including advertisement on the back of our event shirts, Lane Sponsorships, in-kind donation of raffle prizes, etc. All sponsors will be proudly displayed and recognized at the event, as well as on VSA Prosthetics' event page.
For further information or details, please call VSA Prosthetics at 770-544-1145