Description
Join the New York Chapter of the National Organization of Minority Architects (nycobaNOMA) for the 1st Annual 5K Turkey Run & Walk. Nycoba|NOMA's Annual 5K Turkey Run & Walk is a fundraising event that covers 3.1 miles in the Lower Manhattan Battery Park Esplanade along the Hudson River. The 3.1 miles will be lined with water, sustenance, and support. ​​

Donation
Donations for the run will go towards the Project Pipeline and the 47th Annual International Conference & Exhibition:
The Project Pipeline Workshops are focused on local community based issues and opportunities. The program is built to provide students with a platform to discuss, analyze, and interpret the impact of design, art, and architecture in the built environment through focused curriculum and creative outcomes.
2019 NOMA Conference. Next year the 47th annual NOMA Conference,
"Believe the Hype", will be held in Brooklyn, New York. The goal and objectives for the 47th Annual NOMA Conference raises the awareness and profile of the organization and local chapter, builds new and lasting partnerships, and showcases our amazing city.
Course
This race will start at Pier 51 Hudson River Park. You will head south toward Battery Park via Hudson River Greenway. You will then make a right at Stuyvesant High School onto North Esplanade, a left onto Battery Park City Esplanade. Another left when you see North Cove Yacht Harbor and continue around North Cove Harbor back to Battery Park Esplanade through South Cove Park towards Wagner Park. St and finally a right into the entrance of Battery Park. You will pass The Korean War Memorial and then pass The Battery Fountain and Finish at Battery Gardens.

Remember, volunteers will line the path to guide you and offer you a nutritious energy bar or water. The course offers terrific views of New York City & New Jersey along the way. ​​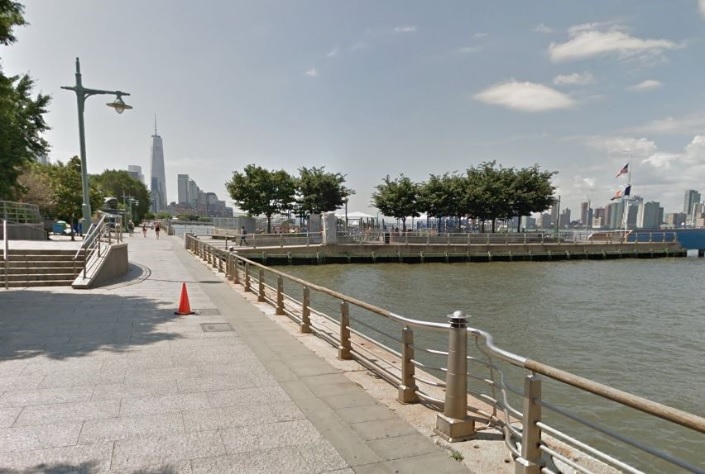 Above is an image of where we will gather for check-in.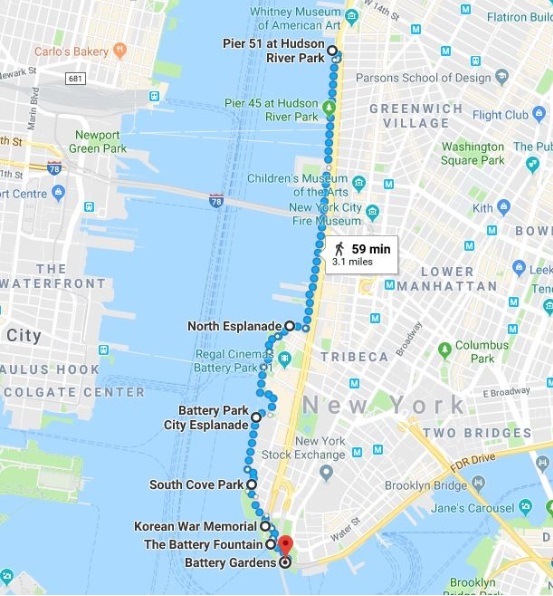 Above is an image of the course map.
Amenities
Water, energy bars & drinks will be available on the course, and a continental breakfast will be available at the end of course. An emergency responder will be available in case of an emergency.

Directions
Take the A,C,E,L train to 14 Street - 8 Avenue and walk 11 min to the start. Or, take the M14A to Hudson St/Horatio St stop and walk 7 min to the start. Please check MTA Trip Planner for up to date and detailed mass transit directions and Google Maps for driving directions. Parking is limited. We strongly encourage you to use mass transit or a ride sharing app.

Rules of Engagement
No skates or bicycles are permitted. For those with small children, strollers are encouraged.

You must be at the start of the run/walk on time or you risk missing the volunteer support and amenities. We begin packing up registration no more than five minutes after the start.

Finish time and pace for the Turkey Run is 1 hour, (21:26 min/mi pace). As long as you meet that requirement, you can rest assured your efforts will be supported with hydration stations, course amenities, and proper medical coverage just in case.

We recognize that many of you run best with music or audio books but to ensure your safety and the safety of others, please do so in a manner that allows you to be aware of your surroundings. We'd prefer that you leave one ear unobstructed by only wearing one earbud at all times if at all.
Merchandise
NYCOBA and Architect of History T-shirts will be available for purchase.


For questions about these rules and regulations, please email info@nycoba.org ​​

The website is updated regularly with information and a calendar of events. We encourage you to please visit our page regularly.