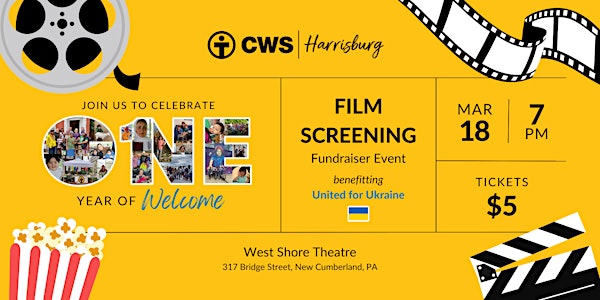 1st Anniversary at West Shore Theatre
Join us to celebrate our first anniversary with a film screening to support our mission and our Uniting for Ukraine refugee program.
Date and time
Saturday, March 18 · 6:30 - 9:30pm EDT
Location
West Shore Theatre 317 Bridge Street New Cumberland, PA 17070
Refund Policy
Refunds up to 7 days before event
Eventbrite's fee is nonrefundable.
About this event
Join us at West Shore Theatre on Saturday, March 18, 2023, to celebrate our first anniversary of welcoming new neighbors in the Harrisburg region. This fundraising event supports our programs and mission to help refugees resettle, form long-lasting relationships in the community, and maintain their own basic needs in a sustainable lifestyle.
Meet our staff, learn about our impact and programs, and enjoy a Ukrainian film!
Doors open at 6:30 PM
Program start at 7 PM
About the Film
"Olga" (2021), NR
Subtitled in English; Running Time 1 hr. 25 min.; Rated 91% on Rotten Tomatoes
Olga (Anastasia Budiashkina) is a talented teenage Ukrainian gymnast exiled in Switzerland, dreaming of Olympic gold and trying to fit in with her new team in her new home. As she prepares for the European Championships, the Ukrainian people back home in Kyiv rise up in what has become known as the Maidan Revolution, suddenly involving everyone she cares about. Olga is left a powerless, distant bystander as her mother, an investigative journalist, faces danger as she challenges the brutal Yanukovich regime. Incorporating documentary footage from the 2013 uprising, Olga is a tense, sensitively handled tale of exile reflecting the clash between the personal and the political in a young woman's search for identity.
Uniting for Ukraine
Our work includes support of the United for Ukraine program (U4U) provides services to Ukrainian citizens or those who recently lived in Ukraine that arrived in the US since February 24, 2022.
General Admission Tickets: $5
Additional donations are welcomed. Tickets are final sale. Advance tickets are the best way to secure a seat. Tickets at the door cannot be guaranteed. Please contact us if you require accessible seating.
For those with financial barriers who could not otherwise attend as well as our new Ukrainian neighbors, please contact Erika Juran in advance of the evening at ejuran@cwsglobal.org.
Advance ticket sales will end at noon on Friday, March 16, 2023.

Church World Service (CWS) is a faith-based organization transforming communities around the globe through just and sustainable responses to hunger, poverty, displacement, and disaster. To help live out this mission, CWS recently opened a new office in Harrisburg to welcome and support refugee and immigrant neighbors in the greater-Harrisburg area. Through partnerships with faith groups, organizations, and individuals, CWS Harrisburg offers various services to refugees, immigrants, asylum-seekers, and other uprooted people seeking safety and the opportunity to rebuild their lives.
More specifically, since opening in March 2022, CWS Harrisburg has welcomed and supported:
36 Afghan Humanitarian Paroles through the Afghan Placement and Assistance Program (APA)
90 refugees through the Reception and Placement (R&P) program from Syria, Iraq, Afghanistan, Guatemala, Venezuela, Democratic Republic of Congo, Central African Republic, and Myanmar
For the federal fiscal year 2023, (October 1, 2022 – September 30, 2023), CWS Harrisburg is approved to:
Receive 110 refugees from around the world
Support an estimated 75 Ukrainian Humanitarian Paroles throughout our local communities
Please visit our website to learn more about us and how you can get involved!
We're Seeking Sponsors!
If you are interested in sponsoring our event, please contact Erika Juran at ejuran@cwsglobal.org.
Spotlight Sponsors - $250+
Reserves (1) Booth. Booths hold 4-6 people and give a great view.
Stage Shoutout
Logo on our website
Mention in newsletters, social media, flyers, pre-show presentation
CWS "swag bag"
Special thank you gift made by one of our artisans of CWS Marketplace!
Supporting Sponsors - $100+
Reserves (1) Booth. Booths hold 4-6 people and give a great view.
Mention in newsletters, social media, flyers, pre-show presentation
Special thank you gift made by one of our artisans of CWS Marketplace!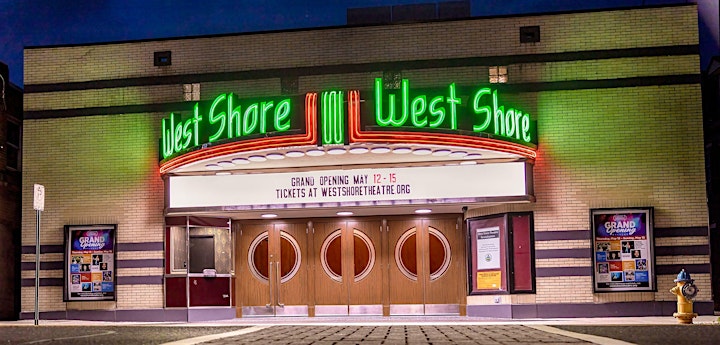 West Shore Theatre
The mission of the West Shore Theatre, a 501(c )3, is to be the center for cultural arts in New Cumberland and surrounding communities, enriching the region by offering opportunities to experience high quality, diverse entertainment, and education.
The West Shore Theatre is located conveniently off I-83 in the heart of downtown New Cumberland at 317 Bridge Street, New Cumberland, PA 17070. GET DIRECTIONS
Parking
Two parking lots are located in close proximity (a short walk) to the theatre. You may also park at any available on-street parking space. West Shore Theatre Parking Map
Accessibility
The West Shore Theatre was intentionally designed to be easily accessible for all members of our community. From an ADA-equipped all-gender restroom to flexible seating to accommodate wheelchairs, the West Shore Theatre is ready for you!