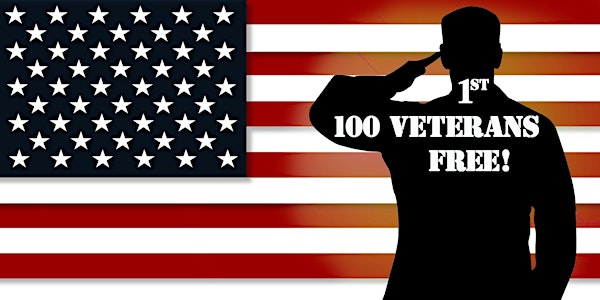 1st 100 Veterans FREE! October12th, 2019
When and where
Location
Crown Plaza International LAX 5985 W Century Blvd Los Angeles, CA 90045
Description
Join the Entrepreneurs and Businesses Helping over 100 Veterans with the transition from Service Life to Working Civilian Careers:
Linked into Veterans 2019
Saturday, October 12, 2019 from 8:30 AM - 10:30 PM
The first 100 Veterans to Register are FREE!!! Click Here to Register: https://www.linkedintoveterans.com/
Serving those who Served Us!

Our purpose is to have an event that builds connections, relationships leading to new careers.

The producer of this event Debra Faris a daughter of a Navyman, niece of a Army lifer and mother of a Veteran transitioned into the workforce.

What To Expect
Mastermind with Experts on New Opportunities

Companies looking to Employ Veterans

Resources for starting your Own Business

Strategies, Solutions & Valuable Insights for Life

Networking & Connecting with Influence-rs

Get your FREE "Veterans In LinkedIn" Book
Mark your calendar!
Event Schedule:
Speakers 9am-11:30
Employers Who Hire Veterans & Services Open 9am-8pm
MasterMind Lunch w/ Experts 11:30-1:00pm
Speakers 1:00pm to 5:30pm
Meet & Greet 5:30-7:00pm (cash bar)
Celebrity Charity Gala 7:15pm (Hors d'oeuvres & Pasta Bar)
Kick off Color Guard, Talent, Auction & Gala 8:00pm - 10:30pm
Please go to our Website www.LinkedInToVeterans.com to see our 5-Star Speakers. Many are recognized by Presidents & are known Icons like...
Shad Meshad of the National Veterans Foundations PTSD & 24 hr Suicide Hotline.
Bob Wieland, who President Regan named "Most Courageous Veteran in America"
Jesse Medina, Serves on 5 Military Boards & Founded VeteranStrong a Career Platform
Jeff Duff & Airstreams, Training assisted 4,500 Veterans to get hired in Cellular Towers
Our Charities
Gary Sinise, Veterans National Foundation, VeteranStrong & Veterans Independence Day Celebration. For more information on 501c3 charities visit: www.LinkedInToVeterans.com
Everyone gets a copy Linkedin for Veterans book. Half a billion members on LinkedIn, search "Veteran" there are 500,000. People say they are Veteran Friendly, we would love those of us on LinkedIn to help our Veterans by searching for Air Force, Army, Coast Guard, Marines & Navy & ask them how you can serve them.
Watch our Pre-Launch: https://www.youtube.com/watch?v=F6L54SC9qJw&t=13s
To our Veterans & Military…. Thank You for Your Service!
For Employer Tables & Sponsorships Contact Debra Faris 949-233-1424 or
Email: Debra.Faris@ gmail.com