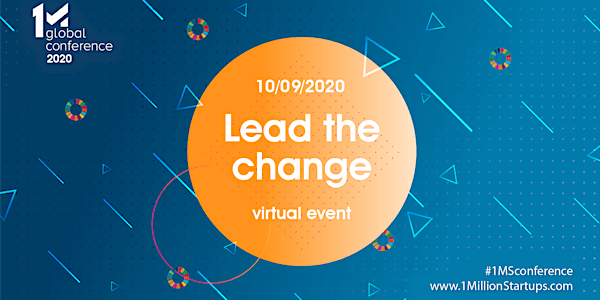 1MillionStartups Global Conference: Lead the Change
This year we dedicate the conference to the pioneers among us who are leading the change, who dare and who think, look, and act differently.
About this event
What kind of leaders will the world need over the next ten, twenty years? How will our knowledge of leadership, leadership development, and leadership education change? There are very few certainties about the future—one of those is that soon the world will be very different than it is right now. Change is inevitable.
1MillionStartups Global Conference 2020 is a FREE ONLINE SUMMIT on Thursday, September 10th.
This year we bring you various keynotes and panels with inspirational speakers discussing tomorrow's leadership, the purpose of the new economy, impact investment, and sustainability in business and technology.
Agenda
Master of Ceremony: Sophie Zechmeister
2:00 pm (CET)
Opening: Margarete Schramböck - Austrian Federal Minister for Digital and Economic Affairs
Opening: Candace Johnson - a global infrastructure, network, and innovation expert and entrepreneur
Opening: Selma Prodanovic - Founder of 1MillionStartups
2:40 pm (CET)
Keynote: Mrika Nikçi - The youngest female in the world to climb all 7 summits - "Many people said 'this is almost impossible for men. And you, as a woman, want to do this?' That was the moment I told myself: 'I'm going to do this no matter what, I'm going to prove all of them wrong. We are strong, and we can do whatever we want.'"
3:15 pm (CET)
Networking sessions
3:45 pm (CET)
Changing the face of leadership - Unique, different leaders of today
Chair: Margaret Mutheu
Yasmine El Baggari - Voyaj - USA/Marocco - Glamour Woman of the Year (2016), Forbes Africa 30 Under 30 honorees (2018), social entrepreneur, runs to experience the "Overview Effect" with space for Humanity - the planet's first Sponsored Citizen Astronaut Mission.
Molly Steer - Straw no more, Australia - In 2017, at just 9 years old, Molly launched a successful initiative, which implores individuals, businesses, and schools to take a pledge to ditch plastic straws. Activists and TED Speaker.
Maya S. Penn - Maya's Ideas, USA - Founder and CEO, environmental activist, artist, eco-designer, TED Speaker, founded the brand at just 8 years old.
Lila Behr - Gaia Protection, Costa Rica/Germany - Works with the Movement Precious Plastic in communities in Costa Rica, aims to bring more of the circular economy vision into practice.
Boniface Ndegwa Ng'ang'a - Innovator, Kenya - Environmentalist, leading Turning Trash into Treasure program, director at Universal Revolution Empire Limited and CEO of Good Guys Globe Society.
4:10 pm (CET)
Leading towards the SDGs
Chair: Roberto A. Arrucha
Werner Müller - FFG - Lead of Startup Services & Global Incubator Network Program, The Austrian Research Promotion Agency (FFG)
Armand Colard - ESG Plus - CEO, social business, specialized in sustainable finance solutions for the financial sector.
Olga Diachenko - Human Venture - Founder - Passionalty focused on resolving global challenges and tracking impact from donations and impact investments.
Johannes Lindner - Head of the Department of Entrepreneurship Education & the Center for value-based Business Education at the University Teacher College Vienna/Krems - He is changing the way children are taught inside and out of the classroom to inspire and institutionalize.
4:40 pm (CET)
Startup Pitches - 10 FFG Global Incubator Network Startups from Singapore, Hong Kong, and Israel
5:00 pm (CET)
Closing: Helena Rosandic Sepic, Co-founder of 1MillionStartups and Startaparat
Networking
How to join?
We are using the Remo platform. Read the instructions here.