1D and 2D Nanomaterials for Electronic and Thermal Applications

Tuesday, September 20, 2016 from 11:30 AM to 1:00 PM (PDT)
Event Details
San Francisco Bay Area IEEE Nanotechnology Council
 http://sites.ieee.org/sfbanano
Tuesday, September 20, 2016
11:30: Networking, Pizza & drinks; 
Noon -- 1pm: Seminar 
Your donation at the door, of $5 to help cover the cost of lunch, would be much appreciated.
Please register on Eventbrite before 5 PM on 9/19/16  
Walk-In attendance is welcomed but discouraged 
Please assist us in our event planning!* 
If you decide not to attend - cancel your reservations by 5 PM on 9/19/16
LOCATION: TI Auditorium E1: 2900 Semiconductor Drive. Santa Clara;
(map & directions link) http://www.ewh.ieee.org/r6/scv/eds/images/TI-BldgE-Auditorium.pdf 
Job Seeker Assistance at this Seminar (scroll down for details):
1D and 2D Nanomaterials for Electronic and Thermal Applications
 Speaker: Professor Eric Pop, Electrical Engineering, Stanford University
 Abstract:
    One-dimensional (1D) materials like carbon nanotubes (CNTs) and two-dimensional (2D) materials like graphene have unique electronic and thermal properties. This talk will discuss recent 1D and 2D advances in the context of nanoscale transistors, nanoscale thermal transport and Peltier effects, which could enable energy-efficient electronics. As time allows, we will touch upon both fundamental limits and practical applications of 1D and 2D materials.For additional info about the Pop Lab at Stanford please visit: poplab.stanford.edu.

 Short Bio:
    Prof. Eric Pop (epop@stanford.edu) joined the Electrical Engineering (EE) faculty at Stanford in 2013. Previously he was on the faculty of the University of Illinois Urbana-Champaign (2007-13). His research interests are at the intersection of electronics, nanomaterials, and energy. He received his PhD in EE from Stanford (2005) and three degrees from MIT (MEng and BS in EE, BS in Physics).
   Between 2005-07, he worked at Intel on nonvolatile memory. His awards include the 2010 PECASE from the White House, the highest honor given by the US government to early-career scientists and engineers. He is also a recipient of Young Investigator awards from ONR, NSF CAREER, AFOSR, and DARPA. He was the General Chair of the Device Research Conference (DRC), and has served on program committees of the VLSI, MRS, IEDM, and APS conferences. In a past life, he was a DJ at KZSU 90.1 from 2001-04.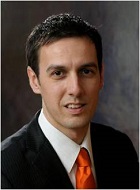 * Please help us manage our event planning. When too many free registrants do not attend, and we have many walk-in attendees ... This makes it difficult for us to order the proper amount of food for lunch. 
Job Seeker Assistance at this Seminar (details):
In response to recent new layoffs, and continuing concerns for people seeking employment,
SFBA Nano is offering some assistance to job seekers.
 This is a first time activity, and will be fine-tuned going forward.
SFBA Nano will be deciding if and how it should be modified for future activities.
 The plan is to minimally disrupt the Tuesday seminar for this.
For Tuesday 9/20, there will only be two things:
1.  A table with CVs/resumes available if people want to pick up, and
2.  An announcement slide that is projected before the seminar while people eat lunch and network, along with our other announcements.
Job Seekers:
1. Bring copies of your resume for distribution & display on the resume table.
2. Send a one-line description of yourself, to be displayed on the "Announcement Slide" listed above in item 1.
   Example, "John Paul Strachan, over 35 yrs experience in Circular Arguments; seeking Marketing position"
>>> ASAP <<<
Send your one-line description by Monday – as early as possible - to:
            John-Paul Strachan      john-paul.strachan@hpe.com
 Please feel free to forward this invitation to any of your own colleagues who may be seeking jobs.  
Attendee List
Sort by:

Date

|

First Name

|

Last Name
When & Where

Texas Instruments; Auditorium E-1
2900 Semiconductor Drive
Santa Clara, CA 95052


Tuesday, September 20, 2016 from 11:30 AM to 1:00 PM (PDT)
Add to my calendar