19th Annual TEI-Sponsored LB&I Conference Session 3: International Taxes
Event Information
Refund Policy
Refunds up to 1 day before event
Eventbrite's fee is nonrefundable.
About this Event
19th Annual TEI-Sponsored LB&I Northeastern Compliance
Practice Area Conference
September 22 and 23, 2020
The Tax Executives Institute – New York Chapter is once again partnering with the IRS for an LB&I Northeastern Compliance Area update on a variety of topics – this time, we are bringing you this conference to you LIVE via Zoom.
We will have three separate Conference sessions—you can register for one, two or all three sessions.
Among the highlights of this year's conference:
Session 1 - Tuesday, September 22nd – 9:00 AM – 11:15 AM
LB&I Examination Update:
Nikole Flax, LB&I Deputy Commissioner will provide an LBI State of the Union update and then join a panel with Barbara Harris, Director of NECPA, Darlena Billops-Hill, DFO- North Atlantic and Nancy Wiltshire, DFO – Mid-Atlantic to discuss CARES Act and COVID-19 updates as well as provide LB&I Examination Process Updates.
To register for Session 1 please use this link: https://teiny_irs_2020conference_session1.eventbrite.com
Session 2 – Tuesday, September 22nd – 1:00 PM – 3:25 PM
Appeals Updates:
Shelley Foster, Director, Examination Appeals and Reinhard Schmuck, Program Manager of Appeals, will speak on a panel regarding the latest developments in Appeals including COVID-19 and how Appeals is dealing with the challenges.
Office of Chief Counsel Updates:
Elizabeth P. Flores, Senior Level Deputy Area Counsel and Abigail Foster Dunnigan, Associate Area Counsel will discuss recent Court decisions.
To register for Session 2 please use this link: https://teiny_irs_2020conference_session2.eventbrite.com
Session 3 – Wednesday – September 23rd – 9:00 AM – 11:40 AM
International Tax Update:
An LB&I Update on TCJA, Campaigns, the Large Corporate Compliance (LCC) Program are among the topics to be discussed on the panel which includes John Hinding, Director, Cross Border Activities and Orrin Byrd, DFO, Cross Border Activities.
Global Tax Issues Update:
Featuring Kimberly Schoenbacher, Acting Director, Foreign Payments Practice, John Hinman, DFO, Transfer Pricing Practice and Chris Shott, General Attorney (covering FPP issues) to discuss transfer pricing priorities, FPP and FATCA Compliance and Audit activity.
To register for Session 3 please use this link: https://teiny_irs_2020conference_session3.eventbrite.com
Please see the latest draft program (attached) for details, including the distinguished group of practitioners who will be participating in the panel discussions.
New York CPE credits will be awarded to participants. Participants will be awarded CPE credits if they are registered and respond to the polling questions during the session. Please note that participants not connected through Zoom and those connected via audio only are not eligible for CPE since they cannot respond to the polling questions. Finally, you MUST register in Eventbrite using the same email address that you use to connect to your Zoom account.
We encourage you to submit questions in advance of the meeting—please submit questions when you register.
Conference Fee: $50 PER SESSION payable by credit card only. Refund requests are subject to a $5 administrative charge. Refund requests should be sent to jwindtax@gmail.com.
Please contact me, TEI chair of the conference, should you have any comments or questions.
Paul Heller
TEI Conference Chair
Paul.heller@rbc.com
Follow us on LinkedIn: linkedin.com/company/tax-executives-institute-tei-new-york-chapter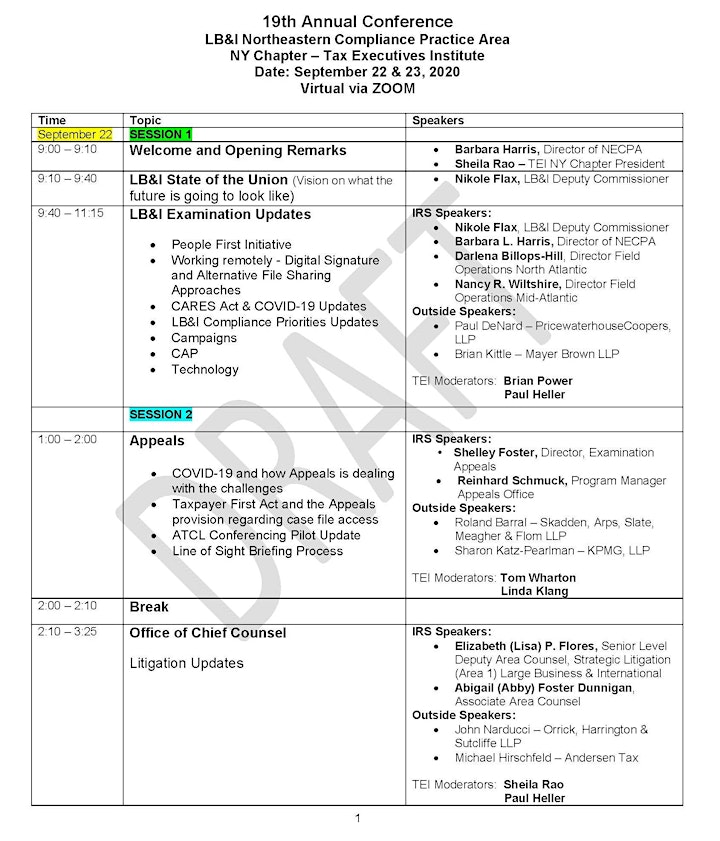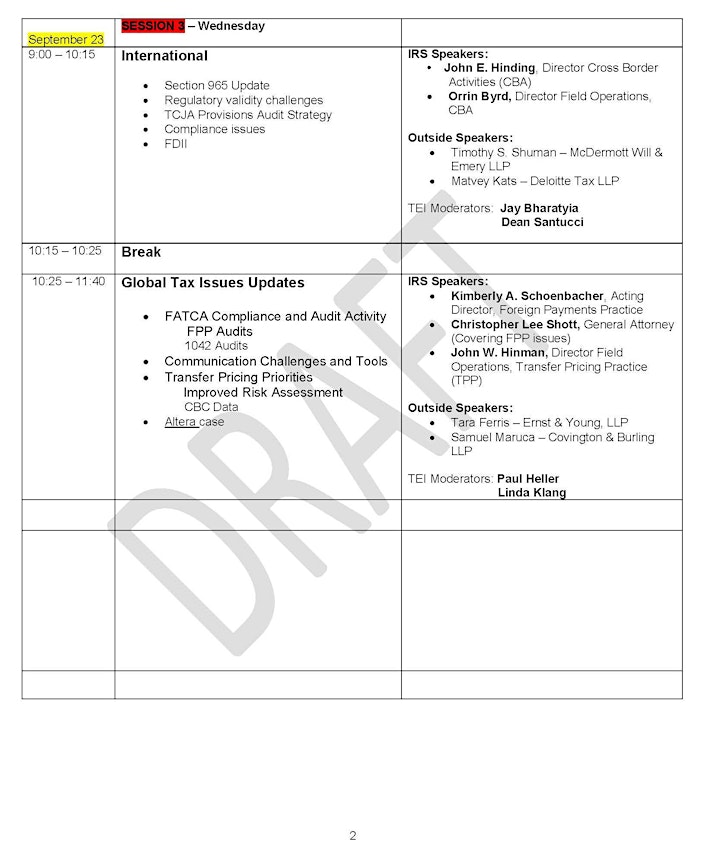 Date and Time
Location
Refund Policy
Refunds up to 1 day before event
Eventbrite's fee is nonrefundable.