19th Annual Sankofa Caravan to the Ancestors

Saturday, October 15, 2016 from 7:00 AM to 12:00 PM (CDT)
Event Details
Saturday October 15, 2016 the National Black United Front will host the 19th Annual Sankofa Caravan to the Ancestors.  The Sankofa Caravan is an interfaith ancestral commemoration. The event has three key areas of focus: to offer praise and thanksgiving to the creator and our revered African ancestors; to educate our community on African spirituality, history and culture; and to invoke blessings for our community in all worthy endeavors."Sankofa" is a word from the Akan people of West Africa which challenges people of Afrikan ancestry to "Go Back to Your Past" and bring to the present past values that are needed now. The Caravn will depart from the National Black United Front Houston Head Quarters 2428 Southmore Blvd. Houston TX at 7am.  Participants are asked to wear all white for spirit. 

 
Often the concept of "Sankofa" is symbolized by a mythical bird which moves forward while looking backward. Certain depictions of the "Sankofa" bird show an egg being held within its beak, symbolizing the future of those yet to be born. If the egg is held too tight then it will break. If the egg is held too loose then it will fall. To embrace the true meaning of "Sankofa" one must move forward while gaining wisdom from the past and exacting the proper balance in preparation for the future.

A Caravan is typically held which makes the "Sankofa" connection relevant through prayer, ritual, African drumming, African dancing, speakers and martial arts.

Research reveals and history shows us that Galveston beach was a port of entry for our enslaved African ancestors. One of the Moor people, Estevanico or Esteban, came to the shores of Galveston, Texas, as a servant, navigator and guide to Portuguese explorers in the year 1528. It is recorded that in the 1780s, enslaved Afrikans were transported by way of Morgan's Point across the bay from Galveston Island. This barbaric practice of profiting from human cargo was plentiful in Galveston for many years, with slave traders skillfully circumventing laws that banned the uncivilized practice of slave trading.

Furthermore, Galveston is the place where General Gordon Granger delivered his decree concerning the emancipation of Afrikans held in slavery on these shores on June 19, 1865. All across this country, especially here in Texas, people commemorate this day and refer to it as Juneteenth or the Juneteenth Holy Day.

Because the spirit and history of our Afrikan ancestors dwell on the shores and streets of Galveston Island, organizers of the Caravan sought to celebrate that spirit and history, as well as highlight the many values of our Afrikan ancestors to be brought forth for our overall use today.

In 1998, the National Black United Front (NBUF) – Houston Chapter, hosted the 18th National Black United Front National Convention. The theme of the convention was "Sankofa" and while planning for the convention, members suggested a retreat to Galveston.

Research was done to uncover little known history of Afrikans in Galveston and across Texas. After much discussion, a decision was made to hold an ancestral remembrance, including performing a ritual in honor of our "Holy Afrikan Ancestors." The chosen location was near a market where our Afrikan ancestors were bartered for and sold as chattel. On the day of the 1st Caravan, Professor James Small declared the day of remembrance to be a Holy day that should be commemorated annually.

A decision was later made to have the actual date of the Caravan be in mid-October, in order to have better weather conditions. October is also seen by many Afrikan descendants as the month of the "Maafa" or "Afrikan Holocaust" month.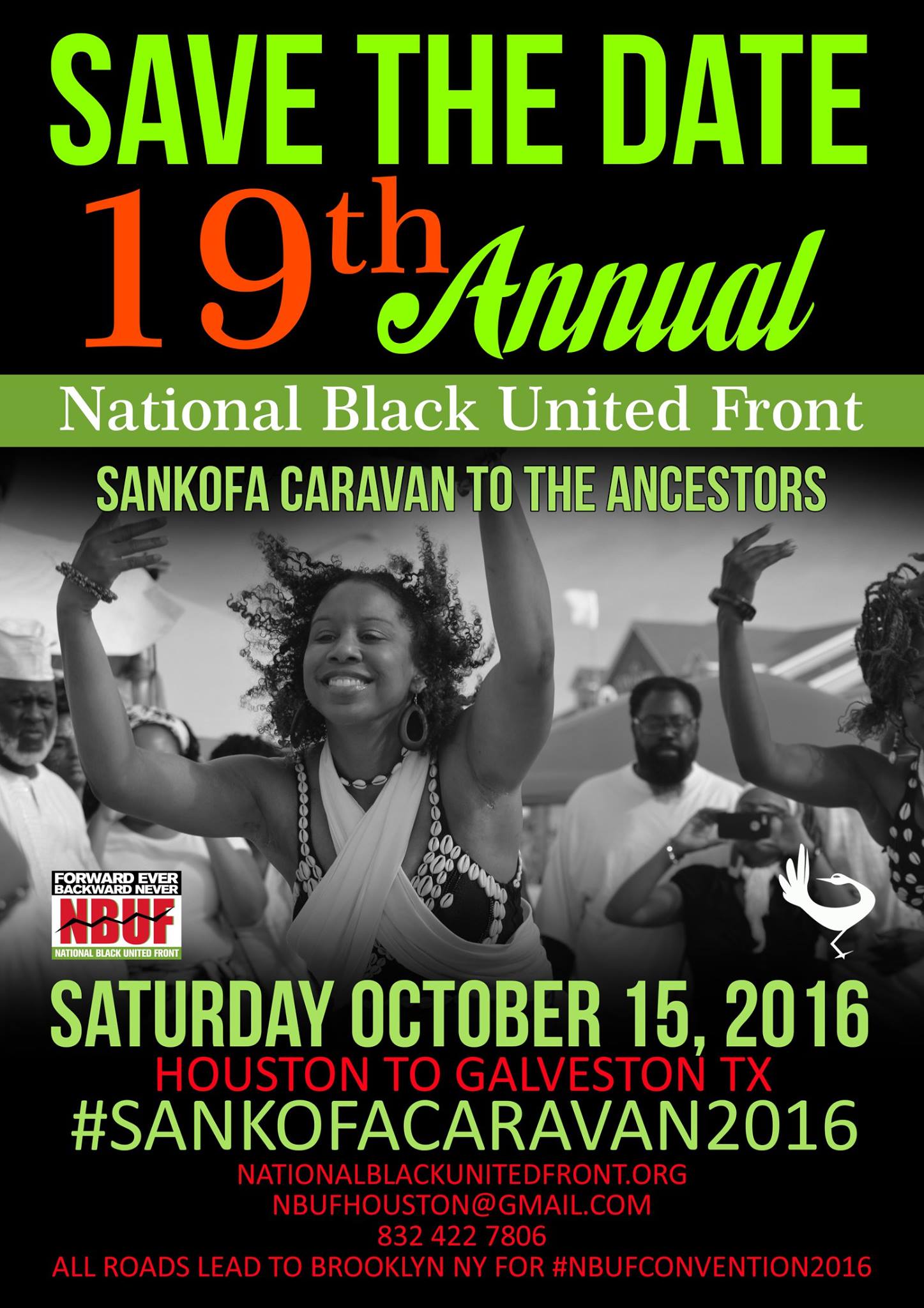 Attendee List
Sort by:

Date

|

First Name
When & Where

Galveston , Texas


Saturday, October 15, 2016 from 7:00 AM to 12:00 PM (CDT)
Add to my calendar
Organizer
National Black United Front
The "Black United Front" is an organization made up of concerned and committed individuals and organizations who have united to assume responsibility for working and leading the struggle for a better life for themselves and their children. The Black United Front is a broad-based organization which includes all social, political, religious and cultural sections of the Black community.
19th Annual Sankofa Caravan to the Ancestors