Join the Cleveland Council of Black Colleges Alumni Association as we launch our 19th Annual HBCU College Fair.
About this event
We are excited to have you and your HBCU as part of this years college fair.
You will have the opportunity to join us in person here in Cleveland, Ohio, or virtually we are requesting that you join us LIVE and in-person to get the maximum engagement with our students that will be attending in-person. Our mission is to provide our students and parents an opportunity to ask questions and engage in a controlled environment, and also allow you to develop real relationships with the students that will be part of this years fair.
As we begin to finalize schools, workshops and schedules we will share more detailed information with you and your team.
The goals of the fair are to:
Increase college enrollment in under-served and under-represented populations of the community
Educate the community about the value of Historically Black Colleges and Universities;
Allow participants to become familiar with a variety of financial aid programs and educational resources;
Connect post-secondary options to a student's career, internship, and vocational interest and opportunities; and
Provide relevant programming that showcases student achievement, talents and philanthropy.
Once again, thank you for registering for this years HBCU College Fair
Registration Deadline for all HBCU College Representatives is: Monday, November 1, 2021
If you have any questions please feel free to email: hbcucollegefair@hbcualumnicle.com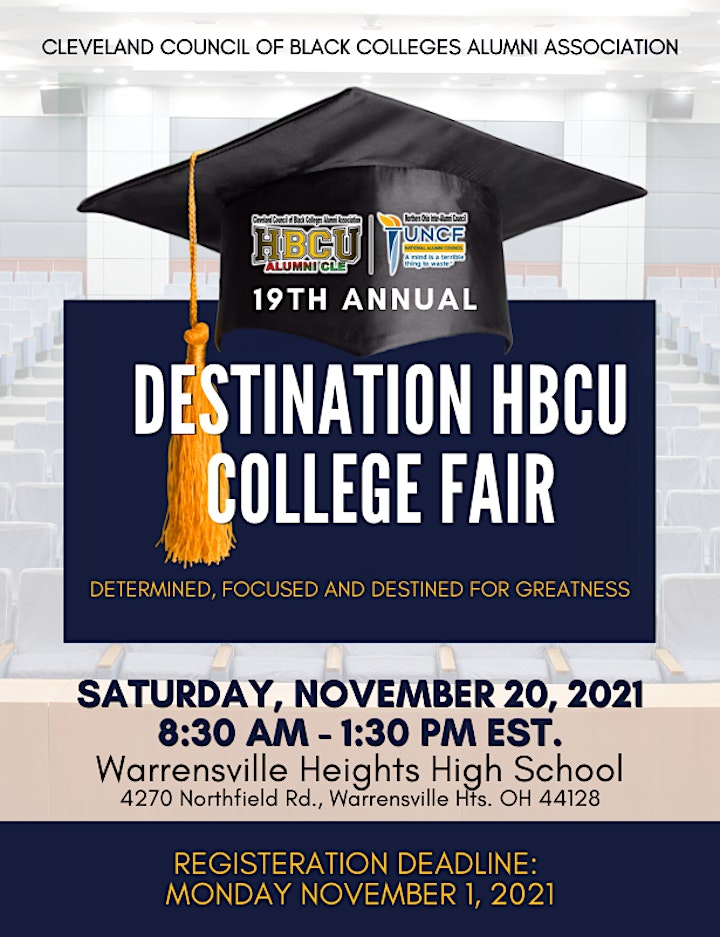 Organizer of 19th Annual Destination HBCU College Fair
The Cleveland Council of Black Colleges Alumni Association, also known as the HBCU Alumni CLE Council was established on Sunday, July 27, 1975 by Sylvester Reed, a graduate of Tuskegee Institute (now University). The council is an alliance of local alumni, alumni chapters and supporters of the public and private Historically Black Colleges and Universities. The organization is also affiliated with the Northern Ohio Inter-Alumni Council of the United Negro College Fund, which shares a similar philosophy with a regional and national outreach and mission.​

The primary purpose of the council is to:
Enhance the awareness of HBCUs,
Provide HBCU student recruitment and scholarship opportunities, and
Offer alumni development, support and fundraising to the institutions we serve.