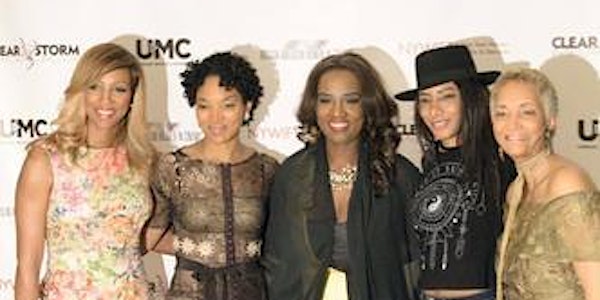 19th AAWIC Film Festival Tickets
By African American Women In Cinema
When and where
Date and time
March 22, 2017 · 5pm - March 26, 2017 · 8pm EDT
Location
New York New York, NY
Refund Policy
Contact the organizer to request a refund.
Description
19th African American Women In Cinema Film Festival

New York City

March 22-25, 2017

www.aawic.org
The African American Women In Cinema Festival will feature the works of emerging and established women of color filmmakers from around the world and will offer world premiers, film screenings, keynote panels which focus on industry related topics, and special programs. It is the aspiration of African American Women In Cinema, through this Festival, to give talented women a path to fulfilling their dreams, through exposure of their talents, peer interaction and through mentoring by established professionals in the media and entertainment field.
Film Screening Program Details

____________________________________________________________________
​March 24, 2017
Location: LMHQ

150 Broadway, NYC

​20th Floor

_____________________________________________________________________

​​​​4:00pm-11:00pm Film Screening Program (Main Event Space)
Film Screening Program 1
​4:00pm-6:00pm

​"Everything But A Man"
Synopsis:
She's sexy, smart, successful... and still single.
Everything But A Man follows the story of a successful but lonely career woman, who despite all her material success is a failure when it comes to love. The film explores the paradox modern career women face, having to think and act like a man in the work world, but still behave like "a lady" at home in order to keep a man.

Filmmaker:
Nnegest Likké is an award winning, internationally-based filmmaker with a passion for telling unique and uplifting stories that inspire humanity. From humble beginnings, she grew up in the inner-city of Oakland, but got the rare chance to begin traveling the world at a young age with her mom, visiting countries across Europe and Africa where her father, famous Ethiopian Freedom Fighter, Dr. Senay Likké is from. Before becoming a professionally recognized writer, director and producer, she was a high school English and Drama teacher in Los Angeles for 4 years where she discovered a calling for mentoring at-risk youth. She got her start in the entertainment industry after one of her screenplays gained the attention of a top Hollywood Producer who helped launch her career. Her first feature film, Phat Girlz was distributed theatrically by Fox Searchlight. Via her Production Company, N'Vision Pictures, she continues to create cutting edge content for film, television and digital platforms.

______________________________________________________________________________________
​Screening Program 2
6:30pm-8:30pm​

6:30pm"The Color Rage"
​​Synopsis
The COLOR OF RAGE takes place in Abuja, Nigeria's sprawling capital. It tells the story of a happily married couple, Maureen and her husband Hilary. She is in the crosshairs of Uche, a beautiful and ambitious young woman who wants Maureen's seemingly perfect life.

Hilary, too, has his own troubles. Presley, a man with whom he works, threatens to expose a secret Hilary is desperately trying to keep. Arrogance and hubris will always get in the way. Thus blinded, Uche and Presley fail to see they've pushed their victims to the breaking point. But even a rat, when cornered, will fight.

Filmmaker
Chime was born in Nigeria, and with her family migrated to Houston, Texas when she was 10. She attended the University of Houston for her first degree, then arrived to New York City for graduate school.

In 1996, Chime graduated from Columbia University where she earned an M.F.A. degree in Film, with a concentration in Screenwriting. Chime is currently an Adjunct Lecturer, teaching Literacy at the Manhattan Educational Opportunity Center located in Harlem, New York.

________________________________________________________________________________________
​8:00pm "Another Slave Narrative"
Synopsis
The ANOTHER SLAVE NARRATIVE is a film that features a multiracial cast that reenacts the original transcripts of federal interviews belonging to the Federal Writers' Project's Slave Narrative Collection of 1936-1938.

Filmmaker
Michelle first discovered her passion for storytelling as graduate student at Harvard Divinity School when she began to regularly compete as a slam poet at the Cambridge-based Lizard Lounge. Afterward, while serving in the Office of Religion and Spiritual Life at Vassar College, she took her first filmmaking course in screenwriting and has continued to screenwrite for the last 7 years.

Michelle is an active writer, director, and editor. A graduate of Harvard University and UCLA, she has studied the intersections of religion, race, sexuality, and gender. She lives in downtown Los Angeles where she actively enjoys being a part of the #carlessinLA community.

________________________________________________________________________________________
​​​​Film Screening Program 3
9:00pm-10:30pm​

9:00pm "MWAH"
​​Synopsis
​Five pregnant women are in a Doctor's waiting room when suddenly the embryos start to talk to each other; they discuss about the world they're about to go to... But something happens to one of the babies...

Filmmaker
​Sara Soheili was born in Mashhad, Iran.
Upon completion of her Bachelor Degree studies in Microbiology, she was graduated from Islamic Azad University, Tehran Branch, in the year 2009. Along with her university studies, she attended Acting and Cinema Make-up Workshops at the Association of young filmmakers. She then started her specialized artistic activities in Movies and Cinema as make-up artist since the age of 19 in "Four-Fingered" and "Marriage in extra Time" movies.


_______________________________________________________________________________________
9:15pm "Dana's Story"
Filmmaker
A.L. Smith, Writer & Producer

___________________________________________________________________________________________
March 24, 2017
Film Screening Program

10:30am-4:30pm
​Sponsored by: ImageNation

​Screening Location: ImageNation
2031 Adam Clayton, NYC

_________________________________________________________________________________
Film Screening Program 4
​10:30am-11:30am

​10:30am "Off the Record"
​​Synopsis
The film exposes the hidden injustices suffered by survivors who seek legal redress against their perpetrators. Too many matters that favor abusers over the abused occur outside the courtroom and the public eye. Survivors describe the behind-the-scenes dealings that obstructed their paths to justice and impeded their personal recoveries.

Filmmaker
VALERIE GIBSON (Director/Producer)
Ms. Gibson is a recognized public advocate and spokeswoman for victims and families impacted by child sexual abuse. Her advocacy is an outgrowth of her experiences both as the mother of an adult survivor and as a litigant who was compelled to defend herself and her family against the perpetrator's defamation lawsuit against them. Ms. Gibson is the founder and CEO of the Vertigo Charitable Foundation, LLC ("VCF"), which advocates on behalf of adult survivors of childhood sexual abuse who seek to hold their perpetrators accountable under the law.

11:00am "Situationships"
Synopsis
Situationships is a smart and sexy dramedy exposing the twists and turns of millennial dating. Or rather — lack thereof. It highlights eight young people in New York City who find themselves "talking" to people, dating people, having relations with people, but ultimately having no title with their partners. They aren't in your traditional "relationship" — they are actually in a "situationship."

Filmmaker
Cylla Senii is a versatile and daring director, producer, writer, and actress who shines both on-screen and behind-the-scenes. Born in Queens, NY and raised in the deep south of Georgia, Cylla is proving to be a force to be reckoned with for her work on stage, film, television, and in the entertainment industry.

Cylla moved back to New York after graduating from The University of Georgia with a degree in Advertising, minor in Theater & Film Studies and the Music Business program. Upon her arrival to the Big Apple, she began studying Acting at the Terry Schreiber Studio. Since then, she's taken the city by storm by performing in numerous independent films, national commercials, and TV shows, and she made her first Off-Broadway debut in Faith Under Fire.



11:15am "On the Edge"
​Synopsis
A father and son fight to save a theater that played an important role in New York City civil rights, and is one of the last cultural markers in a neighborhood that is rapidly gentrifying.

Filmmaker:
​Chelsi Bullard is an independent video editor turned director based in Harlem, NY. She tends to attach herself to stories that take the viewer to little-known worlds and introduce them to courageous and outspoken characters.

She is the editor of Prayers of the Ancient Ones (2013), a feature documentary that takes us on a journey to Bodhgaya, India, where 10,000 Tibetan monks, nuns, and lay people pray ceaselessly for 10 days for world peace in the face of overwhelming challenge and loss. The film was broadcast regionally on PBS, reaching hundreds of thousands American households.

_________________________________________________________________________________________
Screening Program 5
12:00 noon-2:00pm

​12:00 noon "Curtsy, Mister"
​​​Synopsis
This is the story of a young boy trapped in a pair of slingback shoes. Ronnie Grant tells his very personal story of survival with the help of director Angela Robinson Witherspoon. He eventually finds work in the fashion industry as a Fashion Editor and works with Francesco Scavullo, Diana Ross, Cher and Miles Davis...just to name a few. On his journey he overcomes molestation, heroin addiction and the death of his father, his mother and his brother, Cary.

Filmmaker:
In 2015, Angela really hit her stride. She directed and produced "Wish Me Luck" starring Marie Victoria Ray and Kelly Tighe. It premiered at the San Diego Black Film Festival to audience approval and is currently in consideration for several other festivals.

Angela's new passion project is "Curtsy, Mister", a documentary based on the life story of Ronnie Grant, the former men's fashion editor of Essence Magazine and a survivor of the roaring 70's, 80's and 90's. The film "Curtsy, Mister" promises to put a different spin on the life of this fashionista from the projects of New York.

________________________________________________________________________________________
Screening Program 6
2:30pm-3:30pm
2:30pm "Remain Leave"
Synopsis
​Eris must say goodbye to Kali after a very bitter breakup but just can't bring himself to leave.

________________________________________________________________________________________
2:40pm "Proclamation Punctuation"
Synopsis
"Proclamation Punctuation" is an enthralling fashion film centered on a fabulously fascinating woman reciting a short soliloquy paying homage to her love for using exclamation points in her missives. Periods are so period, where as an exclamation point livens up a sentence! There is simply nothing worse than a long dragged out sentence ending in an uninspiring dull dot! So when exclamation points are your philosophy on life, one must always keep it on the up beat!!

Filmmakers
Sewra G Kidane is a New York City based, award winning Commercial Film Editor, with over 10 years of experience editing with some of New York City's top advertising agencies, networks and heavy hitters in the music industry. Her love for working with fashion and beauty based film projects lead her to want to direct her own and first fashion film.

The concept for "Proclamation Punctuation" came about from Ms. Kidane noticing how much she herself was using exclamation points in her correspondences. They were everywhere! There were exclamation points in business emails, casual emails, even serious toned emails! Yet, taking them out seriously changed the tone of what she was trying to convey. She's a very sunshine type of personality and not having them in, just wasn't staying true to who she was! So they stayed. An epiphany was had which sparked the idea and vision for "Proclamation Punctuation", an homage fashion film to the exclamation point!



2:45pm "3rd Generation of Female Gansta"
Synopsis
Born into a family of female criminals, JusMe is next to jump in. But what if she jumps out?

Filmmaker
​Joy Shannon has written, produced and directed three, 16mm indie feature films. Years ago a historian of African American cinema conducted a study and determined that Joy's first 16mm feature film, Rags to Reality (aka Uptown Angel) was the first feature film directed by an African American woman to get a home video deal and the first to get released in the then popular Blockbusters (under the title of Uptown Angel.) Joy has her BFA from Howard University and her MA in film from The American University, both in Washington, DC. She served as a juror for the Corporation for Public Broadcast (CPB) and was a grant recipient from AFI and WETA.

__________________________________________________________________________________________
Screening Program 7
3:30pm-4:30pm
3:30pm "White Nights, Black Paradise"
​Synopsis
In 1978, Peoples Temple, a multiracial church once at the forefront of progressive San Francisco politics, self-destructed in a Guyana jungle settlement named after its leader, the Reverend Jim Jones. Fatally bonded by fear of racist annihilation, the community's greatest symbol of crisis was the White Night; a rehearsal of revolutionary mass suicide that eventually led to the deaths of over 900 church members of all ages, genders and sexual orientations. White Nights, Black Paradise focuses on three fictional black women characters who were part of the Peoples Temple movement but took radically different paths to Jonestown: Hy, a drifter and a spiritual seeker, her sister Taryn, an atheist with an inside line on the church's money trail and Ida Lassiter, an activist whose watchdog journalism exposes the rot of corruption, sexual abuse, racism and violence in the church, fueling its exodus to Guyana

Filmmaker
Sikivu Hutchinson is an author and educator. She is the author of Imagining Transit: Race, Gender, and Transportation Politics in Los Angeles, Moral Combat: Black Atheists, Gender Politics, and the Values Wars and Godless Americana: Race and Religious Rebels and the novel, White Nights, Black Paradise, on Peoples Temple and the 1978 Jonestown massacre.

4:00pm "On Borrowed Time"
Synopsis
The film reveals the emotional conflict of a mother and father on the anniversary date of their children's death.

Filmmaker
Mary McDaniel was first drawn to filmmaking in 2006, in the Theatre program at Purdue University in Indianapolis, Indiana. It was the effect of storytelling that compelled her to take the next step into getting both in front and behind the camera.

One of the first programs she worked on was at Central Texas College in Killeen Texas, as a Co-Anchor, and then as a broadcaster for high school football.
In 2009, shortly after her time in the United States Army was up, she was accepted into the film program at The Los Angeles Film School in 2009.



​4:20pm Special Invitation of "Where is Beauty"
Synopsis
A visual artist overcomes the pressures of social media through self-discovery and decides to capture everyday life to determine where beauty truly lies.
​Filmmaker
Angela McCrae is a director and media expert with over 15 years working experience in broadcast news, television production and most recently independent film. She launched her career in television as an audio engineer in Baltimore, MD during her junior year at Morgan State University. Ms. McCrae has taught television production at the Baltimore School for the Arts and Connecticut School of Broadcasting. She recently formed Mama-Sans Entertainment, LLC. as a platform to develop film projects and innovative trans-media content providing an alternative perspective of femininity, culture and social issues.​

_________________________________________________________________________________________
​

​

​

​

​

​

About the organizer
For the past twenty-three years, the AAWIC organization has served as a continuous support for the vibrant work of women filmmakers. We are dedicated to providing a platform and showcase for aligning experienced and novice filmmakers, directors, producers, screenwriters and/or actors.