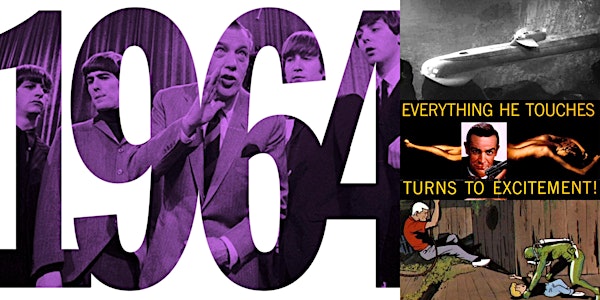 '1964: An American Pop Culture Phenomenon, Part 2 (July-December)' Webinar
Can't make it live? Register and get access to the replay for one week after the series finale! New York Adventure Club | AdventureClub.com
About this event
***Register for the entire 1964: An American Pop Culture Phenomenon Series by clicking here. All webinars in this series will remain active for one week after the series finale***
While the 20th century is packed with culturally defining moments in American entertainment history, no year was more transformative than 1964. In a single year, American popular culture changed forever with musical moments like The Beatles' debut on American television and Bob Dylan's declarative The Times They Are a-Changin'; theatrical debuts like Fiddler on the Roof and Funny Girl featuring Barbara Streisand; and film debuts like Mary Poppins and Goldfinger. It's time to explore some of the incredible artistic contributions of this very special year and their iconic legacies that still endure all these decades later.
Join New York Adventure Club as we go month-by-month through the year of 1964 to uncover the artistic moments and stories that shaped it into one of the greatest years in American pop culture history. In Part Two (July-December), we'll focus on events that took place in the second half of 1964 along and their impact for decades to come.
Led by pop culture historian Arlen Schumer, this multimedia showcase of the second half of1964 will include:
Notable short stories and essays throughout the year, from Susan Sontag's landmark pop culture essay, Notes on Camp, and John Cheever's surreal skewering of suburbia in the short story The Swimmer
Landmark television shows that set the bar for years to come, including producer Irwin Allen's first television success, Voyage to the Bottom of the Sea, to animators Hanna & Barbera's first "realistic" series, Johnny Quest
Artist Robert Indiana's LOVE image, which debuted as a Christmas card for The Museum of Modern Art, and soon became an icon
The first-ever comic book convention in New York City, with the young George R.R. Martin (future author of "Game of Thrones") as its first ticketed guest
The impact of Bod Dylan and Joan Baez debuting It Ain't Me, Babe at the Newport Folk Festival
A discussion of pop song evergreens You've Lost That Lovin' Feelin' and Downtown, which both entered the U.S. record charts in December a week apart
Afterward, we'll have a Q&A with Arlen — any and all questions about pop culture in 1964 are welcomed and encouraged!
Can't make it live? Don't worry, you'll have access to the full replay for one week after the entire series concludes!
See you there, virtually!
*Immediately upon registering, you will receive a separate, automated email containing the link to join this webinar
**For the best possible viewing experience, please ensure you're using the latest version of your internet browser — Google Chrome is the most compatible. Exact technical requirements and a webinar user guide will be shared in the automated confirmation email upon registration.
***A full replay of the experience will be available to all registered guests for up to a week after the series finale
About Arlen
Arlen Schumer, MFA is one of the foremost historians of comic book art, named by Comic Book Artist magazine in 1998 as "one of the more articulate and enthusiastic advocates of comic book art in America." His coffee table book, The Silver Age of Comic Book Art, won the Independent Publishers Book Award for best Popular Culture book.
Schumer is also one of comic book art's most idiosyncratic practitioners, creating award-winning illustrations for the advertising and editorial markets.
"One of the country's pre-eminent authorities on comics and culture." —Jon Meyerson, Producer, ABC News' 20/20
"Nobody speaks about comics with more authority, understanding and love than Arlen does. He is to comics what Pauline Kael was to movies." —Clem Robins, letterer for DC and Marvel Comics
1964: An American Pop Culture Phenomenon Series
Part I: January-June
Part II: July-December
Disclaimer
By attending a New York Adventure Club experience, you accept our terms of service.
Categories: Virtual, Moments in History