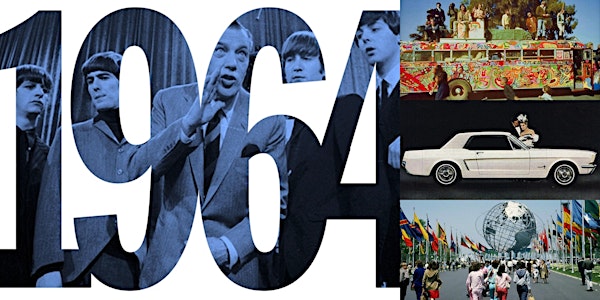 '1964: An American Pop Cultural Phenomenon, Part 1 (January-June)' Webinar
Can't make it live? Register and get access to the replay for one week after the series finale! New York Adventure Club | AdventureClub.com
About this event
***Register for the entire 1964: An American Pop Culture Phenomenon Series by clicking here. All webinars in this series will remain active for one week after the series finale***
While the 20th century is packed with culturally defining moments in American entertainment history, no year was more transformative than 1964. In a single year, American popular culture changed forever with musical moments like The Beatles' debut on American television and Bob Dylan's declarative The Times They Are a-Changin'; theatrical debuts like Fiddler on the Roof and Funny Girl featuring Barbara Streisand; and film debuts like Mary Poppins and Goldfinger. It's time to explore some of the incredible artistic contributions of this very special year and their iconic legacies that still endure all these decades later.
Join New York Adventure Club as we go month-by-month through the year of 1964 to uncover the artistic moments and stories that shaped it into one of the greatest years in American pop culture history. In Part One (January-June), we'll focus on events that took place in the first half of 1964 along with the moments that set the stage in the years leading up to it.
Led by pop culture historian Arlen Schumer, this multimedia showcase of the first half of1964 will include:
The impact of Bob Dylan's January 1964 song, The Time They Are a-Changin', during one of the most turbulent decades of the 20th century
A discussion of LIFE magazine's scathing review of pop artist Roy Lichtenstein in the January 31st issue, which was titled "Is He the Worst Artist in the U.S?"
The moment on February 9 that kickstarted Beatlemania in America and transformed pop into rock
The lasting legacy of the World's Fair in Queens, NY, which debuted in the spring of 1964
Big achievements in the world of comics such as Marvel Comics' creation of Daredevil, and DC Comics' re-creation of Batman
The opening of Broadway evergreen Hello, Dolly!, which spawned the first single to break The Beatles' #1 hold on the American record charts
A look at how author Ken Kesey and his Merry Pranksters created the psychedelic movement
Afterward, we'll have a Q&A with Arlen — any and all questions about pop culture in 1964 are welcomed and encouraged!
Can't make it live? Don't worry, you'll have access to the full replay for one week after the entire series concludes!
See you there, virtually!
*Immediately upon registering, you will receive a separate, automated email containing the link to join this webinar
**For the best possible viewing experience, please ensure you're using the latest version of your internet browser — Google Chrome is the most compatible. Exact technical requirements and a webinar user guide will be shared in the automated confirmation email upon registration.
***A full replay of the experience will be available to all registered guests for up to a week after the series finale
About Arlen
Arlen Schumer, MFA is one of the foremost historians of comic book art, named by Comic Book Artist magazine in 1998 as "one of the more articulate and enthusiastic advocates of comic book art in America." His coffee table book, The Silver Age of Comic Book Art, won the Independent Publishers Book Award for best Popular Culture book.
Schumer is also one of comic book art's most idiosyncratic practitioners, creating award-winning illustrations for the advertising and editorial markets.
"One of the country's pre-eminent authorities on comics and culture." —Jon Meyerson, Producer, ABC News' 20/20
"Nobody speaks about comics with more authority, understanding and love than Arlen does. He is to comics what Pauline Kael was to movies." —Clem Robins, letterer for DC and Marvel Comics
1964: An American Pop Culture Phenomenon Series
Part I: January-June
Part II: July-December
Testimonials
"The amount of info presented on pop culture for that year was ---astounding...Arlen Schumer really gave us a bang for our buck. Can't wait for part 2." -Russell
"Interesting mix of subjects that impacted pop culture of the time" -Mary Ann
"Informational, interesting content" -Jordan
"So many visuals and stories that really do reflect the 60s which is the time I came of age. I remember early Elvis, the Beatles from TV and many of the other items he presented. I was a serious kid and didn't get into Ken Casey & The Grateful Dead, but later read On the Road and now go to the Kerouac Festival every October up in Lowell Massachusetts. I have talked to the son of Ken Casey and other Beat notables over the years. I remember the TV news broadcasters, Life mag, comics, and the Ed Sullivan show etc. etc. His great presentation was a trip down memory lane and definitely filled in some blanks for me-for which I am very appreciative. 😊" -Sharon
"I liked the presenter and his great illustrations." -Catherine
"Speaker's knowledge and enthusiasm." -Michael
"Liked the film clips that were used." -Wendy
"Arlen's presentations captivate me! His deep dive into the subject matter is unlike ANY other lecture or video available on the internet!" -Guy
"The mix of art, music, and politics was just right, and the presenter's enthusiasm for his topic was obvious. Some great video clips as well." -Ellen
Disclaimer
By attending a New York Adventure Club experience, you accept our terms of service.
Categories: Virtual, Moments in History