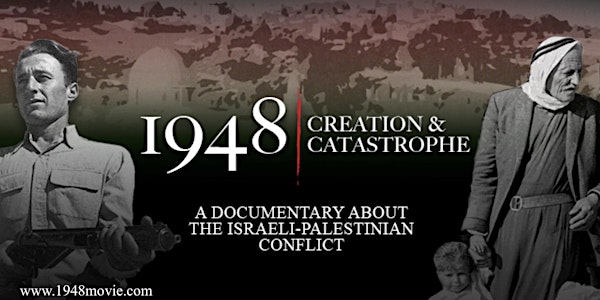 1948: Creation & Catastrophe Community Screening
Location
Oakland Asian Cultural Center
388 9th Street
Suite 290
Oakland, CA 94607
Description
The Arab Cultural and Community Center and the Center for Islamic and Middle Eastern Studies at Cal State San Bernardino Present:
A Special Community Screening of 1948: Creation & Catastrophe
FEATURING A POST-SCREENING DISCUSSION WITH:
Filmmakers Andy Trimlett and Dr. Ahlam Muhtaseb of Cal State San Bernardino, moderated by Dr. Hatem Bazian of Zaytuna College
Free Event - Space is limited
Reception and catered refreshments from Lotus Falafel & Shawerma, 6:00 to 6:30 pm
About the Film
Through riveting and moving personal recollections of both Palestinians and Israelis, 1948: Creation & Catastrophe reveals the shocking events of the most pivotal year in the most controversial conflict in the world. It tells the story of the establishment of Israel as seen through the eyes of the people who lived it. It is simply not possible to make sense of what is happening in the Israeli-Palestinian conflict today without an understanding of 1948. This documentary was the last chance for many of its Israeli and Palestinian characters to narrate their first-hand accounts of the creation of a state and the expulsion of a nation. Learn more at http://1948movie.com.
---