1920's JAZZ: Live music, movie, and talk with Swedish Erik Ask-Upmark
Description
Imagine: Master Swedish Celtic Harpist turned into piano playing Jazz 1920's jazz persona and Gramophone DJ!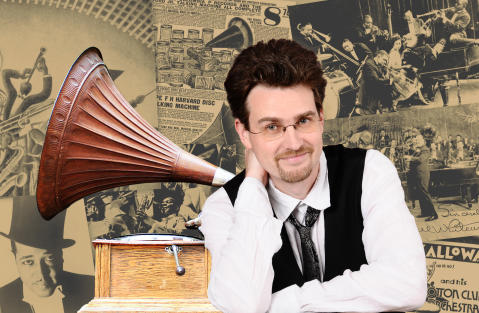 Join us for this RARE opportunity to have more fun than reasons not to!--Live music, performance, interactive talk (as always) Charlie Chaplan flick with live accompaniment, Q & A, and Patio POTLUCK. Think 1920's themed attire--fringe, beads, glamor, hats, etc.
Erik will link the music of the twenties to our times now. He has told us we'll hear about the latest technological marvels of the day, including things such as the Internet, on-demand streaming services, and GPS machines - that were all around a hundred years ago! Hmmmmm. That's what Erik told us!
Some of you heard his Celtic harp music playing at the last YES Salon: Barbro Karlen, the Reincarnation of Anne Frank. Barbo is Erik's mother. She was a writing prodigy; Erik, a music prodigy. After a couple of lessons, his piano teacher said she had nothing to teach him. . . . Maybe there's a lifetime from this creative revolutionary age poppin through. What we do know is how lucky we are this lifetime that Erik said YES to sharing the magic of his 1920's jazz persona at the Silent Movie Theater--the venue couldn't be more perfect.
Here's one of Erik's Swedish Websites where you can here a bit of his Prohibition DJ music:
http://www.djprohibition.com/english.html

For those of you who missed last month's YES Salon with Barbro Karlen, she will be here with her books and Erik's CDs PLUS Lark Gallery presents the Jazzy art works of Melissa Ann Lambert for joy and for sale: http://www.melissaannlambert.com/images/fracture-me

FYI: That fabulous 1920's painting we used for this invitation is from a mural by Thomas Hart Benton, on display at the Met in New York.
Say YES! Please join us -- twenties attire is cool, but not required.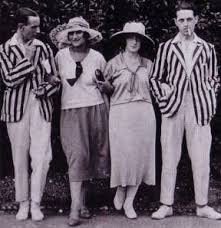 Thank you for the continued support of our sponsors, Cinefamily, SICA (Subud International Cultrual Association), IONS~LA, (Institue of Noetic Sciences LA) IGM AG (Institute for Genetic Medicine Art Gallery) and our fiscal Not-for-Profit sponsor Earthrights Institute.