"From Tiffany to Tik Tok," don't miss this great tour featuring Petersburg's beautiful homes, fine art, and historical landmarks!
About this event
This year Battersea's tour is going to feature a broad, eclectic collection of amazing art as you make your way through Historic Petersburg and its architecturally significant homes and buildings decorated for the holiday season. Featured will be the art of Devon Rodriquez, the "Subway Sketcher", Grandma Moses, Louis Comfort Tiffany, Frank Sinatra, Francoise Gilot, Napoleon's Guards and so much more! The Old Towne portion of the tour is walkable; however, trolleys will be running throughout the afternoon for your convenience.
You may want to begin your tour at the Petersburg Public Library's atrium where you will see a large and very unique, award-winning mosaic that visually presents the history of Petersburg, created by Cindy Haynie of Appomattox Tile Art. You will also be able to tour Appomattox Tile Art, located in a 1918 Beaux Arts building that was once a Ford Model-A assembly plant on W. Bank Street. There, Tile Art will be hosting a holiday art market during the homes tour featuring some of Petersburg's local artists such as Aimee Joyaux, Rod Givens & Ignatius Creegan!
Behind the library in a peaceful pecan grove is one of the city's architectural "jewels", Strawberry Hill, now a lovely bed & breakfast and event space. It was built in 1792 following a tripartite Palladian form. In 1800, upon William Haxall acquiring it, a two-story addition was added to each wing. The woodwork in the drawing room is exquisite.
From there, you will find art in every direction. On High Street, stop by the very special Nicholson Row House, beautifully appointed, has a Tim Bessell Andy Warhol series Banana surfboard, a painting by Francoise Gilot, the mother of Picasso's children, and art by Frank Sinatra, Roy DeForest, Samuel Richardson, Catherine Venable and Cynthia Erdahl. This street also brings the Gale House, mysterious in genealogy and early history, with a fascinating timeline of construction and renovations. Lastly, don't miss the private home on Market Street, known as the Troubetzkoy English Basement where a number of one-of-a-kind art work and lovely antique funiture resides.
You will be struck by the pace of progress that has been made on Battersea's restoration, both on the exterior and interior. The Battersea Board is very excited to be able to showcase works by Devon Rodriguez, The Subway Sketcher, in the house. Recently seen on The Today Show, Rodriguez is "rocking" Tik Tok right now and the art world is definitely taking notice.
Have you stood and looked at the Trapezium House on the outside and inside? Because of the idiosyncrasies of the early owner's servant, the house was constructed with no right angles. Upon retirement Petersburg Judge Oliver Pollard used this house as his art studio.
Two of the churches of Bristol Parish, formed in 1643, will welcome visitors. Historic Blandford Church, built in 1735-1737 on the highest point in Petersburg, Wells Hill, will be sharing its 15 exquisite Tiffany windows, designed and built in the period between 1904 & 1912. The church is surrounded by Blandford Cemetery, the second largest in Virginia, and burials continue here. The oldest marked grave is 1702. It has one of the finest cast & wrought iron fencing in the United States along with an extraordinary collection of funerary art. St. Paul's Episcopal Church in Old Towne will also be open, built in 1855-1857 and has a beautiful sanctuary. Just around the corner, looms the magnificent Hotel Petersburg where you can catch a first glimpse at its new life as the city's boutique hotel.
At the McIlwaine House, a favorite of filmmakers, did you see Spielberg's Lincoln? In addition to the gorgeous rooms, the owner's art collection includes a painting by Grandma Moses, Children at Play, an outstanding three-quarter portrait of Dolley Madison, and Prisoner of War Art Elba, by Napoleon's Guards.
Just up the street is the Historic Farmers' Bank, one of the oldest bank buildings in the United States, located on a lot purchased from Robert Bolling. It is fascinating to see the heavy safe, which was in the cashier's office during business hours, but lowered down into the vault below the first floor at night. The press and plates used to print the currency are also on display. The Courtyard behind the bank was used frequently in the PBS series Mercy Street. Just up the hill, Centre Hill, the Bolling family home, will be open and beautifully decorated for the holiday season. This elaborate 1823 house was the Greene family home in Mercy Street. All three floors are open for the tour and you will love the breathtaking woodwork in the center hall.
Petersburg Area Art League will be hosting the annual Trees of Christmas exhibit for the tour, located in the heart of Old Towne on Old Street.
Other locations on this historical tour include one of Petersburg's oldest landmarks, Peter Jones Trading Post, where HPF will be on-site for "Christmas at Peter Jones" in conjunction with our Holiday Homes Tour! Freshly-made boxwood wreaths and kissing balls will be sold at the event but are also available now to pre-order at the following link: http://www.historicpetersburg.org/boxwood-wreath-kissing-ball-pre-order/
~
Locations:
Petersburg Public Library Mosaic Entrance: 201 West Washington Street
Strawberry Hill: 235 Hinton Street
Nicholson Row House: 209 High Street
Gale House: 271 High Street
Troubetzkoy English Basement: 43 South Market Street
Trapezium House: 244 North Market
Hotel Petersburg: 20 West Tabb Street
St. Paul's Episcopal Church: 110 North Union Street
Peter Jones Trading Station: 600-698 N. Market Street
Appomattox Tile Art: 13 Bank Street
Exchange Building: 15 West Bank Street
Farmers Bank: 19 Bollingbrook Street
McIlwaine House: 425 Cockade Alley
Petersburg Area Art League: 7 East Old Street
Centre Hill Mansion: 1 Centre Hill Court
Blandford Church: 319 Crater Road
Historic Battersea: 1289 Upper Appomattox Street
Proceeds from this tour will be used to continue the restoration of Historic Battersea. The Battersea Board is very excited to showcase the amazingly diverse art offerings and rich architectural history that lives in Petersburg and hopes that it will be an enriching holiday experience for all who come.
Tickets will also be available to day of the tour in front of the Petersburg Public Library and at Abigail's Antiques. At these locations, you may also exchange your Event Brite digital ticket for a physical ticket, which nclude a QR code to view location descriptions.
For inquiries regarding the tour, please call: (804) 732-9882
For more about the event, you can visit our website at: https://batterseafound.org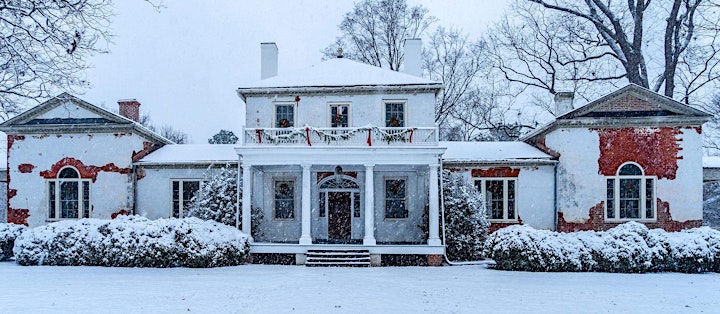 Organizer of The 6th Annual Battersea Holiday Homes Tour: Art & Architecture