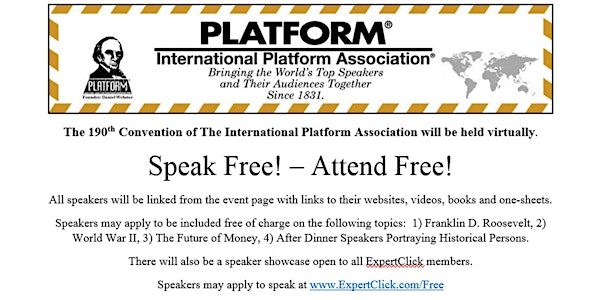 190th International Platform Convention
190th Convention of The International Platform Association.
Refund Policy
Refunds up to 7 days before event
Eventbrite's fee is nonrefundable.
About this event
There will be four Zoom calls on Saturday, August 14th:
Speaker Showcase: 3:00 PM Eastern Time
The Future of Money: 5:00 PM
FDR and WWII: 7:00 PM
Historical After Dinner Speakers: 8:30 PM
Speak Free! -- Attend Free!
Daytime Program tracks:
1) Showcase of Professional Speakers.
2) The Future of Money.
Evening Program Has Two Tracks:
1) Franklin D. Roosevelt & World War II
2) After Dinner Speakers Portraying Historical Characters.
Speakers Invited for the FDR & WWII sessions:
1) FDR & the Military Buildup to WWII
2) FDR & the Office of Strategic Services
3) FDR & The U. S. Office of War Information
4) FDR & Frances Perkins & The Labor Department
5) FDR & the U.S. Post Office
6) FDR & the USO -- "United Services Organizations"
7) FDR & The Social Security Act
8) Is Social Security a "good deal?"
9) The future of the Social Security Administration
10) Photo Retrospects.
11) FDR & the New Deal
12) Comparing FDR''s New Deal and the Biden Proposals -- Confirmed --Political Consultant - Bill Bike says: Biden is more like Eisenhower.
Above: Delmas Wood, historical presenter does FDR's "The Day That Will Live in Infamy" speech to a joint session of Congress.
To view profiles of confirmed Speakers -- please visit www.ExpertClick.com and pull down and find the favorite topic of "Platform Speaker 2021."