The 19-piece Compaq Big Band at the Pasta Loft for 'A Very Big Christmas' featuring seasonal favorites like you've never experienced them!
About this event
The exciting 19-piece Compaq Big Band returns for their third 'A Very Big Christmas' at the Pasta Loft. This will be a program of high-powered seasonal favorites that are exciting, inspirational, and just plain fun. Even the biggest Grinch can't help but get in the Christmas spirit when they hear THIS!
Show runs 8:00pm-11:00pm – Doors Open 6:00pm. Admission $10.
The band features the power of 14 horns, a cookin' rhythm section, and fabulous jazz vocalist Rebecca Holtz. The styles you'll hear on December 11th run the gamut from traditional big band swing to very UNtraditional jazz rock, ballad, samba and jazz waltz tunes - arrangements from such greats as Gordon Goodwin, Count Basie, Tom Kubis, Sammy Nestico, John Clayton, and more. Out in front of the band Becca will be channelin' Ella Fitzgerald, Diana Krall, Mariah Carey, Linda Eder and others.
Their first two holiday performances at the Loft ('18 and '19) were quick sellouts, so we STRONGLY ENCOURAGE purchasing tickets in advance. Reserved seating available by calling the Pasta Loft at 603.672.2270 ONLY after advance ticket purchase online. All other seating is General Admission only – please arrive early for best unreserved seats.
Walk-ins available only as venue capacity allows.
Proof of advance purchase (hardcopy or image on mobile phone) required at door.
Parties wishing to sit together must purchase ALL tickets in a SINGLE Eventbrite transaction and make one call to the Pasta Loft at 603.672.2270 to request all seats under the same name as on the receipt – please do not place separate calls to add parties to an existing reservation. Example: Three (3) couples wishing to be seated together should have one (1) person purchase all the tickets, then call to reserve a table for six under that name.
Minimum number of tickets for reserving an entire table is four (4).Groups of less than four persons may have unaffiliated advance ticket-holders and/or walk-in parties seated to their table. Example: Two unaffiliated couples that purchased tickets separately may be seated at the same table for four.
Assignment of specific table and/or seat location within the Event Center is at the discretion of the Pasta Loft staff.
PLEASE READ ALL OF THE ABOVE TERMS AND CONDITIONS REGARDING RESERVED SEATING BEFORE PURCHASING TICKETS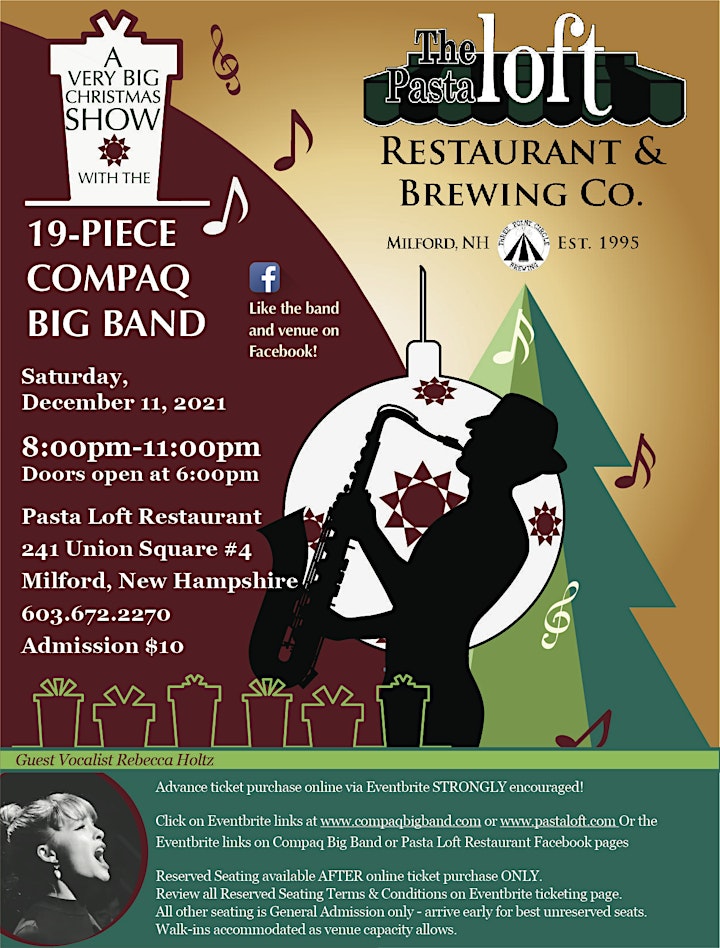 Organizer of 19-Piece Compaq Big Band at the Pasta Loft's 'A Very Big Christmas' Show
The exciting, high-energy 20-piece Compaq Big Band showcases the power of 14 horns, a cookin' rhythm section, terrific instrumental soloists, and phenomenal vocalist. Formed in 1975, the ensemble is one of the longest continuously operating full-size big bands in New England. They perform over three dozen times a year, for a diverse range of clients and events across the New Hampshire region. Their two CDs, "Bandwidth" and "Hard Drive", have met with rave reviews, and are played on New England jazz radio stations, on BBC2 in the United Kingdom, and on jazz radio shows in Sweden.