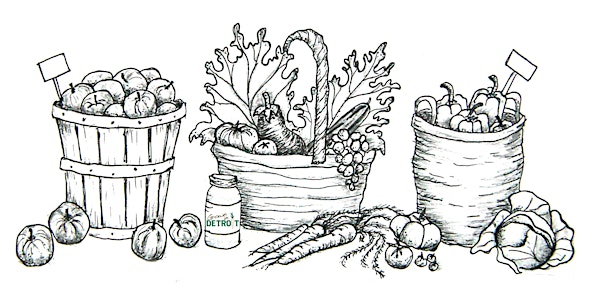 18th Annual Tour of Detroit Urban Gardens & Farms
When and where
Location
Eastern Market Shed 3 Detroit, MI 48207
Refund Policy
Contact the organizer to request a refund.
Description
BUS ROUTE DESCRIPTIONS:
*SOLD OUT* EAST: Featuring Eden Farm, Georgia Street Community Collective, and Buffalo Street Farm, with lots of roll-bys of eastside gardens, including Earthworks Urban Farm.
CENTRAL: Featuring Ohana Gardens, Food Field, and Central Detroit Christian's Farms & Fishery, while also meandering past many gardens including Oakland Ave. Market Garden and Fields of Plenty.
*SOLD OUT* WEST-SOUTHWEST: Featuring DBCFSN's DTown Farm, Drew Transition Academy, Julian St. Garden, and St. Peter & St. Paul Orthodox Church.
BRIGHTMOOR: Featuring Artesian Farms and several of the mutlitudes of gardens in the Brightmoor neighborhood.
BIKE ROUTE DESCRIPTIONS:
*SOLD OUT* LOWER EAST: Featuring Genesis Lutheran Church's Farmers' Market, Fisheye Farm, Earthworks, and several Detroit School Garden Collaborative schools.
*SOLD OUT* EAST-CENTRAL: Featuring the Bogg's School Greenhouse and Garden, the Detroit Peppers Garden, and several gardens on Farnsworth.
*SOLD OUT* DOWNTOWN: Featuring Plum Street Market Garden, Labrosse Farm, and Hubbard Farms Community Garden, along with visits to Detroit Farm & Garden and the Freedom House Community Garden.
TOUR DETAILS:
BIKE TOUR INFO: Bikers are responsible for providing their own bicycle and must wear a helmet. Bikers are required to stay with the tour for the entire route. The tour is approximately 7-10 miles. There will be a secure coral area during registration, but please bring bike locks to secure your bike if you plan to stay for the reception.
BUS TOUR INFO: All buses are air-conditioned and have restrooms for your convenience. For safety reasons, absolutely no driving or caravanning behind the buses is allowed.
RECEPTION: After the tour, a reception featuring locally grown food and refreshments prepared by local chefs will provide guests with a taste of Detroit's delicious food system. The reception will feature a Good Food Bazaar, where guests can learn about opportunities to plug into Detroit's food community from starting a community garden to launching a new food business to purchasing handmade artisanal food from local food entrepreneurs. Additionally, there will be an opportunity to purchase raffle tickets and participate in a silent auction.
TIMELINE:
5:00 - Check in begins
5:45 - Load buses
6:00 - Bus and Bike Tours depart
8:00 - Bus and Bike Tours return to Shed 3, reception begins, and Good Food Bazaar open