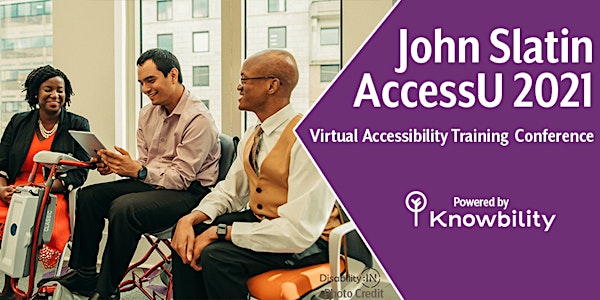 18th Annual John Slatin AccessU Conference
Accessible Design and Digital Inclusion Skills are more important than ever! AccessU 2021 is THE place to learn and connect: May 13, 18-20
About this event
Whatever your role in digital accessibility, wherever you are on your journey, there is simply no better place to learn and connect to the global community than the annual John Slatin AccessU conference. Produced by Knowbility since 2004 and as a virtual conference since 2020, here is what people say about AccessU:
"When people have asked, 'How was the conference?' I have told them, 'It's the best accessibility conference there is!' Your conference truly inspired me, challenged me, and sent me home with more knowledge than I expected." —Corbb O'Connor, Accessibility Testing Operations Manager, Site Improve, and AccessU attendee
The 2021 Lineup
Deep Dives: May 13
Full-day hands-on accessibility workshops. Choose Design, Development, Usability, or Management focused deep dives.
Virtual AccessU: May 18, 19, & 20
Whether you are a manager, code-slinger, designer, researcher, content creator, or any other role, you will learn from dozens of professional development classes across 5 parallel tracks. Gain practical, applicable accessibility and digital inclusion skills to meet current needs. Access to recordings of all sessions post conference.
Dev/Coding/Testing
Design/UX
Content/Documents
Policy/Strategy
Gaming/XR/AI
Additional activities:
Exciting Keynote talks from visionary leaders
Mentoring sessions
Social Commons area with Roundtable discussions
Sponsor Rooms for demos and Q&A
Discussion Channels
Evening events to share stories and fun.
View the full schedule for AccessU 2021 HERE.
Sponsorships
Show your company's alignment with disability inclusion by Sponsoring AccessU. Contact Education Director Jessica Looney (jlooney@knowbility.org) for details and customized opportunities.
Discounts
Group discounts for 5 or more, by arrangement
Students, educators, and nonprofit staff are eligible for 25% discounts off all levels of attendance
Contact us by email (accessu@knowbility.org) for more details.
Other Info
Please join us in convening this unique community of practice as we work together to make the digital world more inclusive for people of all abilities.
Subscribe to our Community Newsletter to get current news and announcements.
Accessibility training, usability studies, emerging tech, community connection and more ... only at John Slatin Virtual AccessU 2021.
Questions
For more information, contact us by email: accessu@knowbility.org.
AccessU Sponsors: