About this Event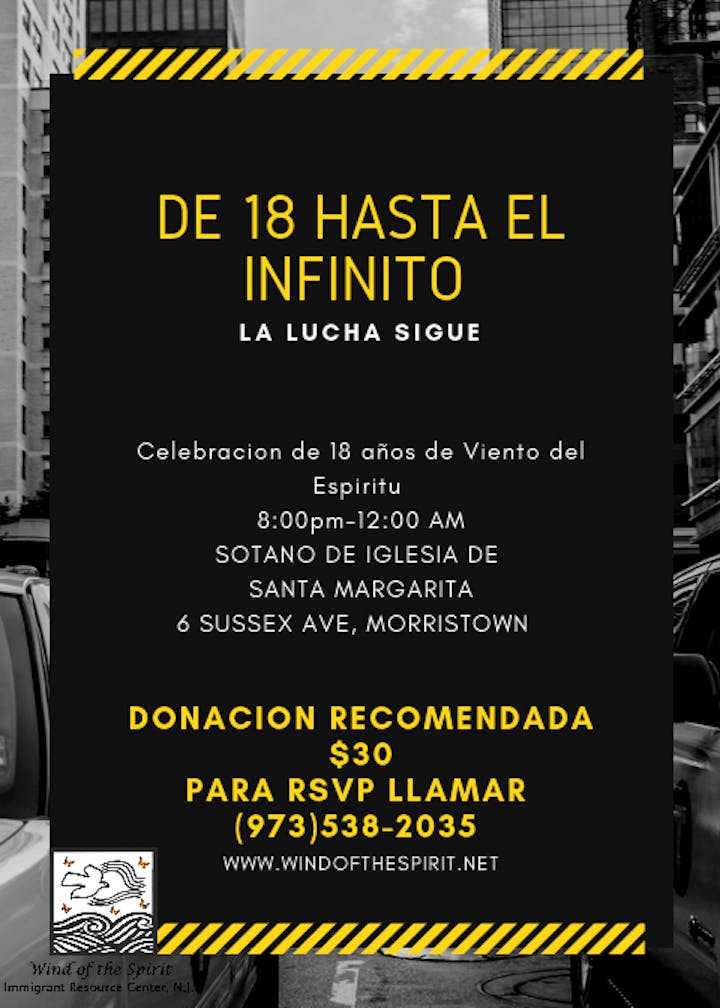 Wind of the Spirit is celebrating 18 years and going in servicing immigrant communities in providing community organizing and advocacy, legal services, and health and safety initiatives. As our important works continues, we ask you to join us and celebrate another year.
We also ask for a donation to assist us in maintaining our programs; a recommendation of a $30 donation on our website. Just mark the donation for the 18th Celebration. We hope you see you at St. Margaret's Church, on December 22nd at 8 PM. For more information call, (973) 538-2035.
Viento del Espiritu está celebrando el 18 año de prestar servicios a las comunidad de inmigrantes brindando organización para la comunidad y defensa, servicios legales e iniciativas de salud y seguridad. Mientras nuestros trabajos importantes continúan, les pedimos que se unan a nosotros a celebrar otro año.
Pedimos una donación para ayudar a financiar nuestros programas, se recomenda una donación de $30 en nuestro sitio. Esperamos verlos en la Iglesia Santa Margarita, el dia 22 de diciembre a las 8 de la noche. Para mas informacion favor llamar al (973) 538-2035.