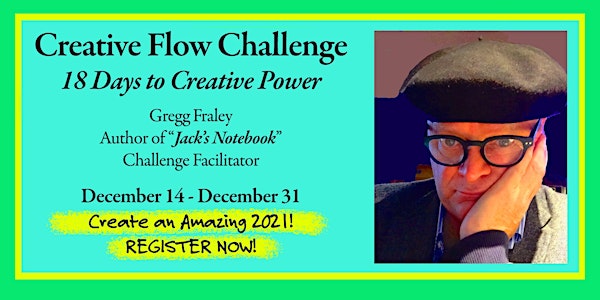 18 Day Creative Flow Challenge
The Creative Flow Challenge is an 18 day adventure in personal self-expression. It builds creative power, confidence, and access.
Refund Policy
Refunds up to 1 day before event
Eventbrite's fee is nonrefundable.
About this event
The Creative Flow Challenge is an 18 day adventure in personal self-expression. The benefits of better access to your creativity AND a consistent creative effectiveness are achievable. You'll create daily, inspired by prompts to get you into flow. Don't wait for lightning to strike. Join the challenge. Learn how to light your own candle.
The challenge starts December 14th and goes through December 31. It requires at least a half hour of daily creative work. Every Day during the challenge.
Benefits of the Creative Flow Challenge
Strengthen your belief in, and access to, your creative power
Gain fluidity in generating better ideas
Get perspective shifts faster
Learn methods, tools and techniques that get creative flow going even under pressure
Establish habits & practices for long term creative effectiveness
Free electronic copy of Jack's Notebook
The Creative Flow Challenge Features:
A Zoom group Kick-Off to explain how it works and get you started
Daily creative challenge activities to stretch your brain, sent via email, 18 days in a row
Usage of a Creative Notebook
Access to one on one coaching to get you through blocks
Weekly Zoom group accountability meetings and a Closing session
Who Should Participate? You Should If...
You want to increase access to your innate creative talent
You believe you are Not Creative, or of limited creative talent
You know you're creative but can't get into flow or regular practice
People in creative jobs who want to take it up a notch
Writers, painters, artists, who want to build the habit of working daily
Those in "non-creative jobs" who want to exercise the muscle
You want to break out of a mental rut
What Activities Are Done in the Challenge?
Creative Idea Note-booking
Mind-Mapping
Drawing (even if you can't draw)
Musical prompts and inspiration
Practice Observation and Listening skills
Creative Excursions
Movement exercises
Improv
Journaling
Storytelling
Structured Creative Problem Solving methods
Your Investment:
Sign-up for the program -- $75
Supplies required: (approx. $30)
An oversized unlined notebook or sketchbook (9 by 12)
A Newsprint pad of paper (24 by 36 or larger)
Colored pencils, colored markers, oil pastels, charcoal sticks, crayons
A mobile phone with a camera
A Commitment of Time
30 minutes a day, or more, of your time, every day
Attending four, one-hour, Zoom meetings:
Monday, December 14, Zoom Kickoff
Monday, December 21, Zoom Check-in
Monday, December 28, Zoom Check-in
Thursday, December 31, Zoom Closing Celebration
Challenge Flow:
Prior to the Challenge
You'll need to acquire supplies
You'll do a structured assessment of your creativity
We'll start with a Zoom Kick-Off meeting on Day One
You'll do a daily exercise delivered via email that will take at least a half hour. Doing more is recommended.
The daily routine can include an additional half hour of work on your personal or existing creative project
We'll have a weekly group accountability meeting (See schedule above)
Ad Hoc individual Coaching available when needed