Description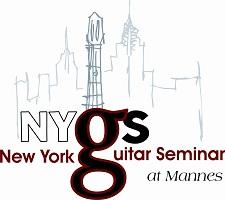 The 17th NEW YORK GUITAR SEMINAR at MANNES
WORLD-RENOWNED FACULTY AND PERFORMERS:
Sharon Isbin (USA)

Manuel Barrueco (Cuba/USA)

Beijing Guitar Duo (China/USA)

Elías Barreiro (Cuba/USA)

Rene Izquierdo (Cuba/USA)

Elina Chekan (Belarus/USA)

Gohar Vardanyan (Armenia/USA)

Newman &Oltman Guitar Duo (USA)

Vladislav Bláha (Czech Republic)

Mariano Aguirre (Mexico/USA)

Duo Cantabile (Mexico/USA)

Roberto Fabbri (Italy)

Yenne Lee (South Korea/USA)
The New York Guitar Seminar at Mannes—now in its 17th edition—is a premier artistic and eductaional event in New York City, featuring and International Concert Artists Series and over 50 hours of classes and interactive activities. Our "Hands-On" workshops and numerous performance opportunities for all participants set the stage for a thrilling week of guitar excellence.

Join us for a week of intensive, hands-on classical guitar training. Activities will include master classes, performance classes, ensemble coachings, interactive forums, faculty concerts and public performance opportunities for all full participants.

All concerts, master classes, and workshops of the internationally-acclaimed New York Guitar Seminar at Mannes are open to the public.