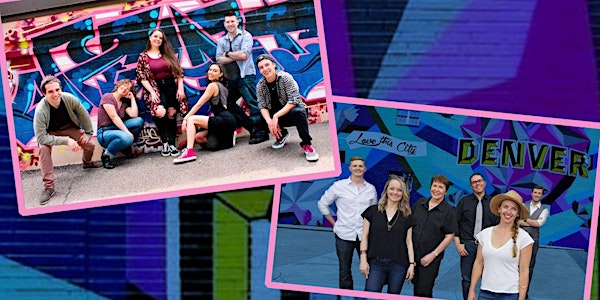 17th Avenue All Stars & 5280 A Cappella
UNDER 21 WITH PARENT OR LEGAL GUARDIAN
17th Avenue All Stars & 5280 A Cappella return to the Dove!
When and where
Location
Soiled Dove Underground 7401 E. 1st Ave Denver, CO 80230
Performers
Headliners
More Performers
About this event
The 17th Avenue Allstars are one of Colorado's top shelf vocal bands; a group of passionate musicians celebrating the Allstars' legacy spanning over 30 years. With a fresh perspective and new talent, the Allstars bring their multifaceted, musically rich, and endlessly entertaining show to venues in Colorado and nationwide – including private, corporate, and family-friendly events.
The Allstars' show is led by the incredible vocal stylings of Claudia McCarthy, Tristan Andersen, Alissa Kotranza, and Lily Timmons, and driven by our rhythm section – Grant Hamilton and vocal percussionist Paul Lannon. This highly entertaining show features great choreography and a wide variety of songs and medleys.
Named one of the "Top Vocal Groups" in Denver, 2019 Winners for "Best CD of the Year," and nominees in 2018 for, "Best Pop Group Of The Year" with the international Acappella Music Awards, 5280 A Cappella brings a burst of infectious energy to the stage. They take their audiences on an entertaining journey over the landscape of American music with jaunts through: rock & roll, jazz, country, folk, soul, doo-wop, sixties, eighties, nineties, and pop hits from today. Their unique repertoire entertains audiences of all ages! 5280 A Cappella's singers have performed both locally and nationally. Locally, they have performed to sold out concerts, sung the National Anthem at major sporting events, military organizational events and at the kick-off of large marches. 5280 A Cappella has performed at the 9News "Light the Lights" and every now and then you might just catch them on local prime time TV during the holidays. Colorado Art and Music festivals, numerous fundraisers, private holiday functions, as well as performing for many charities are all a part of what they do at 5280 A Cappella. They have collaborated with other amazing performing groups' and have continued to perform at venues large and small. Celebrating their 15th year together and reigning champions of the 2012 Rocky Mountain Sing Off, 5280 A Cappella, has been delighting Colorado audiences for over a decade!