Description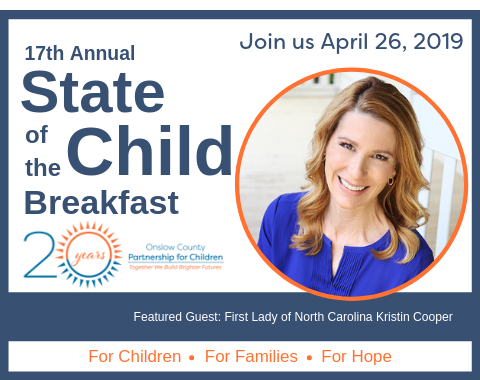 This year we celebrate the 20th anniversary of Onslow County Partnership for Children and the 17th year that we have hosted the State of the Child breakfast for our community. The Onslow County Partnership for Children is excited to invite you to join us on Friday, April 26, 2019 at the Onslow County Government Complex at 8:00 a.m.
Each year we come together to recognize April as Child Abuse Prevention Month and raise awareness of the link between children's healthy growth and development and the future success of our community.
We each have the ability to help children and families in our neighborhoods. Our hope is that all children have safe, stable, nurturing environments where they can thrive. We know that you play an important role in children and families' lives in Onslow County and we would like to invite you to join us to further promote child well-being in our community.