Actions and Detail Panel
17th Annual Northwest Design Awards Gala
Thu, February 23, 2017, 6:00 PM – 10:00 PM PST
Description
We're rolling out the green carpet, as the best in Northwest design steps into the LIMELIGHT on Thursday, February 23 for the 17th annual Northwest Design Awards Gala. Celebrate the winners of sixteen design categories, selected by our esteemed judges from hundreds of submissions from top designers around the region, gathered in the company of top industry professionals and enthusiasts.
This glamorous night commences with a cocktail reception before a gourmet seated dinner, followed by a headlining presentation from Seattle's own couture designer, Luly Yang. Yang will offer her unique insight on custom design in the Pacific Northwest before Ken Carson, halftime host for the Seattle Seahawks, takes the stage to emcee the awards show. There will be live music, libations and lots of beautiful design throughout the evening.
Event proceeds will benefit the Northwest Chapter of Design Industries Foundation Fighting AIDS (DIFFA).
Space is limited, and this is not a night to be missed! Purchase tickets now to ensure your seat!
About Luly Yang, Keynote Speaker for the 17th annual NWDA Gala:
A graduate of the University of Washington with a B.A. in Graphic Design, Luly Yang started her career in the field of architecture as a retail branding and environmental graphic designer. She discovered her love of fashion design after creating her now-iconic Monarch Butterfly Gown for a fashion show benefitting the Art with Heart foundation in 1999. The next year, Yang opened her Seattle-based couture studio with 12 bridal gowns. Since then, Yang has expanded her portfolio to include cocktail, eveningwear, menswear, accessory lines and, more recently, ready-to-wear. Her collections have been showcased aroudn the world, and, in keeping with her philanthropic busines philsophu, her shows have benefitted non-profits including Seattle Children's Hosptial, Pacific Northwest Ballet and the Fred Hutchinson Cancer Research Center. Most recently, Alaska Airlines announced a partnership with Yang to design their new uniforms; the designs are due to hit the runway in 2018.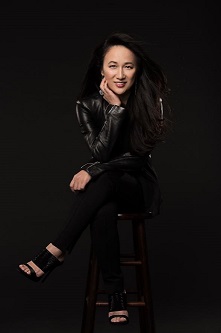 About Emcee, Ken Carson
Ask him on an elevator ride what he does and he might answer, "Comic actor, broadcaster, event producer, auctioneer, emcee, voiceover artist, interviewer, host, spokesman, announcer..."
You'll get to your floor before he's finished!
This is Seattle native Ken Carson's 10th season as the entertainment and half time host for the Seattle Seahawks. His voice has been heard on radio stations throughout the country and he once provided the voice of evil monsters on the TV show "The Power Rangers."
Ken is also the live field host for the Sounders FC and Washington Husky football.
In addition, Ken travels to emcee corporate events for fortune 500 companies, auctions and award shows.