17th Annual NCMS Mid-South Training Seminar

Thursday, March 31, 2016 from 8:00 AM to 4:30 PM (CDT)
Event Details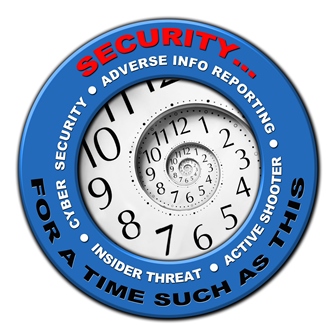 17th Annual NCMS Mid-South Seminar 
When:  March 31, 2016...SAVE THE DATE!
Time:  Registration begins at 0700; Event begins at 0800 and goes through 1630
Theme:  SECURITY . . . FOR A TIME SUCH AS THIS
Where:  Von Braun Center, North Hall, Huntsville, AL
Program:  Featuring energizing and motivational speakers; vendors; exhibits; continental breakfast; lunch and door prizes
AGENDA (5 CEUs)
7:00 – 8:00

Registration/Check- In

Continental Breakfast

Vendor Exhibits/Booths

 

8:00 – 8:20

Welcome/Opening Remarks

Invocation

Presentation of Colors

Pledge of Allegiance

Musical Entertainment

Paul J. Malone

LTC Paige Heard

Hazel Green High School Navy JROTC

Paul J. Malone

AMCOM Band Brass Quintet

8:20 – 8:45

Keynote Address

FBI SAC Roger Stanton

8:45 – 9:15

Break

Vendor Exhibits/Booths

 

9:15 – 10:05

JPAS Status Update/NISPPAC

(1 CEU)

Quinton Wilkes, ISP

10:05 – 10:20

Break

Vendor Exhibits/Booths

 

10:20 – 11:10

TBD

(1 CEU)

 

11:10 – 12:00

Why AI?  Legal Consequences of Adverse Information Reporting

(1CEU)

Brian Kaveney/Tod Stephens

Armstrong Teasdale

12:00 – 1:30

Lunch

Chapter Activity

Door Prizes

 

1:30 – 2:30

Active Shooter – Part II

"The Coming Storm"

Andy Loftin, Kerry Straub

FBI

2:30 – 3:00

Break

Vendor Exhibits/Booths

 

3:00 – 4:00

Corporate Security: The Top Ten Things You Should Be Doing to Secure Your Company

(1 CEU)

 

 Eric O'Neill

4:00 – 4:30

Concluding Remarks

Door Prizes

Adjourn

 
Cost:  $125.00 for members and $140 for non-members. Registration ends on March 29, 2016 @ 0700 am.  Checks must be mailed to NCMS Mid-South Chapter, Attn: Deb Jaramillo, PO Box 11562, Huntsville, AL. 35814 and must be postmarked NLT March 29, 2015 for Registration. (NCMS Tax Exempt #TJ-23-7071476)
Effective April 1, 2012, the Chapter started assessing "no-shows" for failing to cancel reservations. Reservations must be cancelled within 48 hours preceding the event to avoid the assessment.  
To cancel, please contact Carol Garner:
Phone: 256-489-6120
Email: ncmsmidsouthchapter@gmail.com 
Emergencies and unavoidable contingencies will be resolved on a case-by-case basis.
NOTES:  It is recommended that you bring a jacket; the VBC can be very cold. 
Parking is NOT included in the price of the ticket but be prepared to present ticket at gate when parking for the guard to see.  Parking cost is $7 - $10 depending on which parking lot you use.
Any questions, please contact Carol Garner @ 256-489-6120 Office / 256-656-7339 Cell or cgarner@dbresearch.net.
Chapter Officers:
Chairman, Paul J. Malone - paul.malone@dynetics.com
Vice Chair, Darrell Flores, ISP -  darrell.flores@peopletec..com

Treasurer, Deborah Jaramillo - deborah.jaramillo@4mresearch.com 

Secretary, Carol Garner, ISP - cgarner@dbresearch.net
Seminar Committee Members other than Chapter Officers:
Chair: Tim Hynes, ISP - Vencore
Charles Talley, ISP - COLSA
Susie Vaughn, ISP - PeopleTec
Debbie Trehern, PeopleTec
Delores Newton, UA Huntsville
Kari Phillips, ISP - SAIC
Josh Blackwell, ISP - Kord Technologies
Berette Smith, I3
When & Where

VBC North Hall
Clinton Avenue
Huntsville, AL


Thursday, March 31, 2016 from 8:00 AM to 4:30 PM (CDT)
Add to my calendar
Organizer
NCMS Midsouth Chapter #15
NCMS was founded in 1964 by a group of government and industry security classification managers and administrators who recognized the importance of establishing a society, national in scope, to advance the practice of Classification Management as a profession.
Today, the Society has over 5,000 members and approximately 45 chapters in the United States and overseas including representatives from NATO countries. Within the U.S., members come from the Department of Energy, Department of Defense, Department of State, National Aeronautics and Space Administration, Federal Bureau of Investigation, National Security Agency, General Accounting Office--virtually every Federal agency that deals with classification--and from the civilian contractors who work with these agencies.
The purpose of the Society is to advance the practice of classification management in the disciplines of industrial security, information security, government designated unclassified information, and intellectual property, and to foster the highest qualities of security professionalism among its members.
17th Annual NCMS Mid-South Training Seminar