Description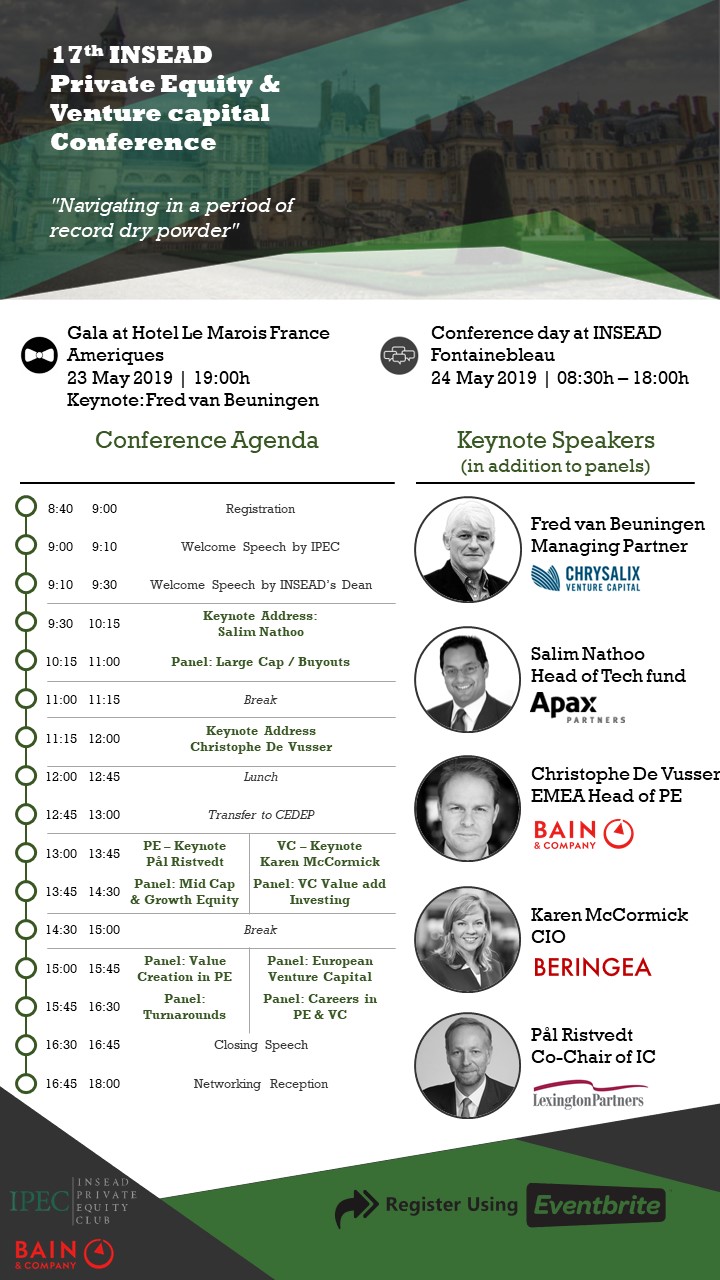 INSEAD welcomes you to the 17th Annual Private Equity Conference.

This year's topic will be: Navigating in a period of record dry powder and we are glad to welcome our keynote speakers:
Gala dinner: Fred van Beuningen (Chrysalix Venture Capital)
Conference day:
- Salim Nathoo (Apax Partners)
- Christophe De Vusser (Bain & Company)
- Karen McCormick (Beringea)
- Pål Ristvedt (Lexington Partners)
Additionally, we will host 7 panels on various industry topics, both in PE and VC:
- Large Cap / Buyouts (Astorg, Moonfare Capital, EQT, Bain & Company)
- Mid cap & growth equity (Capital D, Investcorp, DPI, McKinsey)
- Value creation in private equity (PAI Partners, Lloyds Developments Capital Private Equity, Varde Partners, Blue Ridge Partners)
- Turnarounds (AlixPartners, Standard Investment, CGG, White & Case)
- VC value add investing (Aurorae, Antler, Qumra Capital)
- European venture capital (Chausson Finance, SOSV, Albion VC, Qumra Capital)
- Careers in PE & VC (PER, Nordbridge, KEA)


Please find the brochure with all speakers names and bio's here
---
Date & Venue:
- 23th of May: Gala dinner @ 19:00 in Paris (Hotel Le Marois France Ameriques)
- 24th of May: Conference @ 09:00 at INSEAD Fontainebleau campus
Registration: Register here on eventbrite. Tickets are sold on a first come first serve basis. There is limited seating. Early bird ticket ends on 19th of April and final registration is on 17th of May.
Who can attend: Open to all. Tickets available for industry professionals, INSEAD alumni, students, and the general public
Sponsor: Proudly sponsored by Bain & Company


---
The conference, inaugurated in 2003, has become the most successful private equity and venture capital event hosted by a European academic institution. With over 4,000 alumni working in the industry worldwide, INSEAD's presence in the private equity community is well recognised. This conference is a gathering of leading practitioners, academics and the INSEAD community to debate the forces shaping the private equity & venture capital industry. Each year we are delighted to host an impressive and diverse group of experienced industry professionals here on INSEAD's European Campus.