You are invited to join Classroom of the Future's 17th Annual Innovation in Education Awards program as a Virtual Event
About this event
17th Annual Innovation in Education Awards Program
Wednesday, October 28th
3:30pm to 5:00pm Pacific Time
Please join us for our award program highlighting scholarship students, STEM programs and innovative educators in San Diego County schools.
AGENDA
3:30pm - Red Carpet Walk and Interviews
4:00pm - Innovation in Education Awards
5:00pm - Production Bloopers
5:05pm - Post-event party on Zoom
Thank you for joining us on October 28th.
Innovation Award Winners
IMPACT AWARD -World of Work Initiative - Cajon Valley Union School District
ACHIEVE AWARD- Fire Academy Program - Heath Sciences High & Middle College
INNOVATE AWARD - Personalized Learning Team Program -Cardiff Elementary SD
INSPIRE AWARD - Beebots & Cubelets Program - Escondido Union School District
Special Award Winners
Thomas Dillon, Ph.D. - Todd W. Gutschow Visionary & Outstanding Leadership Award
Holly McClurg, Ph.D. - Innovative Superintendent Award - Del Mar Union SD
Glen Warren - Innovative Educator Award - Encinitas Union School District
Eric J. Chagala, Ed.D. - Innovative Prinicipal Award - Vista Unified School District
Matthew Tessier, Ed.D. - College & Career Pathways Educator of the Year Award
Sophie Jacoub -SDCUE Innovative Teacher of the Year Award - Grossmont UHSD
Melissa Hughes - SDCUE Innovative TOSA of the Year Award - Chula Vista ESD
2020 AVID High Tech Academic Achievement Scholarship Students
22 Students will receive scholarships this year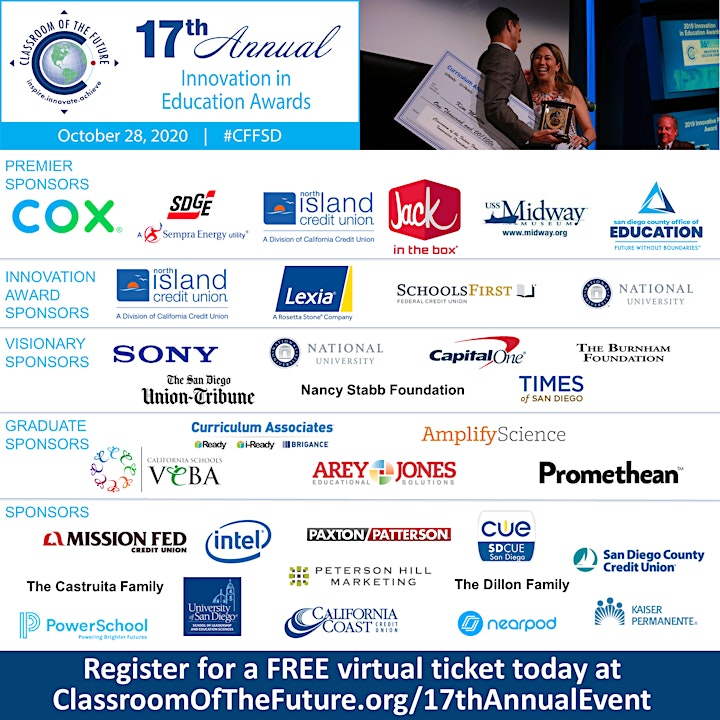 Organizer of 17th Annual Innovation in Education Awards Program
Since 1997, the Classroom of the Future Foundation (CFF) has united business, community, and educational leaders to create innovative learning environments in San Diego County public schools. CFF, a 501(c)(3) nonprofit organization works to advance its mission by ensuring that San Diego students are prepared to thrive in a competitive global society.
CFF is known for being the convener of business, community, and educational leaders around innovation in education. Moreover, CFF is a catalyst and champion for the creation of learning programs that apply proven business and technology-based practices in the school setting. CFF is also a trusted resource for school districts, and a thought leader on innovation in the classroom.