Description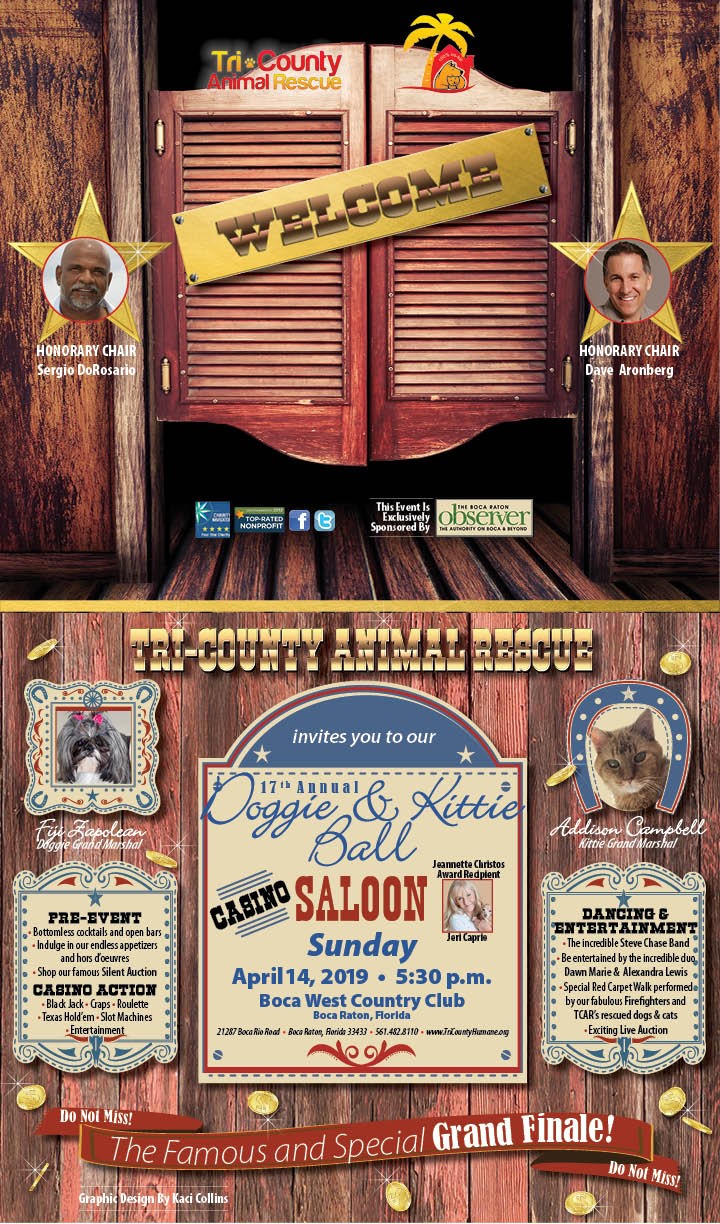 Make sure to join us this year for the most exciting Doggie & Kittie Ball yet!
Come and enjoy our first casino, bottomeless cocktails and open bars, indulge in our endless appetizers and hors d'oeuvres, and shop our silent auction! You can play BlackJack, Craps, Roulette, Texas Hold Em and the SLOTS!!
ATTENTION BUSINESS OWNERS:
Please see below the list of exciting sponsorship opportunites this year!
Heart Seats

$325

–VIP Diamond Seats w/ Butler Service & Champagne

$350
Sponsorship Opportunities:
SOLD

-

Venue Sponsorship

$25,000

— Three VIP Diamond Table for 10 w/ Butler service; name and logo in flashing lights upon approach; prominent page position in event program; media press release; logo will appear on step and repeat
SOLD

–

Valet Sponsorship

$10,000

— One VIP Diamond Table for 10 w/ Butler Service; name and logo at valet entrance; premium full page position in event journal; valet hangers placed in cars; logo will appear on step and repeat back drop
Pre-Event (Social) Sponsorshi

p

$15,000

—Two VIP Diamond table for 10 w/ Butler Service; Name & Logo in flashing lights upon approach; Prominent page position in event program;media press release; logo will appear on Step & Repeat
Chip Cage Sponsorship

$7,500

— Chip Cage will be active through the entire evening; One Heart table for 10; Name & Logo prominently displayed on chip cage
Dinner Dance Band Sponsorship

$5,500

— Three complimentary seats at Heart table; full page journal ad; Logo will appear on step and repeat backdrop
Take Away Gift Sponsorship

$5,000

— Two complimentary seats at Heart table; full page journal ad; Logo will appear on step and repeat backdrop
Event Program Sponsorship

$3,500

— Two complimentary seats at heart table; full page journal ad; Logo will appear on step and repeat back drop
Event Table Sponsorship(Table for 10)
– Tables are donated back to TCAR
*VIP Diamond Table w/ Butler Service

$3,500

*Heart table

$3,250

*Special Recognition at designated table & event journal
Sponsor a Firefighter

$350

— This will provide a seat at a designated VIP Diamond Table for one of our attending Firefighters. Each sponsor will receive special recognition in our Journal for their support of our First Defenders
Casino Sponsorship Opportunities
Black Jack Tables(10)

$3,000

Craps Tables(3)

$2,500

Roulette Tables(2)

$2,500

Texas Holdem(3)

$2,000

**

Five(5) Slot Machines(per machine)

$3,000