Description
Welcome to the registration page for the ACNH 2017 in Beijing! Registering is easy! We have half a dozen different payment options to make paying easy for China and non-China hashers. Just follow the steps below and then you can get back to your beer!
---

Click on that big green button that reads REGISTER. Fill out the form. You can use your Hash Name for the First Name, Last Name fields if you have one. Let us know about your hotel preference (we take care of informing the hotel), then choose payment method and submit your registration.
Remember to leave us a note on how you paid or intend to pay, so we can find your payment and confirm by email.
---

You must pre-pay for Nash Hash. Use any one of the payment methods below. When you register, please leave us a note on how you paid, or intend to pay, so we can find your payment and confirm by email.
Early Bird

750RMB (paid by July 15th)

Regular

850RMB (paid by August 25th)

Late Cummer

900RMB
Wechat payment
Scan the QR code below and pay accordingly.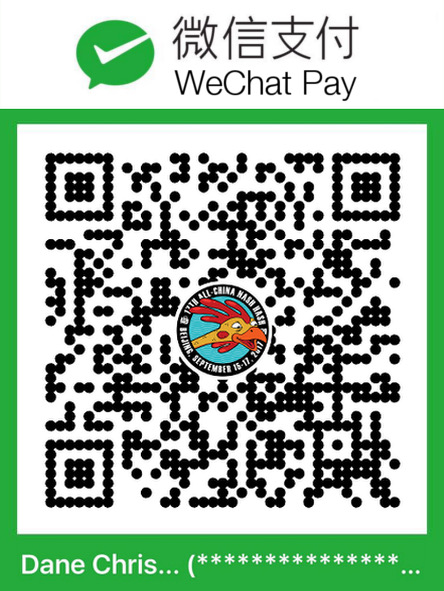 Alipay payment
Scan the QR code below and pay accordingly.


RMB Bank Transfer/ATM Cash deposit
Account Holder:
杜玮

Account:
6217000010069483306

Bank:
中国建设银行股份有限公司北京中关村分行

China Construction Bank, Beijing Zhonguancun Sub-branch
International Credit Card
PayPal/Chase Quickpay
Please send your payment to schorrar@gmail.com
USD Bank Transfer (+$15 wire fee)
Account holder:
Andrew R. Schorr

Account:
1686 1190 4565

Routing Number:
111000614

SWIFT:
CHASUS33

Address:
Chase Bank

2611 W Lake Houston Pkwy,

Kingwood, TX 77339(281) 361-2117
---

Once you have submited your registration form with all details and made your Payment with the different available options, we just need to CONFIRM your payment and registration. You will get an email from the ACNH 2017 confirming that we got your payment and that your registration is complete!


If you have any questions or need assitance in your registration or payment please send an email to nash@hash.cn
FOR MORE DETAILS AND INFORMATION VISIT NASH.HASH.CN
---
Nash Hash Weekend Schedule
Thursday, September 14th (un-official day)

7:00 PM Pre-lube party at the Hash Bar for anyone who's in town

Friday, September 15th
2:00 PM Registration and warm-up drinks at the Hash Hotel

6:00 PM Full Moon Hash and Circle

9:00 PM Nash Hash Kick-off Party: western buffet, live music, 3 hours free-flow beer, wine, well drinks, Long Island iced tea, and soft drinks

Saturday, September 16th
10:00 AM Boxer Hash on the Gubeikou wild Great Wall
Walkers, Runners (12-14km, one main ascent), Ball Buster (18-20km, two ascents)

6:00 PM Countryside Bash

Sunday, September 17th
8:30 AM Rusty Man Breakfast

11:00 AM Beijing Hash Hangover Run in 798 Art District

1:00 PM Circle

2:00 PM Bash

3:30 PM Finished (Normally <30min to airport by taxi)
---
Hash Hotel
The event hotel for the weekend is the lovely Crystal Orange Hotel Beijing Jiuxianqiao (北京酒仙桥桔子水晶酒店). We have a limited number of rooms at 490rmb/night rate for double occupancy. We also have great food and drink deals at the Hotel all weekend long.
All events will start from the hash hotel (map).
When you order your tickets, please tell us if you would like us to book a room and which nights; or just email us at nash@hash.cn with "hotel" in the subject. We will confirm availability later via email.