Description
Career Conversation with David Uejio:
From Hanover to D.C.
Come learn how to launch a career in public service!
Tuesday, April 18th

12:00 PM - 1:00 PM

Class of 1930 Room

Please join us for a special luncheon where students will have a unique opportunity to learn more about pursuing a career in public service.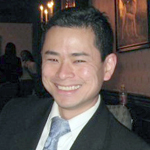 Dave Uejio currently serves as the Acting Chief of Staff for the new Consumer Finance Protection Bureau. Following his graduation from the University of Minnesota's Humphrey Institute of Public Affairs with a Masters in Public Policy, Dave came to NIH as a Presidential Management Fellow. He is currently the principal analyst in the Office of the Director of OHR, overseeing the NIH's employer branding, social media recruitment, and executive recruitment and onboarding programs. He also manages the Office's Presidential Management Fellows.

Dave has a great deal of experience briefing senior leadership on pressing matters, as well as contributing as a member of the OHR leadership team. Dave is also the founding President of YGL's Bethesda Chapter, and previously served as the Chief Strategic Officer of the YGL Executive Board. Dave is also well regarded as a public speaker, presenting on personal branding, public speaking, intergenerational recruitment strategies and social media at conferences and events across the country.