Join journalist and author PETER ZHEUTLIN as he discusses his new book SPIN.
About this event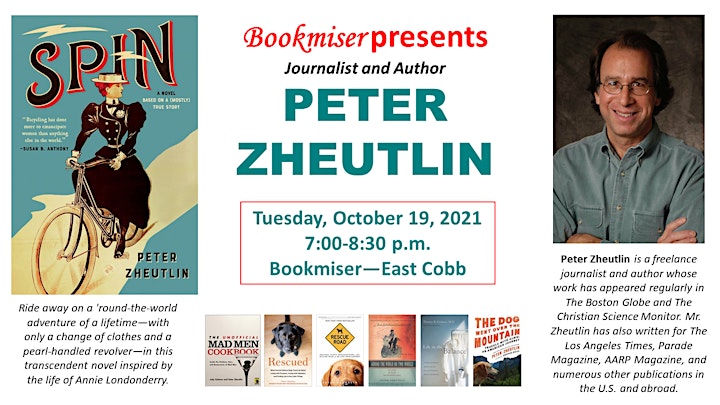 On June 25, 1894, Annie Cohen Kopchovsky, a young mother of three small children, stood before a crowd of 500 friends, family, and suffragists at the Massachusetts State House. Claiming she was to go around the world, she climbed onto a 42-pound Columbia bicycle and, according to the Boston Evening Transcript, "sailed away like a kite down Beacon Street." It was, declared The New York World sixteen months later, "the most extraordinary journey ever undertaken by a woman."
Annie was my great-grandaunt and in SPIN (Pegasus Books, June 1, 2021) I reimagine her story in a work of historical fiction, having previously written a non-fiction account of her journey in a book called "Around the World on Two Wheels."
Annie was set in motion by a wager between two wealthy Boston merchants to settle a debate over women's equality. She was to circle the earth in 15 months and earn $5,000 en route. This was no mere test of a woman's physical endurance; it was a test of a woman's ability to fend for herself in the world. The prize if she succeeded was a queen's ransom of $10,000.
Traveling with only a change of underwear and a pearl-handled revolver, Annie turned every Victorian notion of female propriety on its ear. Not only did she abandon her role of wife and mother, but for most of the journey she rode a man's bicycle attired in men's clothing. She earned her way by turning herself into a mobile billboard, renting space on her body and her bicycle to advertisers eager to benefit from this spectacle on wheels. Indeed, she traveled under an assumed name, paid by her first corporate sponsor, The Londonderry Spring Water Company, to call herself "Annie Londonderry." This pseudonym allowed Annie to reinvent herself completely and it obscured the fact that she was Jewish, no doubt easing her passage through cities such as Paris where anti-Semitism was flourishing.
Annie was outlandish, brash, and charismatic -- a consummate self-promoter and a skillful creator of her own myth. As she reinvented herself as the daring globetrotter "Annie Londonderry," she became one of the most celebrated women of the gay '90s.
Peter Zheutlin is a freelance journalist and author whose work has appeared regularly in The Boston Globe and The Christian Science Monitor. Mr. Zheutlin has also written for The Los Angeles Times, Parade Magazine, AARP Magazine, and numerous other publications in the U.S. and abroad.
He is the author of nine books including The New York Times best seller Rescue Road: One Man, Thirty Thousand Dogs and a Million Miles on the Last Hope Highway (Sourcebooks, 2015), Rescued: What Second Chance Dogs Teach Us About Living with Purpose, Loving with Abandon, and Finding Joy in the Little Things (TarcherPerigee, October, 2017), and Around the World on Two Wheels: Annie Londonderry's Extraordinary Ride (Citadel Press, 2007). His book The Dog Went Over the Mountain: Travels with Albie: An American Journey (Pegasus Books, September, 2019) was inspired by a re-reading of John Steinbeck's beloved classic, Travels With Charley and was the recipient of the Lowell Thomas Award (Silver Medal) for best travel book of 2019-20 given by the Society of American Travel Writers Foundation.
His most recent book, Spin (Pegasus Books, June 1, 2021), is his first novel, a work of historical fiction based on the true story of his great-grandaunt who circled the world by bicycle from 1894-5.
He is also the co-author, with Thomas B. Graboys, M.D., of Life in the Balance: A Physician's Memoir of Life, Love and Loss with Parkinson's Disease and Dementia (Union Square Press, 2008), with Robert P. Smith, of Riches Among the Ruins: Adventures in the Dark Corners of the Global Economy (Amacom, 2009), and, with Judith Gelman, of The Unofficial Mad Men Cookbook: Inside the Kitchens, Bars and Restaurants of Mad Men (SmartPop/BenBella Books, 2011) and The Unofficial Girls Guide to New York: Inside the Cafes, Clubs, and Neighborhoods of HBO's Girls (SmartPop/BenBella, 2013).
Peter is a graduate of Amherst College and Boston College Law School and resides in Massachusetts with his wife, author Judith Gelman. He has two grown sons and two rescue dogs.
Organizer of Journalist and Author PETER ZHEUTLIN Discusses His New Book SPIN