Description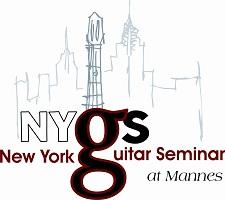 The 16th NEW YORK GUITAR SEMINAR at MANNES
World-renowned faculty and performers including:
Sergio Assad

Clarice Assad

Duo Montes-Kircher (Alfonso Montes and Irina Kircher)

Newman & Oltman Guitar Duo

Duo Cintemani (Nicholas Ciraldo with flutist Rachel Taratoot Ciraldo)

Arthur Kampela

Mariano Aguirre

Mario da Silva with dancer Rocio Infante

Jennifer Trowbridge

Richard Boukas
Join us for a week of intensive, hands-on classical guitar training, open to players of all ages and levels. Activities will include master classes, performance classes, ensemble coachings, interactive forums, faculty concerts and public performance opportunities for all full participants.
All concerts, master classes, and workshops of the internationally-acclaimed New York Guitar Seminar at Mannes are open to the public.

For full schedule of events and all concert program details, visit: http://mannesguitar.com
*IMPORTANT NOTE*
Wednesday, July 6 at 7:00 PM – CONCERT - *This event only at: Americas Society*
680 Park Avenue, New York, NY
Tickets need to be purchased directly from Americas Society at:
http://online.as-coa.org/as-coa/new-york/culture/mus-2016-nygs-ginastera-07-06-16-students
NYGS at Mannes FULL PARTICIPANTS AND FULL AUDITORS do not need to purchase ticket. Your ticket will be under your name at the will-call desk at Americas Society.