Description
The USC Alumni Club of Orange County would like to invite you, your family and/or company holiday event to our 16th Annual USC at the Newport Beach Christmas Boat Parade.
Hailed by local media as "one of the top ten holiday events" The Orange County Alumni Club has chartered the 140-foot, Four-Decks, Ultra Luxurious - Eternity Yacht during the 110th Annual Newport Beach Christmas Boat Parade. Our club's signature event of the year will be hosted on Friday, December 20th with 250+ attendees.
Guests will cruise the harbor enjoying a 360-degree view of holiday decorated homes, landscapes, and festive multi-million dollar yachts. Whether enjoying the atmosphere of the open-air upper level, enjoying dinner in one of the 2 main salons, or dancing in the expansive lounge, the night will surely be one to remember!
Highlights of the Evening:
Privately Chartered Eternity Yacht

Two full cash bars

DJ and dancing on lounge deck

High-end silent auctions

6:30PM Departure *Boat will not wait. No Refunds (City will not allow boat in parade past 6:30pm)

10:30PM Debarkation
(Due to holiday traffic along the 55 freeway, parking, and registration, please set time to arrive atleast 1 hour early.)
Proceeds raised from the event go towards scholarships helping our young, talented, Orange County students accomplish their dreams with the Trojan Family.
**Ticket cancellation with a refund will be limited up until December 7th. We will not be able to provide a refund for cancellations after this date.
Sponsors
---
---

The USC Alumni Club of Orange County is proud to thank the USC Credit Union, whose generosity and dedication to our mission make possible so many important programs and scholarships for Trojan alumni and students. Learn more about the USC Credit Union's Orange County branch here.
---


Frequently Asked Questions
Departure/Arrival Time
Registration opens at 6PM and the yacht will be departing promptly at 6:30PM. We cannot hold the boat for anyone running late and refunds cannot be given as we cannot fill your seat. We recommend arriving no later than 6PM, but also, keep in mind traffic can be very congested during the boat parade evenings. The boat will return to dock at 10:30PM for disembarkation.
Boat
The Eternity. Spacious, elegant and versatile, this is the fleet's only yacht with four decks. The exterior is sleek and contemporary, characterized by its large windows and clean white finish. Inside, luxurious touches, such as polished rails and window frames, give the vessel its distinction as a wedding venue. The Eternity measures 140 feet in length and a roomy 33 feet in width, providing a total capacity of 300 people.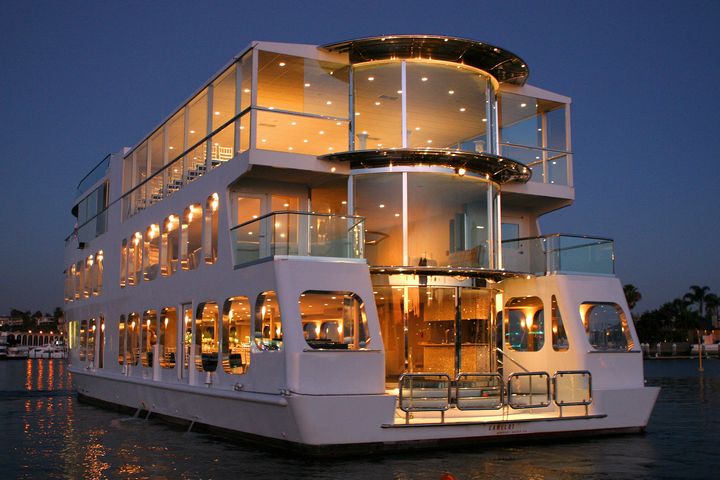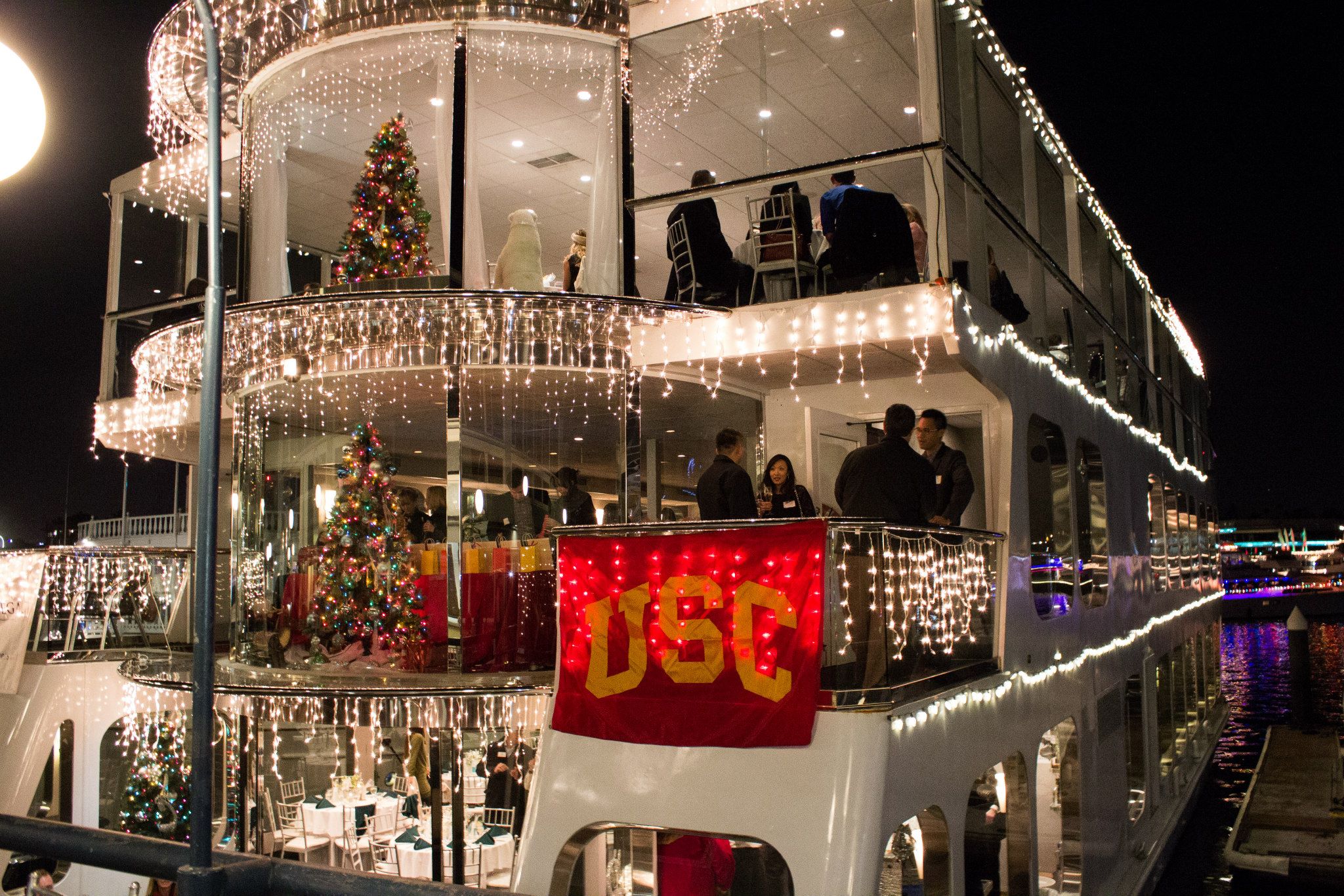 Registration
Please bring either your Eventbrite printout or your phone with your ticket (on the Eventbrite app). One of our volunteers will check in your party at the registration table. We will then direct you to a line towards the ramp. A second volunteer will direct you down the ramp to our boat, which will have a USC banner.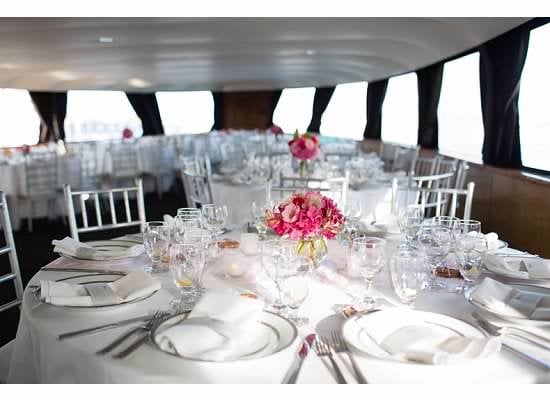 Attire
Holiday Cocktail Attire is required essentially meaning business casual, but nice jeans are acceptable. Most males will be in slacks, button up shirts and possibly a sport coat and most females will be in nice slacks with fashionable shirt or skirts and dresses. No shorts or sandals. Keep in mind there are outdoor spaces/open windows through certain parts on the yacht please bring a jacket/dress warm.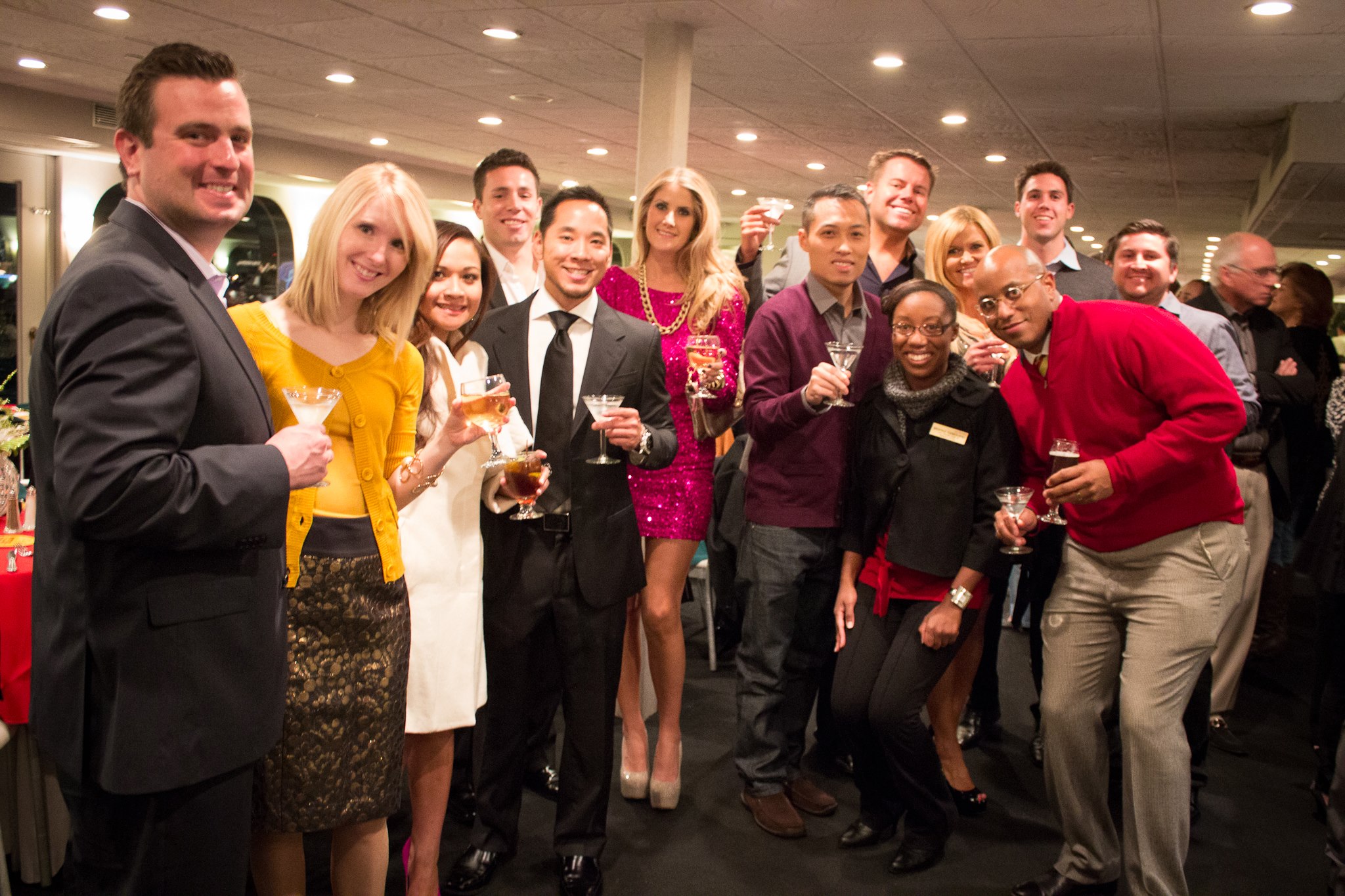 Cash Bar
The Athena cannot accept credit cards on board so please bring a sufficient amount of cash to cover your bar tab. A complimentary glass of champagne will be provided upon boarding.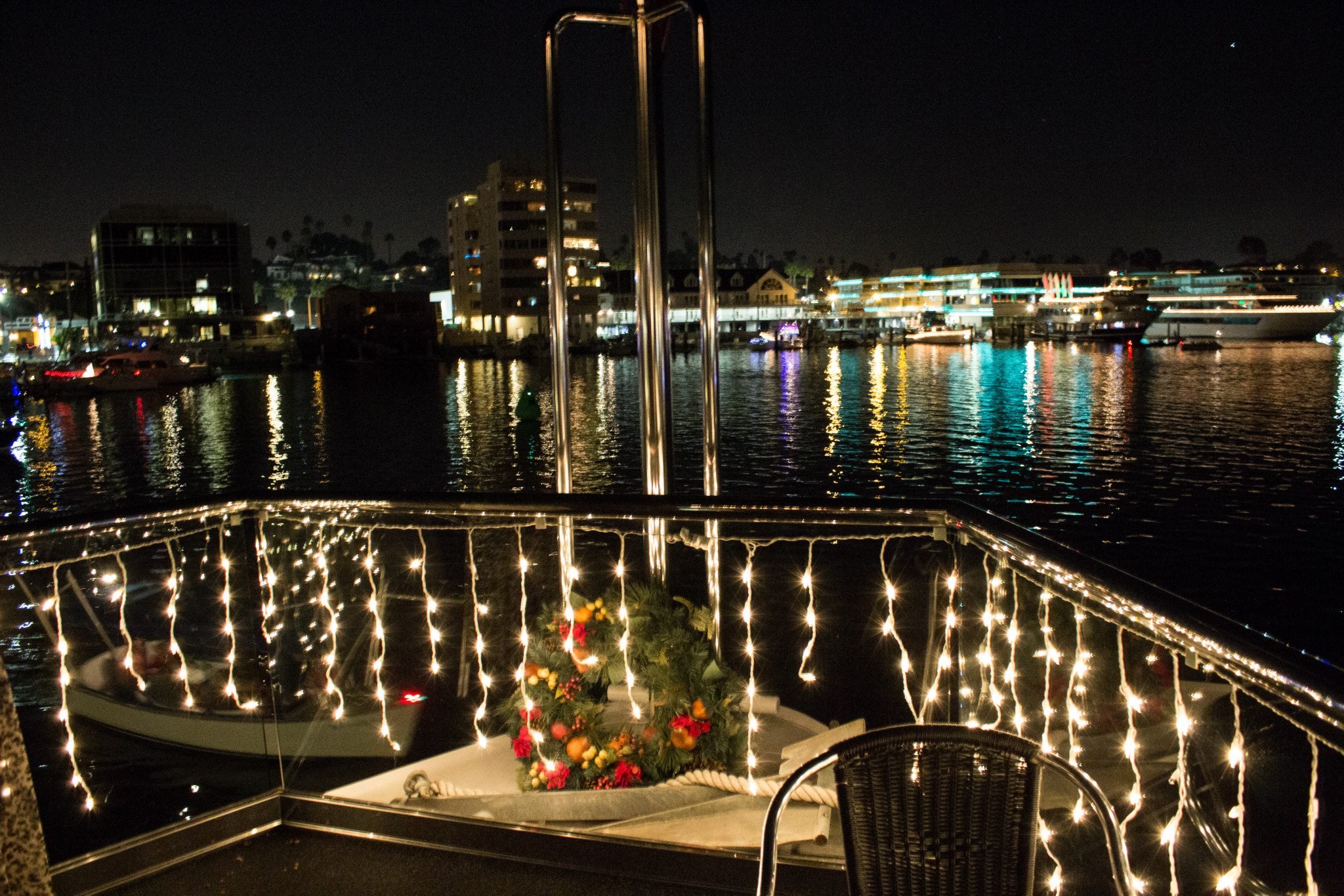 Dietary Restrictions
Please email us directly if you and/or someone in your group has a serious dietary restriction or food allergy. We will do our best to accommodate.
Refunds
There will be no refunds granted once your ticket is purchased. The club has already paid non-refundable balances to the yacth company and Newport Harbor Coast Guard per head regardless of age. People can be added to tickets or exchanged to someone else if you can no longer attend (please send us an email as well). Thank you for understanding.
Traffic
Be wary of holiday traffic on the 405 and 55 freeways. We recomend using the Waze app and giving yourself atleast 1 1/2 hours if you're coming from Los Angeles. Also alot time to park (there will be a lot of cars making that left hand turn into the parking structure) and time to register.
Parking
Below you will find a picture for directions to Electra Cruises parking structure (Lido Marina Village Public Parking). Note, if you simply insert the yacht company's address into your GPS you will NOT be directed towards the structure. Carpooling will be greatly appreciated due to the high demand for parking. The directions are to the company's office, though the boat is located across the brick street and through the breezeway. The boat is named ETERNITY, but you will see a check in table that is USC-branded. Validation: As you exit the boat, the staff will sell you a parking validation ticket for $10 (you insert this into the gate along with your original parking ticket).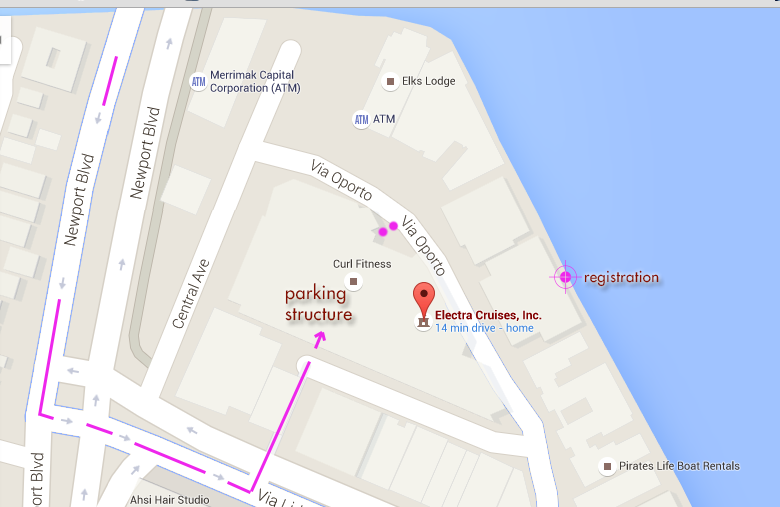 The parking lot is located here:
Lido Marina Village
Turn Left on Via Lido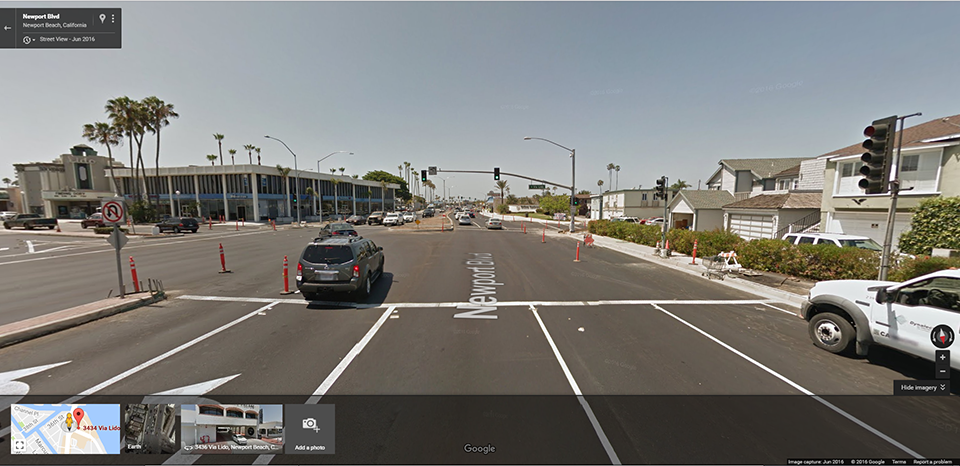 Immediately turn left into Parking structure