16th Annual Pollution Prevention Conference and Trade Show - 2013
Description
ATTENTION: GREENSCREEN TRAINING IS NOW FULL. PLEASE EMAIL RACHAEL YANNI AT RYANNI1@IDEM.IN.GOV IF YOU WOULD LIKE TO BE PUT ON A WAITING LIST IN THE CASE OF OPENINGS IN THE TRAINING.
About this year's conference:
See Agenda Below, or DOWNLOAD AGENDA
For the past sixteen years, the Indiana Partners for Pollution Prevention (Partners) have sponsored a statewide pollution prevention conference and trade show. The conference has been extremely successful as pollution prevention (P2) practices among industry continue to grow. This year the Indiana Partners for Pollution Prevention is joining forces with the National Pollution Prevention Roundtable (NPPR) in an effort to broaden the scope of the conference to a national level. The 2013 Pollution Prevention Conference and Trade Show will consist of two full days of workshops, training, presentations, and panels of industry experts running in three concurrent tracks each day. There will also be time set aside specifically for networking, including a two hour evening reception on the first day of the event. The conference will also feature a trade show of exhibitors displaying their products and services to promote pollution prevention.
Event Facility and Hotel Accomodations:
The event is being held at Primo West Banquet and Conference Center in Plainfield, Indiana, which is approximately 15 miles from downtown Indianapolis and 6 miles from the Indianapolis Airport.
A block of rooms has been reserved at The Hampton Inn, which is directly across the street from the conference center. You may reserve a room at a discounted rate by following this link, or by calling The Hampton Inn at (317)839-9993 and telling them you are with the Pollution Prevention Conference.
The discounted rates are $109.00 for a single queen studio suite and $115 for a double queen suite.
Other nearby hotels can be found on the conference webpage: http://www.in.gov/idem/ppp/2334.htm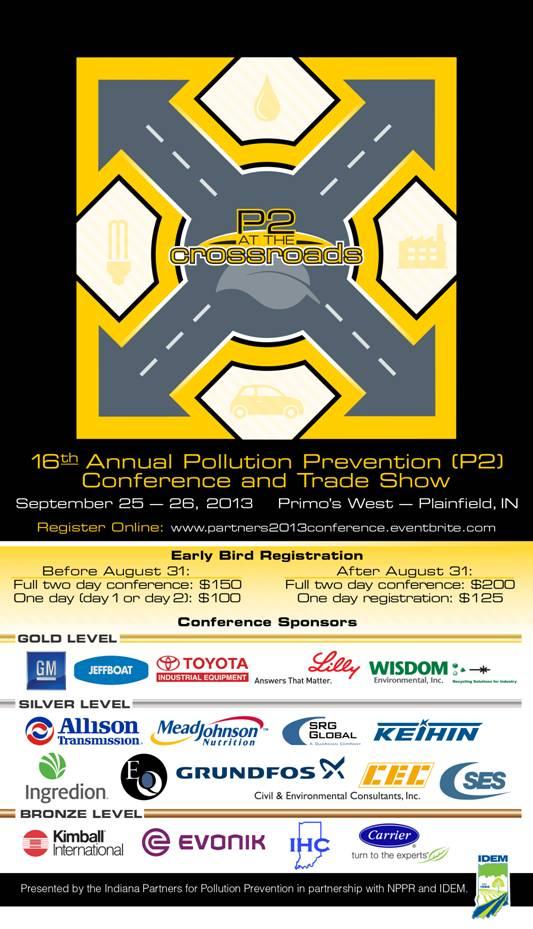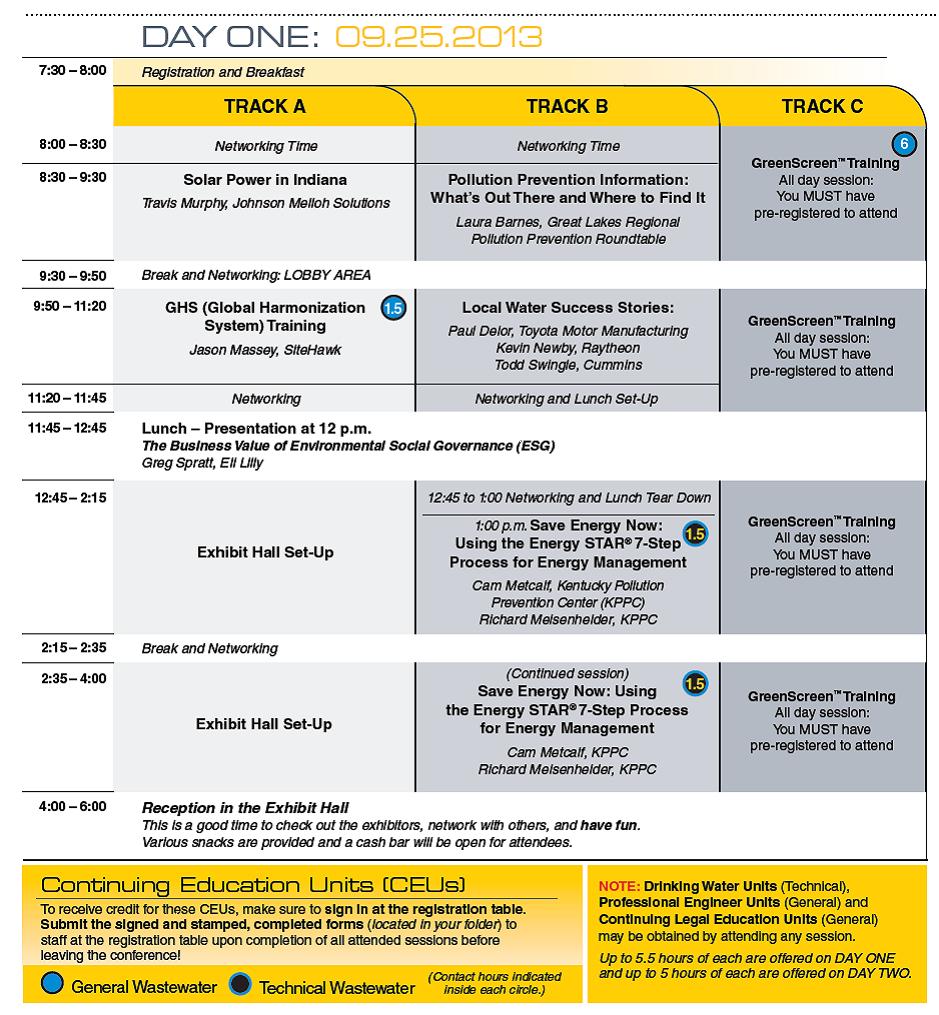 -----------------------------------------------------------------------------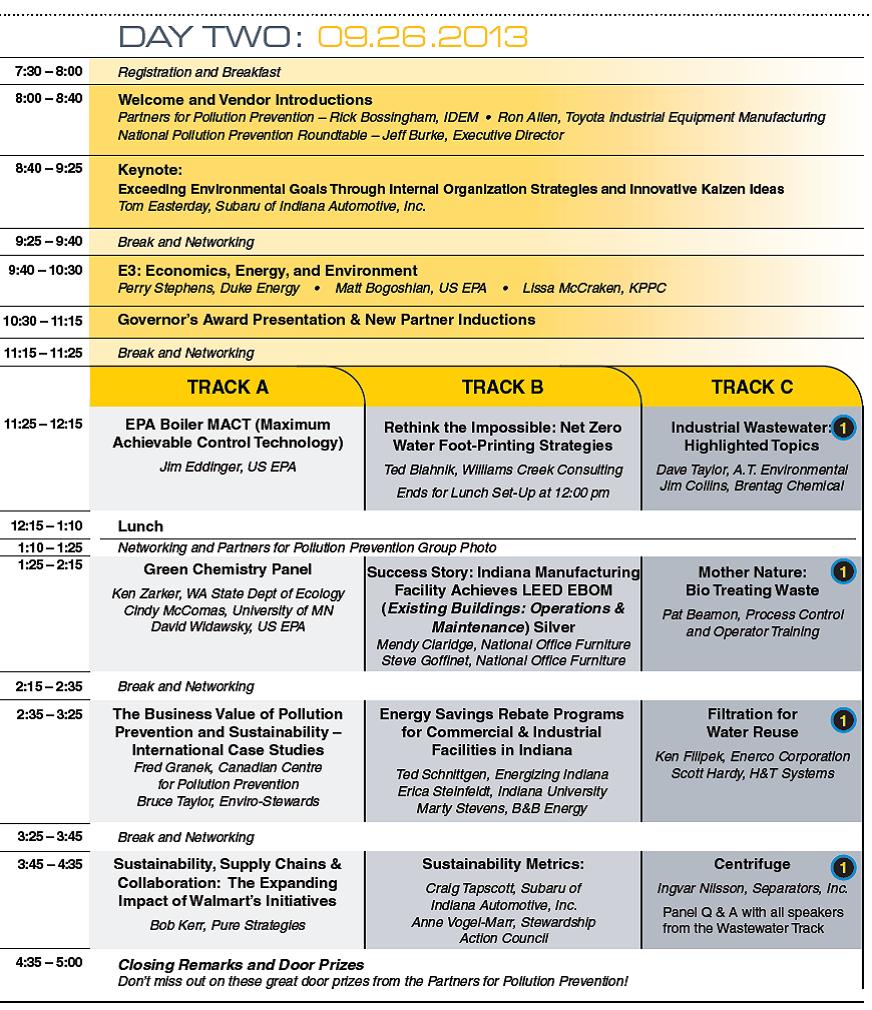 GreenScreen Training: (FULL)
(Offered on Day One of the conference in addition to two seperate session tracks)
Held in conjunction with the 16th Annual Indiana Partners for Pollution Prevention Conference, this is in-depth experiential training on how to use the GreenScreenTM for Safer Chemicals, a tool developed by Clean Production Action for identifying chemicals of concern and selecting safer alternatives. This is a full day training session and you must register for the training during your registration check out.
About the Indiana Partners for Pollution Prevention
The Partners for Pollution Prevention is an organization comprised of Indiana industries, businesses, nonprofit organizations and governmental entities that are interested in pollution prevention as well as the financial and environmental benefits P2 projects can bring. The Partners provide a forum where Indiana businesses can network and exchange ideas about P2 experiences and discuss how P2 fits into current and future IDEM programs. The Partners realize that pollution prevention is the arena where the environment and economics can meet on common ground. The Partners for Pollution Prevention champion pollution prevention and environmental stewardship programs in businesses and organizations by promoting successful practices and approaches to achieve measurable reduction of pollution in Indiana.
In 1996, the Indiana Department of Environmental Management organized the Partners for Pollution Prevention (Partners). These Partners had a proven interest in pollution prevention based upon their involvement in grants, awards, and other programs. The Partners provided a forum to discuss and share pollution prevention successes and to advise IDEM on pollution prevention policies and programs.
Since that time, Partners has grown and consists of approximately 70 organizations. Many members have received Governor's Awards for Environmental Excellence for their outstanding contribution to Indiana's environment. Membership for Indiana companies and facilities is free and voluntary.
About the National Pollution Prevention Roundtable
As the largest membership organization in the United States devoted solely to Pollution Prevention (P2), NPPR acts as a window on the P2 community. The mission of the Roundtable is to provide a national forum for promoting the development, implementation, and evaluation of efforts to avoid, eliminate, or reduce pollution at the source (i.e. source reduction instead of traditional end-of pipe methods). NPPR's members are comprised of the country's preeminent P2 experts from regional resource centers, state and local government programs, small business assistance networks, non-profit groups, industry associations, federal agencies, and academia.
NPPR's Goals:
Advance pollution prevention by maintaining and improving opportunities for exchanging ideas, facilitating coordination of efforts, and influencing the development and implementation of policies, legislation and regulations.

Promote education and awareness of pollution prevention concepts, programs, methods, accomplishments, and benefits.

Foster constructive, mutually beneficial relationships with other organizations, which have related missions.

Provide leadership and coordination that supports sustainable funding opportunities for pollution prevention.
Organizer of 16th Annual Pollution Prevention Conference and Trade Show - 2013
IDEM Environmental Stewardship Program
ESP focuses on improving Indiana's environment and business climate through innovation and efficient resource allocation. Participating organizations achieve environmental objectives through creating and implementing an environmental management system (EMS). Together, the EMS and the steward's commitment to continual environmental improvement will increase their efficiency, decrease environmental impacts, and may save the business time, money, and resources. Regulatory flexibility incentives earned by members were designed to provide business value, reduce regulatory oversight, allow a shift in resources from compliance driven to achieving results, and provide the member with increased operational flexibility.