Quality presentations on the top issues in Nutrition Law
About this event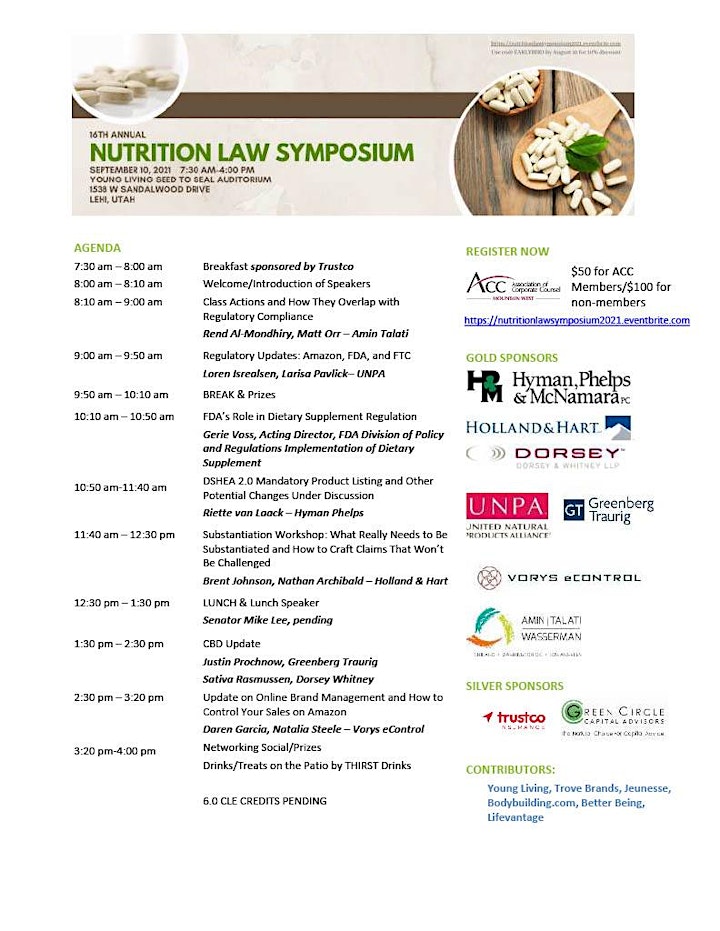 AGENDA
7:30 am – 8:00 am Continental Breakfast
8:00 am – 8:10 am Welcome
8:10 am – 9:00 am Class Actions and How They Overlap with Regulatory Compliance
Rend Al-Mondhiry, Matt Orr – Amin Talati
9:00 am-9:50 am Regulatory Updates : Amazon, FDA, and FTC
Loren Israelsen, Larisa Pavlick, UNPA
9:50 am – 10:10 am BREAK & Prizes
10:10 am – 10:50 am FDA's Role in Dietary Supplement Regulation
Gerie Voss, Acting Director, FDA Division of Policy and Regulations Implementation of Dietary Supplement
10:50 am – 11:40 am DSHEA 2.0 Mandatory Product Listing and Other Potential Changes Uner Discussion
Riette van Laack-- Hyman Phelps McNamara
11:40-12:30 pm Substantiation Workshop: What Really Needs to Be Substantiated and How to Craft Claims That Won't Be Challenged
Brent Johnson , Nathan Archibald– Holland & Hart
12:30 pm – 1:30 pm LUNCH & Lunch Speaker
Senator Mike Lee, pending
1:30 pm – 2:30 pm CBD Update
Justin Prochnow, Greenberg Traurig
Sativa Rasmussen, Dorsey & Whitney
2:30 pm – 3:20 pm Update on Online Brand Management and How to Control Your Sales on Amazon
Whitney Gibson, Natalia Steele – Vorys eControl
3:20 pm-4:00 pm Drinks/Treats on the Patio by THIRST Drinks
6.0 CLE CREDITS PENDING
We will comply with mask, social distancing guidelines and/or other health and safety requirements that are in place on September 10, 2021.
Organizer of 16th Annual Nutrition Law Symposium
ACC Mountain West is an award-winning organization made up of over 280 active in-house counsel members representing leading local, national, and international companies. Serving in-house counsel in Idaho, Montana, Utah, and Wyoming, the Mountain West Chapter covers the largest geographical region of any chapter in the Association of Corporate Counsel. The Mountain West Chapter was the winner of the Association of Corporate Counsel National Chapter Challenge Award in 2010 for its programming and membership growth.
Working with our sponsors, the Chapter provides several CLE programs throughout the year, as well as a number of networking and community service events. Some highlights are the Annual Idaho Corporate Counsel Awards Gala, the Utah Best Practices Club, Operation Homeless Connect Salt Lake City, Zoo Boise event benefiting Big Brothers Big Sisters of Southwest Idaho, and Women's/Diversity Seminars.
For more information, please contact the Mountain West Executive Director, Laurie Larsen.ACC Mountain West Website