Sales Have Ended
Registrations are closed
Thank you for registering for the 16th Annual Meth & Substance Abuse Conference! We look forward to seeing you!
Sales Have Ended
Registrations are closed
Thank you for registering for the 16th Annual Meth & Substance Abuse Conference! We look forward to seeing you!
Description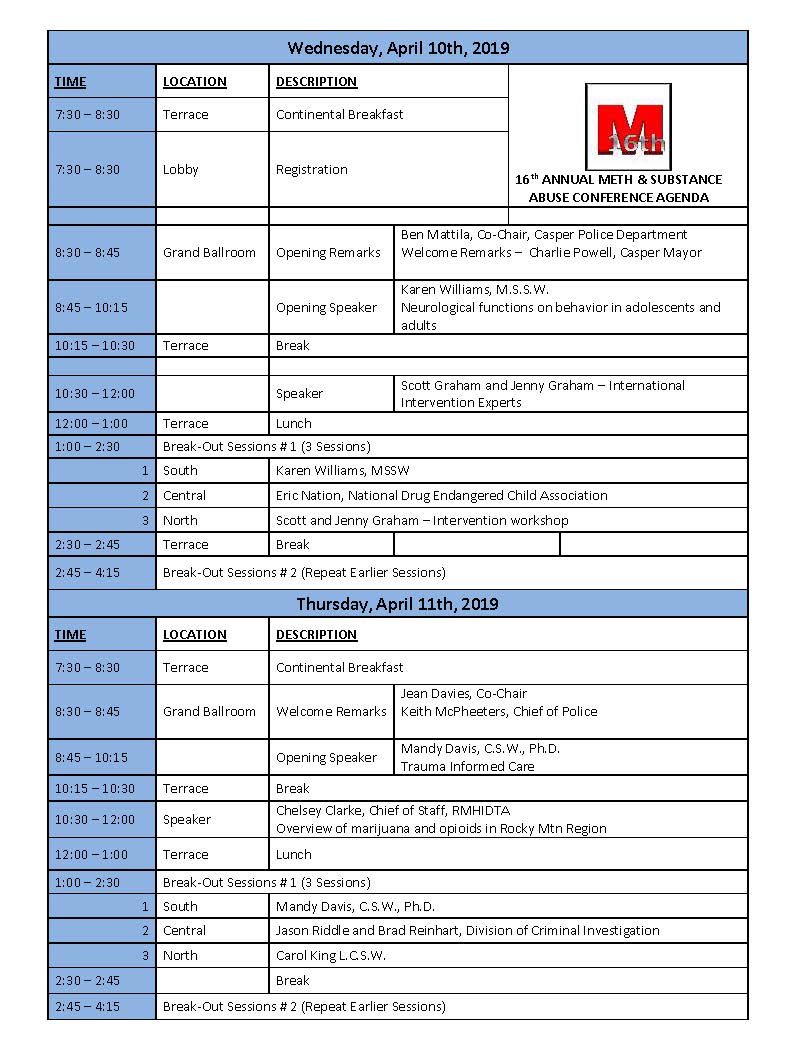 THE 16TH ANNUAL METH CONFERENCE HAS BEEN AUTHORIZED TO OFFER THE FOLLOWING CEUs FOR THIS CONFERENCE:
MENTAL HEALTHCARE PROFESSIONALS: 7 CEUs
PTSB (TEACHERS): 1 CEU
LAW ENFORCEMENT: 14 POST CREDITS
*******************************************************************************************************************16th ANNUAL METH & SUBSTANCE ABUSE CONFERENCE SPEAKER BIOGRAPHIES:
THE 16TH ANNUAL METH & SUBSTANCE ABUSE CONFERENCE IS PROUD TO BRING YOU THE FOLLOWING SPEAKERS -
SCOTT AND JENNY GRAHAM
Scott Graham, CDP, CDSIII, Masters Level Counselor
Since 1988, Scott Graham, along with his wife Jenny, have been helping families intervene across the U.S. and internationally through Carefrontations ™. Scott and Jenny are seasoned and trusted intervention specialists who've worked with thousands of families with a ninety percent and greater success rate. Scott is certified as both a counselor in the mental health field, and in chemical dependency. Prior to Scott's work in this field, he was an undercover vice/narcotics deputy in the West Hollywood area for the Los Angeles County Sheriff's Department.
CHELSEY CLARKE
Chelsey Clarke has been an intelligence analyst since 2012. She has worked for the Advanced Technical Intelligence Center (ATIC) (Dayton, Ohio) and Lockheed Martin (Denver, Colorado). While at ATIC, Chelsey was the recipient of the Distinguished Graduate Award for specialized analyst training. Chelsey joined the Rocky Mountain High Intensity Drug Trafficking Area (RMHIDTA) program in 2014 as a strategic intelligence analyst. She is a primary contributor to the annual regional RMHIDTA Threat Assessment and The Legalization of Marijuana in Colorado: The Impact Reports. She has also represented RMHIDTA in both media interviews and public presentations. Chelsey graduated from Lubbock Christian University with a degree in Criminal Justice and she obtained her master's degree in International Security, with concentrations in intelligence and homeland security, from the University of Denver's Josef Korbel School of International Studies.
MANDY DAVIS, LCSW, PhD
Director of Trauma Informed Oregon, Portland State University
Dr. Davis is an Associate Professor of Practice at Portland State University's School of Social Work and a licensed clinical social worker. She is Director of Trauma Informed Oregon, a program primarily funded by the Oregon Health Authority, to advance trauma informed care throughout organizations and systems through training, consultation, and implementation resources. Dr. Davis teaches and lectures on implementing trauma informed care and trauma specific services. Her current interests include measuring change when organizations and systems implement the principles of trauma informed care, the impact of toxic stress on the workforce, intersectionality between equity work, and the impact of systemic oppression.
KAREN WILLIAMS, MSSW
Karen Williams, MSSW, is a writer and speaker known for her ability to explain the latest neuroscience and apply it to real life. Her current focus is on three areas: brain development and behavior; the impact of substances, stress, trauma and traumatic brain injury on development and behavior; and the developmental readiness of youth to protect themselves. Her presentations and workshops are based on the research of many leaders in the field of brain and youth studies. She is the developer of the brain-based SAMHSA Model Program curriculum Protecting You/Protecting Me, and the "brain-friendly and trauma-informed" Positive Behavior in School and Society (PBSS), a joint project of Rainbow Days, Inc. and AT&T. She is the recipient of the 2012 Mental Health America of Greater Dallas Prism Award and a consultant to the Office of Juvenile Justice and Delinquency and Prevention (OJJDP) State Training and Technical Assistance Center (STTAC).
CAROL KING, MSW, LCSW
Raised in Rawlins, Wyoming, Carol King earned a Bachelor's of Science in Psychology from the University of Wyoming and a Master's in Social Work from Arizona State University. Carol has been with CWCC since 1989, and is currently the Substance Abuse Program Director. She has worked with secondary school-aged children in schools in Casper; provided services to adult clients struggling with addiction; provided services to inmates and probation clients; and supervised the adolescent residential substance abuse program. Additionally, she supervised three residential facilities run by CWCC which afforded her the opportunity to train therapists, design treatment programs, and learn management skills. Ms. King managed the 4 residential programs and the outpatient substance abuse program. This included supervision of 60 staff and 2 supervisors who provide treatment to approximately 1000 people every year. Currently, Carol is the Director of behavioral health at the Community Health Center of Central Wyoming.
Charlie Powell Ph.D
Charlie Powell earned his doctorate from the University of Wyoming in 1990. He has worked as a staff psychologist and program director at the Central Wyoming Counseling since 1989. Charlie has provided psychological services to adults, children, and families and has extensive experience in sex offender treatment. As a program manager, he developed and administered a school-based therapy program and a general outpatient program. Charlie also serves as the Mayor of the City of Casper.
BRAD REINHART AND JASON RIDDLE
Local DCI Agents with updates regarding current drug trends in the state of Wyoming and updates on overdoses and case reviews.
In 2003, Brad Reinhart was hired with the Casper Police Department in Wyoming. Brad was employed with the Casper PD until January of 2014. During his time at the Casper PD, Brad received training and certifications, some of which included sex crimes investigations, surveillance, motorcycle operator, SWAT school, Interview and Interrogation, public safety diver, mobile field force, Desert Snow interdiction, Drug Interdiction, background investigator, Active Shooter, DEA basic drug investigator, glock armorer, DCI basic investigator, undercover operations, advanced electronic surveillance, as well as numerous homicide and crime scene schools. Brad is a WLEA certified level 2 Firearms instructor and is a recognized expert drug witness recognized both in the state of Wyoming and Federal Court. Brad was assigned to the Wyoming Division of Criminal Investigation as a Task force Officer with the Central Enforcement Team in Casper, WY from 2010 – 2013.
Statement of intended outcomes/objectives of the professional development:
Attendees will receive information on substance abuse issues, how to recognize and deal with signs and development, information on effective interventions with regard to alcohol and drug addiction/dependence, addiction and domestic violence and how it affects clients and other family members. They will receive education and information on opiate and methamphetamine dangers as well as what new trends are being seen in with these drugs including new legislative updates.
All of these presentations will enable educators to understand and work with individuals who are either living with these issues themselves or have family members, friends, or others who are living with these issues.
Some speakers will also go to local high schools to speak with students.
---
THE 16TH ANNUAL METH & SUBSTANCE ABUSE CONFERENCE HELD AT THE RAMKOTA HOTEL IN CASPER WYOMING BRINGS TOGETHER A WEALTH OF INFORMATION TO ASSIST EDUCATORS, COUNSELORS AND THE PUBLIC REGARDING THE TRENDS AND TREATMENT OF SUBSTANCE ABUSE.
HOW SUBSTANCE ABUSE IMPACTS THE COMMUNITIES WHERE WE LIVE, OUR BUSINESSES AND OUR FAMILIES WILL BE ADDRESSED BY EXPERT SPEAKERS IN THE FIELDS OF MEDICINE, COUNSELING, AND LAW ENFORCEMENT.