Description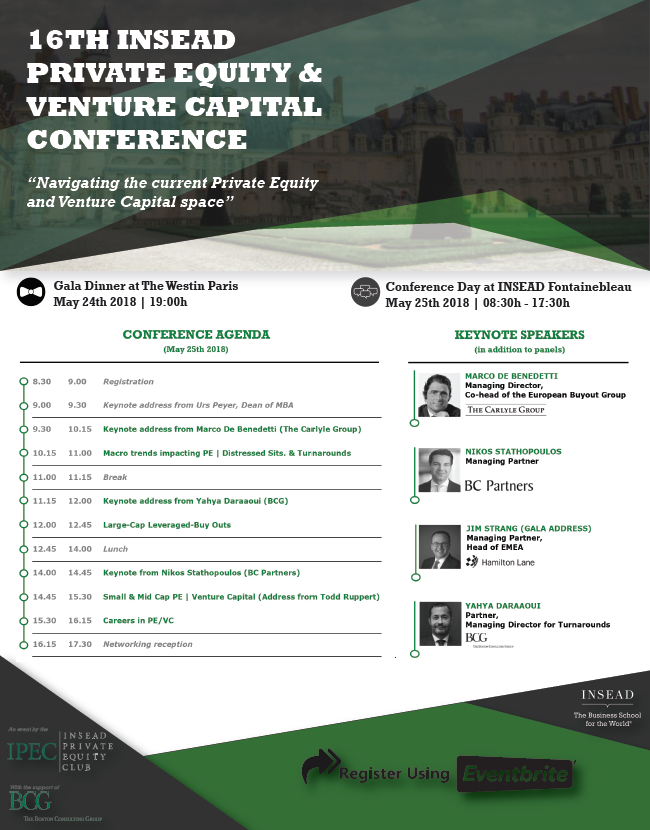 Keynote speakers
Marco De Benedetti - Carlyle Group
Marco De Benedetti joined Carlyle in 2005 and is currently a Managing Director and Co-head of Carlyle's European Buyout Group, particularly focusing on the telecommunications and branded consumer goods sectors. He is based in Milan.
Prior to joining Carlyle, Mr. De Benedetti was the Chief Executive Officer of Telecom Italia. Mr. De Benedetti was the Chief Executive Officer of Telecom Italia Mobile from 1999 until its merger with Telecom Italia.
Mr. De Benedetti currently also serves on the boards of directors of NBTY Inc., Moncler SpA, Twin-Set Simona Barbieri SpA, Marelli Motori SpA, Comdata SpA, Golden Goose srl, CIR SpA and Cofide SpA.
Nikos Stathopoulos - BC Partners
Nikos is Managing Partner and Member of the Executive Committee and Investment Committee of BC Partners, the international private equity firm. He joined BC Partners in 2005 and has over 20 years experience in private equity. He has been an active investor in the media, telecoms, consumer and retail industries. Prior to joining BC Partners, Nikos was a Partner at Apax Partners in London where he spent seven years working on large buy-out transactions in Europe. Prior to Apax, he spent three years as a management consultant with the Boston Consulting Group in London.
Nikos is Chairman of the Board of Acuris (Mergermarket Group), OVS/Gruppo Coin, Cigierre, Dental Pro, and Pharmathen and Vice-Chairman of Migros Turk. Financial News has voted Nikos in the Hall of Fame of Private Equity in 2016. Nikos holds an MBA from Harvard Business School and a degree in Business Administration from Athens University of Economics & Business (AUEB).
Todd Ruppert – Greenspring Associates
R.Todd Ruppert is the founder and CEO of Ruppert International, a firm with diversified interests globally in various fields including education, financial services, disruptive technologies, publishing, arts and entertainment, media, and strategy consulting. He is a serial early stage investor and advisor, chairman of several firms, president of London's Royal Parks Foundation, a global ambassador for the Duke of Edinburgh's International Award, and a board member of the Rock and Roll Hall of Fame. He is also executive producer of three films - A Year in Burgundy, A Year in Champagne and A Year in Port.
He is a venture partner at Greenspring Associates, a US based venture capital firm with over US$7 billion under management for clients worldwide. He is also a senior advisor to SenaHill Partners, a FinTech merchant bank, and Motive Partners, an investment firm focused on technology businesses in the financial services sector.
He retired from T. Rowe Price, the global asset management firm with over $1.0 trillion under management, where he was CEO and president of T. Rowe Price Global Investment Services.
Todd holds numerous board and advisory board roles for organizations worldwide some of which are: INSEAD business school, Duke University, MPower Financing, The Crypto Company, Seedrs, Octopus Investments, Q Ventures, Symbiont, Tandem Bank, Melonport, Nutmeg, Investments & Pensions Europe, Lakeba, and Mobecom.
Sponsored by The Boston Consulting Group