Location
University of Hawaii Cancer Center: Sullivan Conference Center
701 Ilalo Street
Honolulu, HI 96813
Description
The 16th Annual Hawaiʻi Build + Buy Green Conference
September 22, 2016 at the UH Cancer Center's
Sullivan Conference Center in Kakaʻako
This annual event brings together nationally acclaimed keynote speakers and local experts in the fields of green building and communities, affordable housing, design, engineering, construction and development. Under this year's theme, "Breaking Ground on Green & Affordable Housing and Communities," the conference will feature notable projects from Kakaʻako and across Oahu. Coffee and pastries as well as lunch are included with registration.
Visit USGBC Hawaii for a full line-up of speakers/tours and lists of sponsors and partners!
Build + Buy Green 2016 Event Page http://www.usgbchawaii.org/bbg16/
Program Schedule http://www.usgbchawaii.org/bbg16programschedule
Presentations and Presenters may not be as listed. Schedule reflects the more accurate list to date.

---
Save by being a USGBC Hawaii member! See pricing details above.
Become a member today and receive the USGBC Hawaii member discount price: http://www.usgbchawaii.org/joinrenew/
---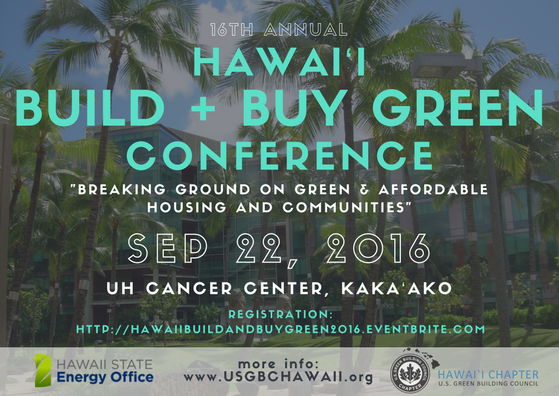 ---
FAQ & Event Information:
Do I need to bring my printed ticket to the event?
No need to print your ticket. Just download the Entry Manager app for iOS or Android. Weʻll scan you in at the door! If paying at the door, we'll accept most credit cards or check (payable to "U.S. Green Building Council"). No cash will be accepted.
If my registration was included in the Silver, Gold or Platinum Sponsorship, do I need to register individually?
Yes - please register under the "Registration Included with Sponsorship Package" category for your chosen sponsorship level. Feel free to email us with any questions: joannacgriffith@gmail.com.
Can I pay by check for registration or sponsorship?
Yes, please make the check out to: US Green Building Council. Mailing Address: 1050 Bishop Street #345 Honolulu, HI 96813.
Who should I contact about a custom sponsorship opportunity I would like to discuss?
Please send an email to Joanna Griffith at joannacgriffith@gmail.com
Additional event Information:
Please bring your own re-fillable water bottle.
Parking is not included in registration and is limited. Please consider alternative forms of transportation (carpool, walk, bike, bus, surf).